Sponsored Ads

YourOwnROOM is a Bangalore based startup founded by Prabhat Kumar Tiwary and Sachin Joshi.  YourOwnROOM is an online platform which helps people to manage rental space and the vision of the company is to be among top 3 players in this segment across India.
YourOwnROOM currently offers fully furnished shared rooms, private rooms and full houses with a few other value-added services for millennial seeking home away from home, says Prabhat.
We got an opportunity to talk with Prabhat, it is an inspiring story of the founder. Read his full story to know more about the startup.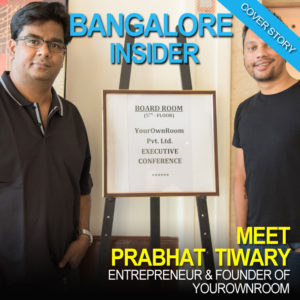 Give a brief info about your startup?
YourOwnROOM is a technology enabled business that is revolutionizing the way in which millennial in India live. With excellent properties at strategic locations, secure localities and reliable value-added services, YourOwnROOM envisions to be a leader in online managed rentals for millennial's.
YourOwnROOM actively champions the cause of co-living for working professionals and students to ensure that singles new to the city, have the best of experiences and a reliable support system to help them get started and also possibly see them through challenging times. YourOwnROOM currently offers fully furnished shared rooms, private rooms and full houses with a few other value-added services for millennial seeking home away from home.
YourOwnROOM is on a mission to provide an unmatched living experience and consumer delight for millennial seeking accommodation in collaboration with the Home Owners and Service Providers. We currently operate in the cities of Bangalore and Pune and would like to be among the top 3 players in this segment across in India.
What made you start your startup and what problem does it solve?
When I was a student in my undergraduate program, something that I really longed for was a good quality private space that I could always sit back and relax in. I could never seem to find it no matter how hard I tried. It seemed that people were just being cramped up in spaces that were perceived to be of high demand. But the reality today is that over 11 million houses are unoccupied in India. Supply was never a problem. Today, YourOwnROOM actively scouts these places out to give homeowners the assurance of complete managed rentals as well as supplying high quality homes that are comfortable and safe to live in for both girls and boy mainly from the millennial generations. My Partner Sachin and I both quit our jobs to solve this problem full time.
Tell us about yourself, your previous jobs/ventures? What were you doing before this startup?
Prabhat Kumar Tiwary is a Stanford Business Graduate with over 23 years of professional industry experience. He is very passionate about advising and helping technology based startups and SME build, restructure and grow.
Prabhat is currently the Founder and CEO of YourOwnROOM, a technology enabled business that is redefining the way in which millennials in India live.
Prior to this, he was Sr. Vice President at Xchanging managing a $30 M P&L for an application Services SBU. He has worked in senior leadership and management positions at MphasiS, Zensar and Hewlett-Packard.
Sachin Joshi is the Co-Founder at YourOwnROOM and is the Chief Sales and Product Officer. He brings with him,17 years of experience holding key leadership and management positions working on Application and Platform development for large Technology organizations like HP/EDS, MphasiS, Cognizant and TCS.
He is a digital enthusiast with a deep interest in Analytics, AI, ML, Mobility and Digital Payments. He has in-depth experience in setting up Digital Channels for this business having played a pivotal role in the development of standardized platforms which consolidate different Global Real Estate Processes handling 2 million transactions/year and used by 500 users.
Where is your startup based out of? Why do you think that is the best place for you?
My startup is headquartered in Bangalore with a parallel operation in Pune. Bangalore and Pune's population has been steadily increasing over the last few years. We've seen many migrant millennials flock to these cities for opportunities they otherwise could never have. The demand for good quality housing is evident and real. What better place to start of this journey in and cater to the mass demand of housing for migrant millennials. Key to building a Pan India solution is to make the business work in more than 1 city before scaling it to other cities.
As a startup founder, what are you paranoid about? What keeps you awake at night?
I strongly believe that key to our long-term success is our ability to deliver customer delight to our tenants and win owner trust. This can be achieved by Execution Excellence.
At YourOwnROOM, Sachin and I have been constantly driving that culture. I am constantly thinking if my team (including the last employee) believes in this mission and is his/her action aligned to the mission.
Who are your competitions and how are you better than them?
We have a few businesses who operate in similar spaces such as ours. Nestaway, Zolo, to name a few. We differentiate ourselves on 2 fronts – one is our ability to acquire superior Inventory which is possible because f our expertise and platform and secondly is our ability to execute better. We believe that our ability execute and deliver customer delight can help us exponentially scale.
How hard is it to have a work life balance as a startup founder and how do you manage it?
Building a startup is a very intense experience and sometimes it can take a toll in your work life balance. I try hard to balance it by pursuing my other interests like travel and spending time with family and friends. Sundays are for unwinding and I ensure I don't work and instead spend time with family.
Have you raised funding? If yes, then we would like to know the details. If no then please tell us if you are looking to raise.
We've raised an undisclosed amount as part of our current seed round and should close it in the next few weeks. We should be making a formal announcement shortly in this regard. Most of the Investments have come from Angels who are very senior executives across US and India and have been guiding us throughout the journey.
What's the biggest misconception people have about you? Why do they have that? What's the reality?
Online Managed Rentals is relatively a new space in India. Though People understand the same in Commercial Properties they still have misconceptions in the Residential Properties. They think we are about matchmaking and connecting the Tenants to the Owners. However, there is a significant handholding which we do all the way from getting the property listed on our platform to getting it ready and then showing it to tenants, signing agreements, conducting KYC and managing the entire tenant and property lifecycle, exits and renewals.
What gets you excited about this company?
Millennials are an integral part to the success of our country. By 2020 millennials will constitute of nearly 500 million individuals, that's nearly 36% of the total Indian population. It is our job to encourage them to ensure they have the best of facilities and support to spearhead India towards being a world superpower. YourOwnROOM starts at addressing the basic need of millennials and that is to help them find a home where dreams are built. We're excited everyday to be a part of this journey where we could make an impact which would eventually be on a Global level.
Tell us how a day in your life looks like? Your schedule for a day right from the time you get up till you hit the bed at night.
I am an early riser and start my day with morning walk or going to the gym. I am usually among the first few to reach work. I spend the first few hours responding to emails and reviewing progress and plan with my sales and customer success team across Bangalore and Pune. Post lunch I focus on strategic and tactical matters with regards to scaling the business and acquiring properties.
Most days for me are usually 12 hours day and I have been doing this for a long time and enjoy it.
Tell us about your team and how did you meet each other?
Most of my initial team has been built from my network or past relationships in the different companies I've been associated with. However recent additions have happened through Campus placement and from folks who have experience in Prop-tech space. We are constantly looking to add to our team like minded people who want to be a part of this exciting journey that goes beyond just providing good accommodation to singles in India.
Know a great startup story or want to share your own? Write to us at contact.bangaloreinsider@gmail.com and we will get back to you. For more updates follow Bangalore Insider on Facebook.
Author
Sponsored Ads