Sponsored Ads

YourGreenCanvas is a Bangalore based startup founded by Saumya and Babita. It is a modern gardening startup which is working hard to bring greenery in the city.
We offer everything from beautifully designed terrariums (custom and readymade) to landscaping, corporate gifts, plant staging, workshops and much more, says Saumya.
We got an opportunity to talk with Saumya, the founder of YourGreenCanvas. Read her full interview to know more about her journey as an entrepreneur and about her startup.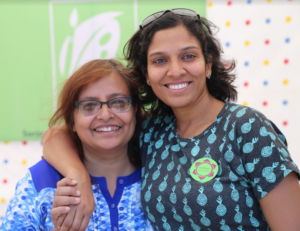 Give a brief info about your startup?
YourGreenCanvas is a modern concept of gardening under a glass in the urban environment. Our self contained green eco-systems help bring back the greenery that the urban environment has lost, especially in a city like Bangalore. We take the concept of outdoor gardening, optimize it to suit your needs and bring it right back into your homes and offices for a rejuvenating experience. We offer everything from beautifully designed terrariums (custom and readymade) to landscaping, corporate gifts, plant staging, workshops and much more!
What made you start your startup and what problem does it solve?
The idea of YourGreenCanvas was born because we felt a strong plea from mother nature herself to bring back the green into this world. When we look around we see the horrific chaos, the pollution, the concrete jungles and the stressful jobs around. We wanted to bring back hope into the lives of people around us. Both Babita and I are good family friends who took to the art of terrarium making while pursuing our love for gardening. Terrariums are the simplest way to mimic nature and bring natural landscapes back into your homes.
We noticed a potential for this business when we first presented these little nature made art to close family and friends as gifts on different occasions. The joy, hope and smiles it brought them really encouraged us to kick start this off. We believe that through the terrariums and other green landscaping services we offer, people are reminded of how beautiful nature is, which in turn encourages to be more aware of their surroundings keeping in mind the preservation of our beautiful Mother Nature.
Tell us about yourself, your previous jobs/ventures? What were you doing before this startup?
Saumya :- I was on a maternity break that refused to end. I just could not muster the enthusiasm for my previous career. Prior to that i was working in an MNC in HR.
Babita:- I was a day trader and I had reached a point where I wanted to escape the day to day stress that comes with the territory. I wanted to do something that I had a genuine passion and like for.
Where is your startup based out of? Why do you think that is the best place for you?
We are based out of Sarjapur, Bangalore. Well, as all of us know, Bangalore is sometimes also known as the Garden City because of its lush greenery which still continues to be very beautiful, making Bangalore the right kind of place for inspiration and creativity to flow, and that fuels both Babita and me to run this company the way it was dreamt to.
We have been in this city for a good chunk of our lives, and usually, once that happens, you are bound to fall in love with every bit of the city. Bangalore and its people provide you with such warmth that you are able to easily fit in and become comfortable in, which is what we personally experienced.
But, as Bangalore is also an IT hub, it is turning into a concrete jungle that's losing that touch of nature one big patch at a time. We want to bring back that connection of us humans with nature especially keeping in mind all those employees who do an 8-10 hr desk job everyday. So, yes, I cannot think of a better place for us to have started this journey.
As a startup founder, what are you paranoid about? What keeps you awake at night?
I'm sure there are many things that keep different startup founders awake at night. We must say, however, that we've been blessed with sound sleep for as long as I can remember. A huge theme of our business revolves around natural stress relieving products. This craft has proven to be relaxing, enjoyable and exciting all at the same time. It constantly keeps us physically active and we can't wait every morning to wake up and craft little gardens that bring about stress-relieving and rejuvenating experiences to offices and homes all across the city and country.
Who are your competitions and how are you better than them?
In the purpose we serve, we don't believe in competition, We believe in collaboration. No matter who's creating these terrariums or who's building beautiful gardens in homes or offices, we look at all of this as one big effort to serve a big common cause and that is to bring back the green into our lives. We encourage  'competition'. We look at it as more hands that's required to do one big job! The ocean here is massive but like they say small drops make a mighty ocean. Through each one of us creating tiny terrariums and green patches, remember there are huge forests in the making.
How hard is it to have a work life balance as a startup founder and how do you manage it?
 Work never seems like a detachment from leisure when you are enjoying every single moment of it. Greenery brings joy to us. It brings us even more joy when we see other people appreciating it. Having said that, there are a lot of things that need to be done and those things do take up our time and it is essential that we balance our time with family well. I make it a habit to follow a routine and dedicate just enough time to work as I do to my family and friends. Being able to work at home at times also makes it convenient for us to manage a lot of other things.
Have you raised funding? If yes, then we would like to know the details. If no then please tell us if you are looking to raise.
We raised funds through investments from family and friends. This includes Alok K Sinha, Managing Director of Capita – which is an Industry leader in computer software. Prabhat Kumar Tiwary, a Stanford Alumni and Founder and CEO of  YourOwnRoom has also contributed through investments. Funds were also raised from industry angels who strongly believe in this purpose.
What's the biggest misconception people have about you? Why do they have that? What's the reality?
Honestly, we don't have an answer to this question. If people do have a misconception about our products, we've never been told them. However, in my mind things like us being a business for profit seem to drown out the true purpose and drive this business was actually built upon. The larger purpose always gets drowned out and that is something we strive to keep alive. We've always maintained it's about us bringing joy, wellness and calm to people around us. We hope our business serves as a reminder to people all over, the beautiful world we live in. It's an initiative to keep people from destroying Mother Nature from even more damage than what she has already endured.
Other major misconception we have observed is that many people seem to believe that plants are not for everyone. They worry about space constraints. A container can be a garden as far as we are concerned. It's not just for independent bungalows. Apartments and balconies can sustain gardens too. And succulents ARE, or at least can be, indoor plants.
What gets you excited about this company?
The thought of being able to bring a smile on a person's face when they look at greenery around them, is so satisfying, and to be able to do so in different ways with varied challenges is just so exciting.
What excites us even more is the things we can do for the betterment of our clients' overall health and wellness. We are, through our services and work, able to relieve people from their anxiety, reduce their stress levels, help them feel calm and provide them with a sense of comfort and warmth. These are the things that bring joy to us and get us excited .It's an absolutely beautiful feeling to watch a novice gardener turn into a bona fide plant lover.
Tell us how a day in your life looks like? Your schedule for a day right from the time you get up till you hit the bed at night.
Like everything in our lives, the day starts with the kids, We also try and fit in half an hour of yoga or gym(which we end up skipping  more often than not)
Our work life is normally spent on the move. If we are not working on our corporate orders for terrariums and other products ,we are typically at one site or the other. There some new projects to handle or maintenance to review. We have two trusty employees who take care of our day to day terrarium business ,nursery,inventory etc. Our work day ends at 6pm unless there is a deadline or a new development.
Tell us about your team and how did you meet each other?
Babita and I were neighbours and friends who loved to travel together and shared a love for everything green before we even thought of doing something together. We are very different people but our shared passion has led to us starting Your Green Canvas and we run it with very similar vision.We have complementary strengths and we just accept our weaknesses
Author
Sponsored Ads