Sponsored Ads

Wonderchef is a Mumbai based startup founded by Ravi Saxena.
Wonderchef is India's premium kitchenware company born out of the love of cooking. We at Wonderchef believe that kitchen is the 'heart of our home' as it inspires us to create lasting memories with the food we cook for our loved ones, says Ravi.
We got an opportunity to talk with Ravi, the founder of the Wonderchef .  Read his inspiring story to know about the mission and vision of the organisation.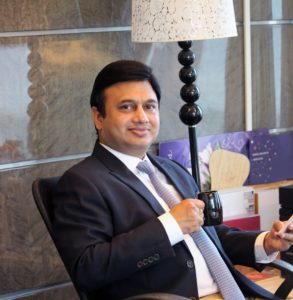 Give a brief info about your start-up?
Wonderchef is India's premium kitchenware company born out of the love of cooking. We at Wonderchef believe that kitchen is the 'heart of our home' as it inspires us to create lasting memories with the food we cook for our loved ones.
A Wonderchef product at a home is a statement of its refined taste and discretion. Our vision is to enable every food enthusiast in India to find just the right product to help them enjoy healthy cooking and express their love.
What made you start your start-up and what problem does it solve?
Wonderchef has inspired millions to use proper equipment, tools and cookware for healthy, low oil cooking leading to a better, fitter lifestyle. We have been able to educate our customers on healthy cooking by offering them quality cookware and appliances. Our customers now feel cooking is fun than a chore.
We have also engaged over 50,000 women entrepreneurs who not only earn a living on their own terms, but also, spread the knowledge of healthy living in over 1000 towns of the country.
Tell us about yourself, your previous jobs/ventures? What were you doing before this startup?
I began my professional career when I joined VIP Luggage, in 1992 as the Brand Manager for soft luggage business. I spearheaded and managed several brands launching as many as twelve new businesses, where to name a few were VIP Luggage, Sodexo India. I joined Landmark Group to head their hospitality business and launched many new brands in India and abroad like – CityMax Hotels, Gloria Jean's Coffees, Fun City gaming zones, Yellow Chilli restaurants with Chef Sanjeev Kapoor and Polynation Food Courts.
Where is your startup based out of? Why do you think that is the best place for you?
Wonderchef is headquartered at Mumbai. The kitchenware industry is evolving at a fast clip. In the last few years it has gone from a largely unbranded to a branded segment. Wonderchef has been able to lead the change in quality, performance and style of cookware that is used in Indian kitchens, and has become a thought leader in the industry. Its innovative blenders and juicers stand for quality and performance, and have become the benchmark in the market. Every appliance has a unique story of health, taste and convenience as the three touchstones of every product launch. It is the best time and place to explore!
As a startup founder, what are you paranoid about? What keeps you awake at night?
There are different phases in the life of an entrepreneur. In the beginning what used to keep me awake was the very matter of survival of the fledgling company. Now, having crossed that bridge, my key concern is to meet the aspirations of our employees and our customers.
Who are your competitions and how are you better than them?
There are large, established brands in kitchenware industry. Wonderchef has been able to make space in the consumers mind with its innovation, quality and direct customer connect with its one-on-one selling approach.
How hard is it to have a work-life balance as a startup founder and how do you manage it?
What is work-life balance? Work is life.
Have you raised funding? If yes, then we would like to know the details. If no then please tell us if you are looking to raise.
We at Wonderchef have received three rounds of funding from Zurich-based PE Fund Capvent, France-based family office Labruyere, and PE Fund Amicus Capital. From humble beginnings in 2009-10, the company has come a long way and counts itself as being in the top three in almost every segment that it competes in. Scale has been built up with the judicious mix of innovation, aggression, and capital raise.
What are the biggest misconception people have about you? Why do they have that? What's the reality?
The biggest misconception about me is that I am a workaholic and work too hard. Actually, I work harder than that. All start-up founders need to.
What gets you excited about this company?
The most exciting thing about the brand is that the customers have responded positively to every idea we have created for them, every approach we took to reach out to them. If we keep this spirit alive as we grow bigger, there is no limit to what we can achieve.
Tell us how a day in your life looks like? Your schedule for a day right from the time you get up till you hit the bed at night.
Despite my reply in question 9, I actually manage to pack a lot in my day. I begin the day with a bit of exercise, am fortunate enough to be able to walk to work in Mumbai, work for atleast 12 hours every day, come home and find time to catch up on news, sports and also some movie clips. Reading for an hour before going to sleep is an essential. Clearly, early to bed is not a luxury I enjoy. But, every day is exciting and fulfilling.
Tell us about your team and how did you meet each other?
We were a team of 3 co-founders, though, I am the operating partner. I met Chef Sanjeev Kapoor when I decided to take Master franchise of his restaurants in 2006. We have been friends ever since. I met my other partner Nicholas in 1994, the day I joined Sodexo in France. 25 years and we are still going strong as friends and partners. Besides, along the way I met brilliant, dedicated people who believed in my dream and joined me in this journey of building brand Wonderchef.
Know a great startup story or want to share your own? Write to us at contact.bangaloreinsider@gmail.com and we will get back to you. For more updates follow Bangalore Insider on Facebook.
Sponsored Ads