Sponsored Ads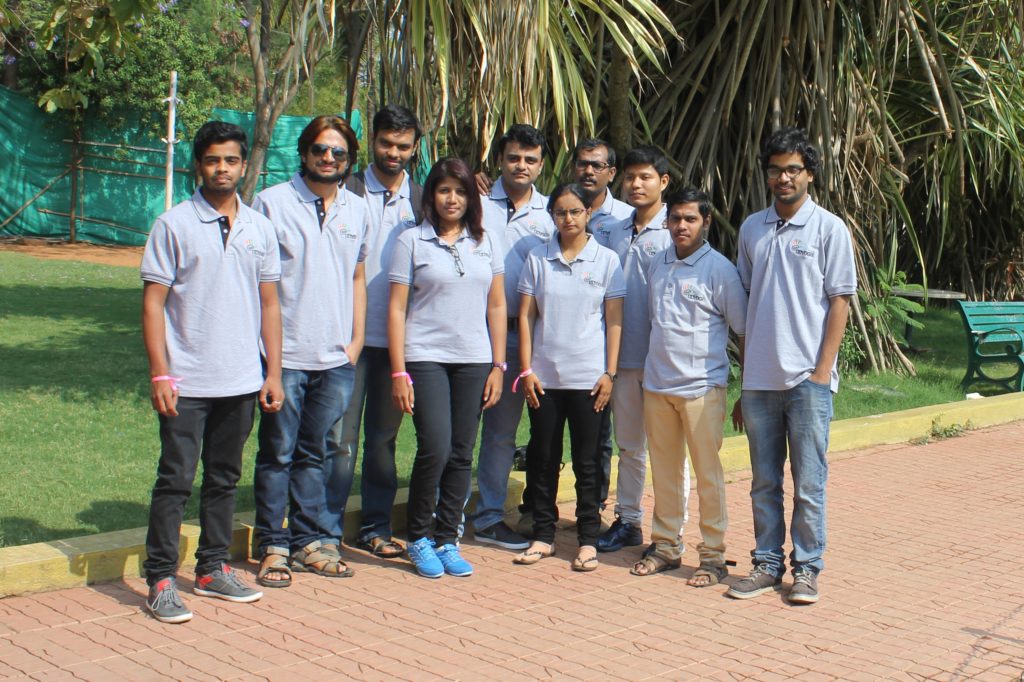 There is a popular saying "How doctors are to patients, recruiters are to job seekers". Both of them instill a sense of calmness and hope into the hearts of million of people who come to them looking for help. If we look at statistics we can find that India adds 10 – 15 million new workers to it workforce every year. But how do these 10 – 15 million people find the jobs they always wanted. It is a process and a task that many recruitment companies do day in and day out. Over the years there hasn't been much innovation in this sector. Well, until now. In comes Udyogii, with some innovative ways that not only helps people find the right jobs but also increases the process itself.
We got one of the founders Bharath Bushan C to share his startup journey with us. Here are a few excerpts from that conversation.
Give a brief info about your startup?
Udyogii is an End-to-End recruitment platform. We are redefining the way employers attract and hire talent/skill. With Udyogii experience an amalgamation of technology, people and process to recruit the best talent/skill in the market.
More than 97% of Udyogii clients reward the company's delivery model, reliability, passion, creativity, and unique ability to handle the broadest range of their human capital requirements by continually extending their partnerships with us.
We add value to all the members of the recruitment ecosystem i.e: Employers, HR Consultants, and Jobseekers. Below image list down some of those value add that we bring to the table.
What made you start your startup and what problem does it solve?
We were intrigued by the size of the problem that currently exists. India adds 10-12 million new workers to its workforce every year. The biggest problem India faces is to get them jobs.
51% of existing employees are considering a new job
47% of small businesses cannot find qualified applicants for open positions
According to 2016 talent trends, India has 42% active talent, which is above the global average of 36%
LinkedIn's 2015 Global Recruiting Trends report, quality of hire is the most valuable hiring metric, followed by time to fill
Average of 52 days to fill an open position by Employers
We clearly see a major gap between Employers and the Jobseekers. And both of them are spread throughout the country separated by distance.We brainstormed on this and came out with a unique business model which could solve the problem!
One of our USP has been to provide a video Resume of the jobseekers.
Tell us about yourself, your previous jobs/ventures? What were you doing before this startup?
 Udyogii was started by two Individuals Ashok Ramanna and Bharath Bushan
Ashok Ramanna: Has an overall experience of 12+ years in the field of recruitment both in corporate and consulting firms. He has been closely associated with the recruitment and HR activities all through his career. His previous work experience started with 'Manpower services' 'and moved on to 'Xora(Now Click Software)' and started his own recruitment consultancy 'Agile Force Solutions'. In his free time he loves travelling and believes that a traveller is the one who sees the world the way it has to be seen.
Bharath Bushan: Currently leads the effort on Marketing and Sales, before to his current responsibility was with Infosys Ltd working on consulting and pre-sales assignments. Has an overall corporate experience of 10+ years in MNC's and Startups. He is very passionate about the technology and its application in improving the quality of life. He has a Bachelor's degree in Mechanical Engineering from Bangalore Institute of Technology and PGDM in Marketing & Systems from SDMIMD
Where is your startup based out of? Why do you think that is the best place for you?
Udyogii is 'born in Bengaluru, made for India'.
Bengaluru is the silicon city of India and attracts a significant number of jobseekers from different parts of country. It is also the start-up capital, majority of the start-ups make Bengaluru it's home because of the diversity of the people who reside here and quality of talent. This makes it a perfect combination for our start up.
As a startup founder, what are you paranoid about? What keeps you awake at night?
Having built a world class platform 'Udyogii' and confident that it solves the problem to the delight of the customer, one thing which is a variable is the quality of services rendered. Udyogii and its team has set a benchmark for itself and always strive to exceed the expectations of the client. This needs a consistent effort and need to work collectively. Which sometimes and for a right reason keeps us awake in night.
Who are your competitions and how are you better than them?
Udyogii has a unique business proposition. None of the players in the market has this business model. So we do not consider anyone as a competitor.
How hard is it to have a work life balance as a start-up founder and how do you manage it?
It sometimes gets harder to juggle between professional work and personal work. This however needs a discipline and getting organised. It helps to have clear priorities and communicate the same to people around us.
Again this is a challenge every day, how best we manage will define the success.
Have you raised funding? If yes, then we would like to know the details. If no then please tell us if you are looking to raise.
We started the venture with some of the savings from our previous assignments. It took a shape and started getting a moderate revenue. We have been blessed to have a supportive family and friends, we went ahead to raise a capital of Rs 20 Lakh with help of them. This has helped us in attract some good talent in the market and scale up our business.
However we look forward for more investments from the VC's to take it to the next level.
What is the most important priority for this company?
Udyogii has a vision to curb and eliminate unemployment from India by 2025. We will strive until we reach our vision. As we do this we have to give the best possible facilities and resources for our team.
How do you think this might evolve over the coming months?
Udyogii is completely ready with its innovative technology platform on web and Mobile application (iOS and Android). It has been operating mostly with the companies in Bengaluru and has been successful in bridging the gap. In the coming months has plans to expand to other major metro cities on India.
What's the biggest misconception people have about you? Why do they have that? What's the reality?
People have a wrong perception to compare Udyogii to other job portals in the market. This is because they have just seen these job portals and are still unaware of operating business model of Udyogii.
Reality is Udyogii is much more than the perception. If anyone watches our video, they can get the reality.
What gets you excited about this company?
It is always exciting when we give a demo and the HR community is excited about the platform and start appreciating the platform. There are numerous emails which we have received and this excites us.
Tell us how a day in your life looks like? Your schedule for a day right from the time you get up till you hit the bed at night.
We at Udyogii give a first preference to a 'healthy mind and a healthy body'. Both the founders make it a point to have a small workout session to start the day with. After the usual chores for the day get ready to office by 8 am and be in office by 9 AM.
Prioritise the requirements for the day as key members of the team start pouring into office.
Have a stand up meeting at 10 am with the respective teams and discuss the priority and finalise it. Rest of the day goes by in completing the assigned tasks and dealing with any other important things coming up.
Sales is always challenging and demands lead generation and giving a demo to the prospects. For some of the key clients we travel to meet them in the traffic heavy Bengaluru roads.
Finally, after a hard day's work we contemplate on the next day activity and eventually dose off.
Tell us about your team and how did you meet each other?
Bharath and Ashok have been classmates from the school days. Have mutually worked on various projects in school and college. Having spent so much time together we know each other strengths.
Core member of Udyogii has been carefully chosen from some of the references and undergoing gruelling interview process which is mostly scenario based. In last one year we have managed to grow to a size of 12 member strong team. And expect to double up in next 6 months.
Know a great startup story or want to share your own? Write to us at bangaloreinsider@gmail.com and we will get back to you. For more updates follow Bangalore Insider on Facebook
Sponsored Ads