Sponsored Ads

Weekend Refuge is a Delhi based startup founded by Anshal Jain and his three friends.
Weekend Refuge plans and brings personalised and customised travel solutions for the fellow travellers across the globe, says Anshal.
We at Bangalore Insider had the opportunity to catch up with Anshal, the co-founder of  Weekend Refuge and to know more about the startup, read his inspiring story.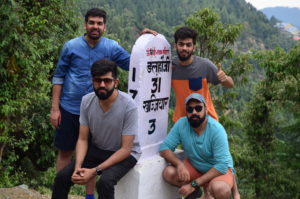 Give a brief info about your startup?
Travel is all about journey and not the destination. So, Weekend Refuge plans and brings personalised and customised travel solutions for the fellow travellers across the globe.
Weekend Refuge promises to surprise you with something different and special during your journey. We believe in not just traveling but experiential travel
What made you start your startup and what problem does it solve?
We felt that every travel startup today only focuses on affordable travel. Whereas, we work towards a travel journey which is planned keeping in mind all of the travel preferences of the traveller instead of selling a fixed itinerary. We surprise our travellers with new destinations and sometimes keep these destinations a secret with them until they start their journey. We believe that travel is all about making memories and living the journey so we try to make sure that we make every step of the journey the most memorable.
Tell us about yourself, your previous jobs/ventures? What were you doing before this startup?
We are 4 business partners who started journey as friends, then travellers and now working together. We are from 4 different industries- one from finance background, second is a master in audit and business processes, third has a way for operational hurdles and 4th- me, I have a background of advertising and marketing.
This is our first venture together where we have the one thing in common is the passion to travel and make other travellers' journey more memorable.
Where is your startup based out of? Why do you think that is the best place for you?
Our operational base is based out of Delhi right now. But, as we are growing we have our travel community serving others across the country.
Delhi being the capital of our country and centre point to both international and domestic tourism, this helps us capture all kinds of travellers.
As a startup founder, what are you paranoid about? What keeps you awake at night?
We always put our sweat and blood in curating a journey for all our travellers which is seamless and memorable, keeping in mind their safety and convenience.We always find apeaceful sleep when we see our travellers enjoying their journey and making endless memories for life.
Who are your competitions and how are you better than them?
All of the travel companies from startups to well established companies are our competition.
I still remember the story of Walmart, where the CEO and the founder used to visit their competition brands to know what they were doing better than them and they would happily accept it. The same way we motivate and inspire ourselves looking at other companies.
How hard is it to have a work life balance as a startup founder and how do you manage it?
When you are following your passion and working towards making it big, then you don't need any such balance. You find this balance in your family and friends through their constant support and friends.
Have you raised funding? If yes, then we would like to know the details. If no then please tell us if you are looking to raise.
Right now, we haven't raised any funding nor are we looking at raising any yet.
What's the biggest misconception people have about you? Why do they have that? What's the reality?
People have a misconception that we are a mainstream travel agency who books hotels and tickets and plan the trip. In reality we are very different from our competition as we personalize the experience of each individual as we take personal preferences in to consideration. We plan to overcome this misconception through our targeted marketing campaigns.
What gets you excited about this company?
The zeal to work and passion to travel makes us the most excited in the whole room.
Tell us how a day in your life looks like? Your schedule for a day right from the time you get up till you hit the bed at night.
We breathe and eat travel. Our day starts with talking to fellow travellers about their travel needs and we end our day with finalising their plans and itinerary. We strive to give the best experiences.
Tell us about your team and how did you meet each other?
Our journey started as a 4 individuals who became best of friends over time. We had passion for travel common amongst ourselves. That passion brought us even closer to start Weekend Refuge together.
Know a great startup story or want to share your own? Write to us at contact.bangaloreinsider@gmail.com and we will get back to you. For more updates follow Bangalore Insider on Facebook.
Author
Sponsored Ads