Sponsored Ads

We Do is an organisation founded by Rajashree, Aparna and Madhurya  with the vision
"To build a gender-balanced society in the North East that upholds gender justice, equality and respect for rights."
We got an opportunity to talk with the founders of the WE DO.  Read their inspiring story to know about the mission and vision of the organisation.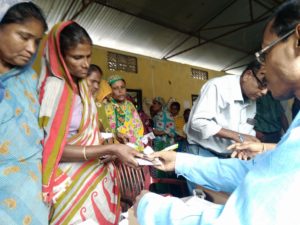 Give a brief info about your start-up?
WE DO is a right based initiative by four young minds from Assam which prime focus is to empower women irrespective of, Diversity, Ethnicity, Culture, Space. WE DO also look after other marginalized section of the society, trying to give them a platform where they can share their problems. WE DO connect different social injustice issues and aims at combine activism with research on different social tribulations that are often lie down in darkness,  from a liberal feminist perspective, conveying critical gender issues through dialogue and dissemination.
VISION
To build a gender-balanced society in the North East that upholds gender justice, equality and respect for rights.
Encourage the young mind to research on different social menace to dig deep the issue to find a solution and to develop a congenial environment.
What made you start your start-up and what problem does it solve?
In my childhood, I used to go to various remote areas of Assam and I used to visit tea gardens quite often. My parents always encouraged me and to do something, a small contribution to make society better. During days I have seen the struggle faced by women whether it be education or be hygiene or violence. In my home also we often discuss such matters. Since then I rooted a dream that I'll do something for the common people, for the marginalised and for a woman.
This helped to engaged myself voluntarily associated in with various social activities during my college life. This continues, and I was mostly associated with the Adivasi community. While working with them I have noticed that people are unaware of their rights, laws are there but these people hardly know about them and this is becoming a major reason behind the exploitation of these people. And I made up my and started to aware people regarding their rights, I specifically start working on spreading awareness on maternal health and human trafficking.
During my masters I feel the need to do my work to organise so that I'll be able to reach more people, interestingly in these days, I meet people who also are dedicating their work and passionate about working in the development sector. I met Arpana, and Madhurya during my Masters days I Tezpur University. Later I met a Anup and Rahul. Our mission was the same, but we were working individually until them. So we decided to join our hands together for a change that we want to bring in the society and for the greater good. And that how WE DO has started.
Problem that WE DO is trying to solve
Strengthening women's collective action and their leadership
Providing a platform to the victims of the social evils to raise their voice
Increasing women's representation in political, public and community processes
Addressing discrimination and violence against women and other marginalized section of society including LGBT community  in both public and domestic spheres, and ensuring safer spaces
Creating a sophisticated professional environment without jeopardizing the integrity of the dignity of the target groups.
Providing food for thought to the young minds by using media.
Since the year of inception, WE DO is trying to work in various social sectors.
Tell us about yourself, your previous jobs/ventures? What were you doing before this startup?
I was born on August 5, 1991, in Tezpur. My father Ramen Goswami was Asst. P.F commissioner at ATPPF and Pf and mother Nabajyoti Goswami is a housewife (a proud one).
After completing my graduation in English from Darrang college, Tezpur I joined Tezpur University for M.A in Mass Communication and Journalism. After completing my masters I joined CHDP Tepur in their Project CAR, Child at Risk. I have worked as Research Investigator in an ICSSR sponsored project on Women Trafficking in Center for Women Studies, Tezpur University. Also, I worked as Research Assistant in Assam in   UK ESRC project, Understanding and Governing the Global Business of Forced Labour, the University of Sheffield.
During my masters, I was associated with NAZDEEK which was a right based organisation. I work as an Intern in their EndMaternalMortality Project and presented the project in first "ICT for Health and Environment" plenary along with my co-intern Arpana Choudhury. The project as on the maternal health among the tea-garden workers. Apart from that, I was rendering my services as a field research volunteer during those days to PAJHRA which is an organisation that is working for the upliftment of the society. That was before inception year of WE DO.
As of now, I'm  a research scholar in the Department of Mass Communication, Assam University under Professor (Dr.)Gyan Prakash Pandey, apart from being the co-owner of my another stat up VoxPop Daily. My research is basically based on human trafficking and women.
During various national and international seminars including  I am trying to shed light on the issues that are often ignored by the mainstream media or people. As a Panellist in an International platform like International Conference On Anti Human Trafficking- Theory To Practice, organised by Kolkata Mary ward Society, where people around the country globe gathered I tried to shed on the high rate of human trafficking among the tea-garden workers of Assam.
Being a social worker I always try to dig deep an issue whether and try to work on that with a goal to seek a solution. I am always associated with the communities. Working for the development of the suppressed is passion and it always brings inner-peace. "Simple, honest, Forward, Strong, and living with Passion" these are the words I would like to use for myself. And from my field experience, I have seen that in most of the communities the status of women is yet to improve and work for the upliftment of my kind has become a dedicate passion.
Extensively working on Adivasi Community and Cross-Border Trafficking
Content Writer
A research scholar in the Dept. of Mass Communication, Assam University.
Where is your startup based out of? Why do you think that is the best place for you?
Our initiative is based on Tezpur. This is because Tezpur is my hometown and most importantly there is a lot to in the suburb and within the town itself. It is always important to know a place, know a community well before you step in a work. And as we say "Work for a cause and search that cause from your home, work on it, the world will know." But we have worked in various parts of the Brahmaputra and Barak Valley of Assam like Silchar, Dhekiajuli along with Tezpur and it suburb areas
As a startup founder, what are you paranoid about? What keeps you awake at night?
Digging the root, knowing the history and searching solution. Yes. When it comes to the social issue I always try to know, gather knowledge, research on the issue to know it well. I always try since when it started, what is its chronology, what is it's previous an present status. I read, communicate and quest to learn before planning.
I always try to find simple ways to communicate with the community people. I always try to find ways to make them aware through entertainment. Language is sometimes an issue to communicate well either them so I search for alternative ways to break these barriers. This is something always rotate around my mind.
Who are your competitions and how are you better than them?
I believe my competition is only with myself. I focused to do better or be someone better than I was yesterday.
How hard is it to have a work-life balance as a startup founder and how do you manage it?
To be frank it is not easy. I am also a research scholar so I need to dedicate time to study also. And both of my startups need a lot of travelling and interaction with people. I won't deny that sometimes my schedule becomes too hectic. But I am engaged with work that I love to do. That's the satisfaction.
I divide my work schedule according to priority and need for my work. And when I feel for a break I travel, whether it be nearby places but I explore places. Also, when I am at home then also I divide my time period so that I can spend time with my parents. And I decide a holiday for myself according to my work schedule, most of the time I work on Sundays but then the next day I take off. That day I dedicate all the time spending time with family or friends or dedicate time towards my hobbies and reenergizes myself.
Have you raised funding? If yes, then we would like to know the details. If no then please tell us if you are looking to raise.
No, not yet. We are working on this initiative by spending money from our own pocket. Apart from two flood relief camp where people donated as per their wish, we have not raised any funds for our activities.
It's a brutal truth that to work in a proper pace an organization needs money. In the future, we are looking for raising funds so that we can spread our work and more people can be benefited from these works.
What's the biggest misconception people have about you? Why do they have that? What's the reality?
I cannot generalise. Different people hold a different opinion about me, sometimes positive and sometimes negative. People judge or hold a perception according to their own understating. I am never bothered by what people will say about me. If it, they say positive words I take with a smile and if they criticise that too I take with a smiling face. One thing I know that I am never apologetic for being me, I exactly know what I am doing also I observe people a lot. I am a silent observer and I remember.
Whoever I am now is due to my struggle and help of my parents and well-wisher. This a beginning, there's a long way to go. And criticism always boosts my energy to work harder towards my goal. The soul is unbroken.
What gets you excited about this company?
The Mission. This is something I love to do kinda passion. The feeling that I'm not sitting silently despite observing the wrongdoing. It's an inner peace that I  the other co-founders are trying to do something for the society. Usually, our generation is regarded as irresponsible one but when I see people in my team when I see my co-founders It feels good that there are a bunch of people in our generation who think, who take responsibility not only the responsibility of life but the responsibility of the surrounding.
Tell us how a day in your life looks like? Your schedule for a day right from the time you get up till you hit the bed at night.
As I mentioned sometimes hectic, sometimes idle. I wake up early in the morning and try to maintain calmness in the day through meditation and then I hit the gym. Whenever I am In Silchar I go to the university in the and do startup related work at night. Saturday Sundays are for activities.
Whenever I am at Tezpur I divide my work for study, start-up time and family time apart from keeping my time.
Tell us about your team and how did you meet each other?
WE DO is the outcome of three young minds and the product of five collaborative heads. Me and Aparna Choudhury is the real founder and Madhurya Madhob Bora is the nominal founder. Arpana Choudhury who belongs to Tezpur, Assam is a Commerce Graduate, Post Graduate in Mass Communication and Journalism, Tezpur University, Worked as a Justice Program Associate in NAZDEEK. She was listed in Forbe's 30 Under 30 in 2016. Arpana is basically a Human Right Activist. Presently she is working at GreenHub.
Another founder Madurya who belongs to Jorhat Assam is a Post Graduate in Mass Communication and Journalism and currently worked as an executive in a reputed  NGO Seven Sister Development Assistance who is working on rural livelihood,strengthening women collectives etc.
Anup Sinha who belongs to Silchar, Assam is also the Technical head of the initiative is Computer Science Graduate, St. Anthony's College, Shillong, MCA, Tezpur University. He currently working in the area of  Natural Language Processing, at present Lecturer, G.C College, Silchar, and co-founder of VoxPop Daily.
Rahul Borah who belongs to is A Commerce Graduate, An MBA from NERIM and presently working as Lecturer in St. Xavier's College, Tezpur. Rahul is also the finance head of the initiative. And he is one the most inspiring person in the team. Rahul is losing his eyesight due to an incurable eye-disease but he is a warrior who is taking it as a challenge and acing in his every work despite difficulties.
We all meet at Tezpur University. It can be said T.U is the birthplace of WE DO.
Our Motto is "Adopting the right attitude can convert a negative stress into a positive one." And We Work For A Cause.
Know a great startup story or want to share your own? Write to us at contact.bangaloreinsider@gmail.com and we will get back to you. For more updates follow Bangalore Insider on Facebook.
Author
Sponsored Ads