Sponsored Ads

Trippy Wheels  is a Bangalore based startup founded by Sanjna Hangal and Vatsala Rangegowda. Trippy Wheels is a tour and travel startup which provides one stop solution for custom made caravans and travelling experiences.
We are committed to bring the true essence of caravanning culture to India while helping our travelers explore the unexplored parts of our vast country, says Sanjna.
We got an opportunity to talk with Sanjana. Read her story to know more about their journey as an entrepreneur.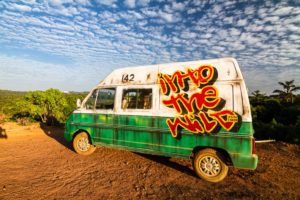 Give a brief info about your startup?
Trippy Wheels is a travel based startup providing caravan rental service with the vision of uplifting rural tourism in India. We are committed to bring the true essence of caravanning culture to India while helping our travelers explore the unexplored parts of our vast country.
What made you start your startup and what problem does it solve?
Having lived in Sweden for 6.5 years, I (Sanjna) have my own caravan chronicles. My first caravan travel was pool-ride on the way back from a music festival in Sweden during the summer of 2015. The owner of the caravan was a 25 year old single mother who had traveled to the festival along with her 2 year old daughter. It was inspiring to see how freely these folks could travel without having to think about safety, security, booking rooms, transportation etc. They had it all covered in their caravan. This planted a small seed in my mind as to why there is no caravan tourism in India. India hosting such a vast youth population and diverse geography, caravan travels must have already been a common place. The same summer Vathsala had traveled across Norway in a caravan for 10 days. Later when she visited me in Gothenburg, our love for caravan travels further motivated us to travel in a friend's caravan across Sweden. The joy we experienced and shared during these travels stayed very close to our hearts. This little seed of an idea and the fun-filled experience from 2015 has built up to become Trippy Wheels today.
With caravans, one doesn't have to bother about booking transportation, hunting for accommodation, check-in & check-out times, running for the public transport, expensive vacations, reaching to the remotest of locations without hotel rooms, restaurants etc. Having all these things taken care of within a caravan, it solves most of the problems travelers are currently posing. Just rent our caravans and you are set for a road-trip of a lifetime.
Where is your startup based out of? Why do you think that is the best place for you?
Trippy Wheels is based out of Bengaluru. Bengaluru hosting a large culturally diverse youth population, awareness about caravanning culture is much higher. It is faster to reach out to the crowd through online platforms. Also Bengaluru being a second hometown for both Vathsala and myself, it was only natural to start our operations here to prove the business model. Nevertheless, this is only the start of a very exciting journey for Trippy Wheels. We have plans of geographically expanding in the coming months.
As a startup founder, what are you paranoid about? What keeps you awake at night?
Paranoid I wouldn't say, but we are constantly thinking on how to bring awareness about caravanning culture to India. Majority of the population still is not well-educated on how caravan travels go. This in-turn brings up problems like safety, security and lack of facilities while parked in the wild especially during night-time.
To scale up the caravan tourism in India like in the west, there must be infrastructure development around it like campsites with security, toilets and bathrooms, chemical treatment plants for cleaning the caravan during long travels and majorly a centralized tourism app which can validate check points to support rural tourism. All of this cannot be done by Trippy Wheels alone, we need people and other players like Government authorities, travel industry stakeholders to contribute to the growth of infrastructure and to encourage this minimalist style of travel.
Who are your competitions and how are you better than them?
According to our research, there are 3 more caravan rental operators in India. We do not consider them as our competitors because they are focusing on different style of caravan-tourism. Caravan tourism in India is in a budding state because of which all the players play an important role in contributing to making this a success. We don't have competitors we have a community. 🙂
Few important advantages of traveling with Trippy Wheels' caravans are;
– Affordable caravan rentals. Trippy Wheels is offering the most competitive prices in all of India.
– Freedom to chose your route and destination. Our caravans are tested and tried on various kinds of terrains both on-road & off-road.
– Self-drive caravans: Only Trippy Wheels is looking at offering this option for caravans which gives customers privacy and independence of travel.
How hard is it to have a work life balance as a startup founder and how do you manage it?
Both Vathsala and I are having so much fun working with Trippy Wheels that we do not have to explicitly work on creating work life balance. Nevertheless, we are very meticulous with planning which leaves us ample time to take care of ourselves.
Have you raised funding? If yes, then we would like to know the details. If no then please tell us if you are looking to raise.
We have raised a total of 26 lakhs through crowdfunding for proof of concept from friends and acquaintances.
We are looking to raise a further amount of around 2.5 Cr.
A part of it will be used for R&D, operations of 2 years, setting up model caravans, setting up franchises in 2-3 more tourist locations (Ex. Goa, Kerala, Rajasthan, Himalayas region).
The rest will be used to develop our travel based Trippy Wheels Application which we plan to launch soon.
What's the biggest misconception people have about you? Why do they have that? What's the reality?
The biggest misconception they have is that Trippy Wheels does planned itineraries for caravan travels. Travelers these days are used to going in large groups on a planned trip arranged by tour organizers. Naturally, they are expecting the same from us. Trippy Wheels is committed to bring authentic caravanning culture to India. This means freedom to do what you want, when you want and where you want. Offering planned trips will defeat the purpose of experiencing van-life. We are purely a caravan rental service provider.
However, we are coming up with some cool ideas together with PlanTheUnplanned for trips where groups of people come together and do real road trips across this beautiful country in our caravans. We have an upcoming 10 days road-trip across Karnataka to Goa and back to Bengaluru. There are some super excited trippers waiting to join the journey. We are eagerly looking forward to this one!
What gets you excited about this company?
For both Vathsala and myself, the challenges we are facing on an everyday basis to keep the Trippy Wheels rolling excites us the most! Caravan-tourism is still very young in the Indian market. There are more unexpected challenges than expected ones! We are not giving up the war. We promise to bring a huge wave of caravan-tourism across India. Major motivation for us to keep going is the smiles we see on customers' faces. They become joyous like a child when they see a caravan regardless of their age. This reassures that we are doing something right. 🙂
Tell us how a day in your life looks like? Your schedule for a day right from the time you get up till you hit the bed at night.
We have crazy routines, 5-6 meetings during the day, team discussions and planning until dinner, individual R&D and soft work till late night. Each of us handle around 20 phone calls through out the day. This is our professional life routine. However, we always make some time to catch that stupid movie or discover new eateries or visit friends and family or take long walks or meditate in solitude. We get to travel every once in a while and we have no complaints.
Tell us about your team and how did you meet each other?
We have a very adventurous, effective, happy small team.
Ramya –  It was a dream for her to travel in a caravan. Call it coincidence or fate, she found our shout out for a blogger on Facebook the day she quit all her assignments as a freelancer. She flew right in from Kerala met us over lunch for 2 hours, we all knew it felt right and she decided to come in as a crowd-funder and join our team as a Marketing Lead. She is the one taking care of everything that people need to know about Trippy Wheels through all channels possible. She does it all so gracefully, we love her!
Pranali – She has recently come on board as our PR manager. Her passion for travel and belief in our idea has brought her to us. Having met her a couple of times through a common friend, we became close about a month ago when she stayed with us for 5 days and we tripped on our caravan together. She is working closely with all the mainstream media channels to spread the word about Trippy Wheels. She has big plans for us and we are looking forward to fly high together.
Nisharul – Our all-rounder! We couldn't do without him. He has a solution for everything. He is our fleet manager and our go to guy. He has been working with Vathsala for her previous startup as a driver for around 4 years. One of the most committed, reliable and positive soul in the team.
Team of Interns – These guys are the energy source of Trippy Wheels. Anjali is our sweet 21 year old Graphics Designer who is always enthusiastic about learning new things. Haya does content writing and social media marketing for us. She is very determined and punctual which makes our jobs easier. Joined us recently is, Hamid our crazy ass photographer. Potential he has just leaves us in a state of awe! Ojaswini & Neha from NIFT, Bangalore working on styling our caravans for photo shoots, field marketing and online content generation. The creativity these young minds have is the kind of energy with which we want to build Trippy Wheels.
Author
Sponsored Ads