Sponsored Ads

The history of brands began with people. 
Scholars, Emperors, Kings, Philosophers, Soldiers and the like. The first brands of history were the world's most famous human beings. Think Aristotle, Archimedes, Achilles, Alexander the Great, Genghis Khan and the like. Coming to India, think, emperor Ashoka, Chandragupta Maurya, Chanakya, the characters of mythology, Lord Krishna, the heroes of the Mahabharata and the Ramayana. From Politics to Religion and Culture, brands were created out of these historical figures on the strength of their qualities in war or peace or intellect or life in general during those times. 
Individuals have personalities, traits and qualities bordering behaviour and the propensity to get important things done by the best methodology there is. So do groups of people. So do products and services created by individuals or groups of people who've come together under a registered company. Who builds these traits for a brand? Especially in the modern marketplace, where the business climate is so dynamic owing to massive change in the way societies live, work and earn together. 
Technology has changed the human mind, changing behaviours and attitudes like never before, at an unimaginable pace, so fast that it unnerves many people who wish things remained like the good old days, a much more comfortable terrain.
But change is the law of nature. The meaning of evolution itself is to change, continuously. So it is for brands and companies. May the best brand's advisors and partners survive and thrive.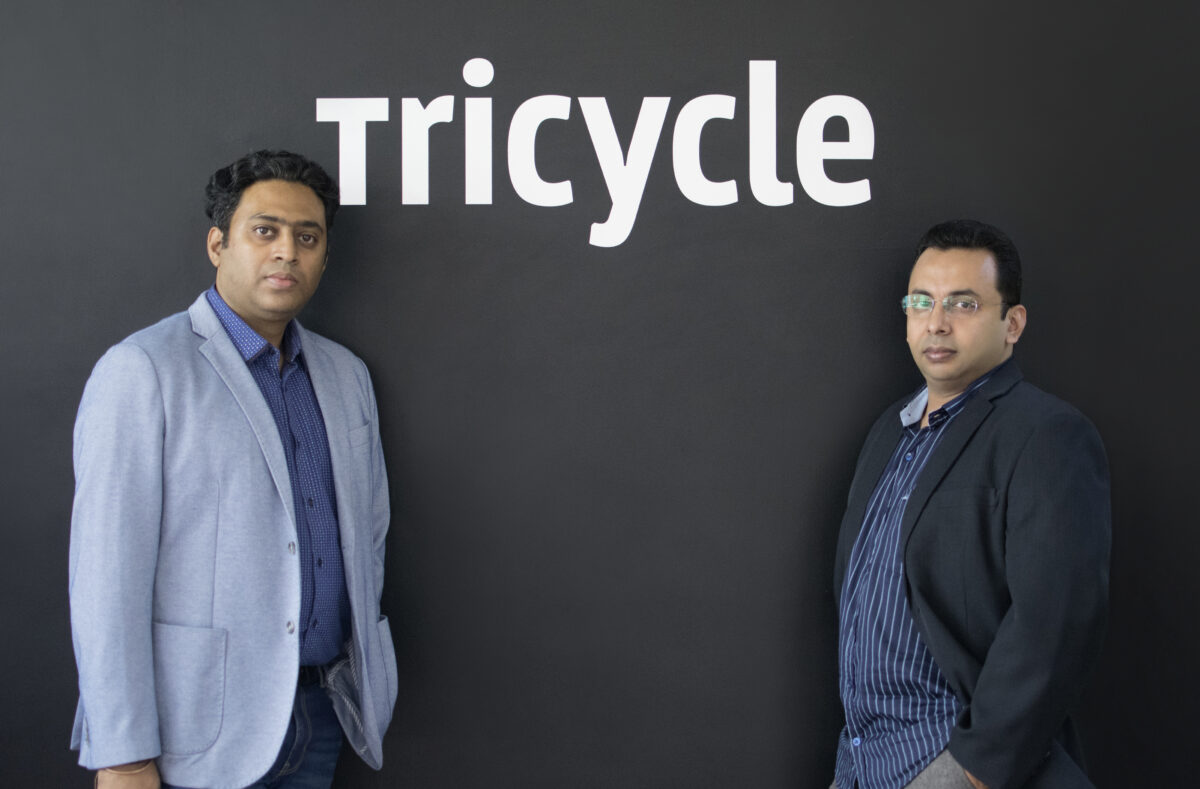 Give a brief info about your startup?
We use strategic and design intervention to build a distinctive projection for a brand. From brand identity creation, to brand positioning, to corporate collaterals, experience/workspace design, communication design, corporate films and more. We help a brand define itself and be in line with its business vision.
We are essentially a startup for startups and are aware of their issues and business opportunities. Through Tricycle, we wish to contribute to the cause of entrepreneurship and make a positive impact.
We started two years back and have been able to do consistent work that has helped us build a reputation.
What made you start your startup and what problem does it solve?
I was working in the brand consulting domain in Mumbai and I found that most of the companies who came to us were established players. The service was outside the reach of many, be it the family owned enterprise, or upcoming challenger brands and startups.
With the government promoting entrepreneurship in a big way it is imperative that the new business owners get support in not only the operational aspects of the business but also in terms of how they can effectively market their offering and build a strong and accepted brand. This prompted me to start TRICYCLE, a strategic brand consultancy that wants to be the brand agency for the new age enterprise.
Tell us about yourself, your previous jobs/ventures? What were you doing before this startup?
I am basically a communications professional, having begun my career in television in the content department and then got attracted to the strategy planning function, worked with ad agencies like Percept, Leo burnett among others before taking the entrepreneurial plunge.
Originally from Assam did my education from Pune and Mumbai and currently pursuing my master's program from Indian Institute of Technology Bombay.
Where is your startup based out of? Why do you think that is the best place for you?
We are currently based out of Pune but our model helps us in a way that we are geography agnostic. Principally, we could be working for anyone sitting out of where we are. Having said that we wish to expand our reach to two more cities before we pursue international operations. We have our thoughts on the same and hopefully should sort this out.
As a startup founder, what are you paranoid about? What keeps you awake at night?
The reason why it all started, to remain focused and passionately pursue the vision. Every new idea, every new client meeting excites me and to be in a position to add value for each one of them is what satisfies me. The fact that we are doing some real stuff and get to in some way live the dreams of so many entrepreneurs is quite an enriching experience.
Who are your competitions and how are you better than them?
Ours is a niche space but there are few who comes close to us. The real challenge however is who we get compared to on a daily basis. Some slot us with ad agencies, some with design agencies and some with pure play consulting firms. People take time to understand what we do , but when they do understand, they acknowledge the value we bring to the table.
We are not too worried about what others are doing. We are more concerned about how are we going to continue to add value and better ourselves going forward.
How hard is it to have a work-life balance as a startup founder and how do you manage it?
It is quite hard. As a startup founder you are always balancing your priorities and that's quite a task. Its also challenging for the family because your stress levels and challenges always show up. Your work consumes a major portion of your time and you need to plan everything else around it. Its is good to communicate issues to people around so that they know of it.
Since I am also pursuing my higher studies , it is double the challenge for me. But I guess when you need to do things you need to eventually find ways to do it. Its tough but then that's what you signed up for.
Have you raised funding? If yes, then we would like to know the details. If no then please tell us if you are looking to raise.
Now that we have stabilized our operation and our model is set, we now want to be part of ecosystems and explore opportunities through collaboration. We are talking to incubators, institutions and other private organizations where we can together add value.
Since I happen to belong to IIT BOMBAY, which is known for its entrepreneurial competency, I hope to reach out to my institute for guidance and support,
What's the biggest misconception people have about you? Why do they have that? What's the reality?
That may be I am very serious kinda guy , they may feel so because I am a bit obsessed with my work. But then that's sheer passion nothing else. Our startup or enterprise is an extension of our self so it does take a lot of your mind space. Reality is that I am that and also there is a casual side to me, which loves fun.
What gets you excited about this company?
The prime focus of Tricycle is to help businesses leverage the power of Branding to create a distinct competitive advantage for themselves. We usually work on projects in the areas of :
Brand creation – Where a brand has to be created afresh, right from the name, the logo, to the brand language to other aspects of corporate branding, packaging, retail experience design, campaigns and advertising.

Rebrand- Many a time businesses which have been around for long feel the need to reinvent themselves, to be in a position to leverage current and future opportunities , may feel the need to broaden their scope or diversify into new specialties which makes the previous interpretation redundant or limited by scope. 

In such cases we look at a rebrand where we equip the business with an appropriate projection in order to stay relevant and compete in a dynamic market.

Brand Rejuvenation – sometimes a strategic shift, a business move, or an acquisition might require a subtle realignment in terms of the projection. These are cases where the brand enjoys strong recognition, recall and associations which needs to be kept intact while still setting the context right.
Its been a satisfying journey till now, the fact that we have been able to create visible business impact for our clients is a great feeling. I always wanted to create an intellectual organization and not just a commercial outfit, so we are taking the right steps and moving as per our plan. We are not in a rush, and this patience is what I feel is essential to get where we want to. 
I think we are an idea whose time has come, so the curve is on our side. I like the buzz around entrepreneurship and that many young minds across the length and breadth of the country are now wanting to write their own destiny
Tell us how a day in your life looks like? Your schedule for a day right from the time you get up till you hit the bed at night.
Well it usually starts with my morning walk, I like that particularly as most of my ideas come then. I am a morning person so yeah love to see the sun rise. Then comes the morning news paper, never miss to read that , at least the headlines, then my kid wakes up so I spend some time with him, head for office, attend calls on my way which helps me plan my day, on reaching office I take stock of the ongoing projects , discuss with the team, attend to new enquiry calls , talk to clients who need to discuss anything. If there are meetings lined up then I attend those and invariably that's how my day comes to an end.
On reaching home I like to spend time with my family, that is a dedicated time. Watch television, or news with them and then retire to bed, sometimes accompanied by some reading.
Tell us about your team and how did you meet each other?
Since I look after the strategy function I reached out to my past colleague Mr. Kaushik Saha to join hands to spearhead the design function. We had worked together before so he knew me well and endorsed my vision so it was natural that I would make him part of this journey. He also comes with a great experience, having worked extensively in the domestic as well as the international market. We are a small yet efficient team and together we want to build the Tricycle story.
Know a great startup story or want to share your own? Write to us at contact.bangaloreinsider@gmail.com and we will get back to you. For more updates follow Bangalore Insider on Facebook.
Author
Sponsored Ads