Sponsored Ads

TravelShelf is a Hyderabad based startup founded by Romil, Rajat and Aditya. They are planning to expand in Bangalore and NCR.
TravelShelf is an Integrated Digital Asset for full-time travellers and influencers to showcase their style of travel, expertise and social media reach. TravelShelf acts as a business profile for a full-time traveller. Brands sign up to see the list of influencers based on their requirements. TravelShelf helps brand scale up their influencer campaigning efforts.
We got an opportunity to talk with Aditya, one of the co-founders of TravelShelf and see what he has to say? I am sure his interview with us will inspire you.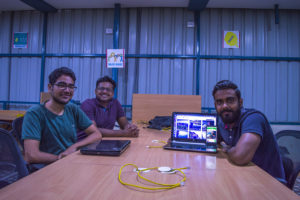 Give a brief info about your startup? 
TravelShelf is an evolving travel start-up aimed with a single target of making travel simpler. TravelShelf is for everyone in travel domain including an enthusiastic traveller, a full-time traveller and a travel-based business or enterprise.
TravelShelf is a traveler's personal shelf. We help travellers store their travel experiences to reminisce them again. Travellers can store all their travel experiences as visual travel diary/interactive digital album on their shelf. It can be stored privately or published on the platform.
TravelShelf is an Integrated Digital Asset for full-time travellers and influencers to showcase their style of travel, expertise and social media reach. TravelShelf acts as a business profile for a full-time traveller. Brands sign up to see the list of influencers based on their requirements. TravelShelf helps brand scale up their influencer campaigning efforts.
What made you start your start-up and what problem does it solve?
Being an avid traveller ourselves, we were always interested in solving issues related to the travel domain.
After college, I had photos of nearly 100 GB but when I wanted to relive those memories or share it with a friend it was an issue getting to that one photo. With modern phones, cameras & digital space, travel content is being produced at an exponential rate. There is a huge collection of photos for every single location in our digital drives but still, we are more detached from our memories than ever before. Old School travel albums are obsolete.
So, the first feature we built on our platform was creating a digital album of trips as a visual journey. Since then we have evolved our platform to help travellers manage and leverage their content to earn campaigns. This was possible by receiving suggestions from our travellers and understanding the travel market is a part of it.
Tell us about yourself, your previous jobs/ventures? What were you doing before this startup?
We are 3 co-founders of TravelShelf. We are college friends and working together for nearly 6 years now. We did our engineering from NIT Sikkim. Two of us (Romil and Rajat) are Comp Sc. graduates and Aditya is an Electrical & Electronics Engineer. We are a team that stays together, eats together, works together.
Our journey started from the 1st semester of our college, getting together to build our college website, then our first venture "Kakshya" – a social venture. With each year, we worked on several projects like a self-drive car, Home-Automation System, Organizing and Executing Technical workshops across schools and colleges. On our final year, we launched Companion – an application for travellers of Sikkim and North Bengal to know the real-time status of roadblocks due to landslides. It was launched by the Governor of Sikkim.
After college, we have been working as 3rd party app developer to bootstrap TravelShelf. Since the past 6 months, we have been only exclusively working on TravelShelf.
Where is your startup based out of? Why do you think that is the best place for you?
We are based out of Hyderabad currently. We are hoping to shift to Bangalore soon. The best location for us is Bangalore and NCR.
As a startup founder, what are you paranoid about? What keeps you awake at night?
As a founder, I am paranoid about connecting with my users. I am paranoid about contemplating a bit too much on the possible outcomes of the several paths to take. This is what keeps me awake at night, the paths to take for Sales and marketing.
I am continuously listing down ways to get to reach my customers most efficiently and effectively.
Who are your competitions and how are you better than them?
Influencer Startups – Plixxo, Skreem and Famebit. Our services are accountable and efficient than them. We reduce the logistics overhead for the campaigns.
How hard is it to have a work-life balance as a startup founder and how do you manage it?
Personally, at the current stage, it majorly only works. The work will never end and basically becomes your life for the major part. We have a vision and it is fun working towards that goal.
We do take time for family and friends strictly on specific occasions like birthdays, festivals like Diwali, Holi and Raksha Bandhan. These few occasions we will be spending with our family and friends.
Have you raised funding? If yes, then we would like to know the details. If no then please tell us if you are looking to raise.
No, we have not raised any funding as of today. We are actively looking to raise funding and are in talks with a couple of leads. We have an amazing product launched and are generating revenue. We only the need the right investor with the same vision to act as our catalyst to be a market leader.
What's the biggest misconception people have about you? Why do they have that? What's the reality?
The biggest misconception is that we are similar to any other generic travel company as they term it. We are not a booking platform, not a tour operator, not a video creator, and definitely not a social app.
The misconception is majorly due to the reason that all the travel based digital businesses are either a booking platform or an information provider. The second reason may be that when understanding about TravelShelf people get confused trying to figure out our revenue model instead of looking at its importance for themselves.
The reality is that we created TravelShelf as a user's personal shelf for digital travel albums. This is a utility application for personal use. After working in the travel domain, we came up with our revenue model of printed albums and influencer campaigns.
What gets you excited about this company?
The infinite possibility of growth of this company excites me the most. The simplicity with which we are solving and automating issues of travel memories and influencer campaigns is scalable globally within a year of operations.
Tell us how a day in your life looks like? Your schedule for a day right from the time you get up till you hit the bed at night.
Our day is not a planned routine by the clock. We are based in Hyderabad living in a small 2BHK together, work in a coworking space. It is majorly working and sleeping. Most of our time is spent on our coworking space.
Apart from that, we enjoy our sudden road trips or vacations, which are almost completely random. We do enjoy a healthy political debate, brainstorming different ideas to solve specific issues, and currently IPL matches. We love our sport, Cricket and absolutely a huge movie and tv series fan. We go to movies regularly and mostly on weekdays, it is a so much better.
Tell us about your team and how did you meet each other?
Answered above.
Know a great startup story or want to share your own? Write to us at contact.bangaloreinsider@gmail.com and we will get back to you. For more updates follow Bangalore Insider on Facebook.
Sponsored Ads