Sponsored Ads

Tookitaki is founded by Abhishek. Tookitaki is a Singapore based startup founded in 2014.  It provides software solution for financial industry.
We are an extremely client-focused and keen to incorporate client feedback to our products,says Abhishek.
We at Bangalore Insider had the opportunity to catch up with Abhishek, the founder of  The Tookitaki and to know more about the startup, read his inspiring story.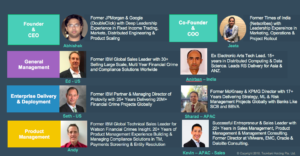 Give a brief info about your startup?
Tookitaki is providing enterprise software solutions that create sustainable compliance programs for the financial services industry. We are innovating the regulatory compliance space by moving beyond rules-based applications and introducing software solutions to maximize efficiency and reduce risks in compliance processes. Our mission is to provide machine learning-powered regulatory compliance solutions that are auditable, scalable and actionable. Incorporated in Nov 2014 in Singapore, the company is led by a core team with cumulative 30-years' experience in finance and machine learning and big data analytics. We are backed by institutional investors – Jungle Ventures, Enterprise Singapore (Singapore Government) and Illuminate Financial and have a presence in the US, Singapore and India.
In the regulatory compliance space, we focus on anti-money laundering and reconciliation management. Our two products Anti-Money Laundering Suite (AMLS) and Reconciliation Suite (RS) cater to anti-money laundering and reconciliation, respectively.
Recognitions
We received accreditation@SGD in 2017; a Singapore government initiative for SMEs to get green channel access to government projects and partner with local banks in their key initiatives. So far, only 22 companies have received the accreditation out of more than 5,000 applications.
We won the first prize in the MAS-2016 award for our innovation and proving our platform through a live deployment. (http://www.mas.gov.sg/News-and-Publications/Media-Releases/20
What made you start your startup and what problem does it solve?
We started off building a machine learning platform that offers higher accuracy and faster time to market for any predictive analytics problem. Soon we realized that business opportunity for vertical AI is significantly higher than horizontal platform play. We felt that machine learning can create a huge impact in financial regulatory compliance space, where efficiency is being compromised even with increased costs. In late 2016, we decided to focus on regulatory compliance space and build applications catering to anti-money laundering and reconciliation.
Anti-Money Laundering Suite
Current AML systems lead to a large number of false alerts, miss true suspicious cases and limit auditability and scalability. Key challenges are:
Criminal organizations employ professional money laundering cells that do not operate within the confines of static, predefined, overly-broad transactional actions.
Unidimensional detection logic (grouping based on transactional behaviour) fail to successfully identify money laundering operations.
No robust explanation available for alerts and inability to scale with new policies
Impact: More than 90% alerts generated are false, leading to huge backlogs and massive ageing of alerts. High chance of missing out true suspicious cases, leading to reputational and financial risk.Financial institutions globally have been fined over US$321 billion by regulators since 2008 with US$42 billion in fines in 2016 alone. Moreover, remediation costs over the first 18 months are typically 12 times greater than the fine itself.
Tookitaki Anti-Money Laundering Suite (AMLS) is a proven, end-to-end machine learning-powered transaction monitoring & name screening solution, which improves operational efficiency, mitigates the risk of money laundering and reduces the cost of compliance.
AMLS comprises of two modules:
AMLS-TM for transaction monitoring
AMLS-NS for names and sanctions screening
Tookitaki AMLS is a paradigm shift from existing systems and is based on three new concepts, which we believe will revolutionize the industry:
New 'suspicious' case detection
Smart typology repository to update detection scenarios automatically
Intelligent triaging of alerts for faster and efficient alerts disposition
With AMLS, banks can drastically improve overall functioning of their AML/CFT programs by increasing effectiveness and efficiency. To quantify the impact, we have seen 40% reduction in false alerts for TM and 5% uplift in STRs. For names and sanctions screening, we have seen 50-60% reduction in false alerts across individuals and corporates.
The key benefits of AMLS are:
Improves risk coverage by identifying new STRs
Reduces false positives and improves efficiency in the alerts disposition process
Provides detailed explanations for every alert to ensure better regulatory compliance
Provides actionable analytics for an integrated AML view across key components of transaction monitoring and name screening
Complements and integrates seamlessly with existing AML systems
Reconciliation Suite (RS)
Processing errors (reference id mismatch or missing, incorrect amount entry, duplicates, etc.) and system limitations result in data mismatch. Current rules-based applications fail to tackle such mismatch and generate breaks, which are to be manually investigated and reconciled. In most cases, new rules are created to handle them. The process of updating current systems with granular rules every time a new scenario is detected is cumbersome and resource-intensive. To add, we have a large amount of data volumes and complex transaction patterns today. The key challenges with rules-based applications are:
Less match rates, generates false breaks
Manual and time-intensive break resolution
Significant time lost to create, update and test new rules
Overall, inefficient, costly and not scalable
Tookitaki Reconciliation Suite (RS) is a proven, end-to-end AI/ML-powered matching and substantiation solution, which improves quality and efficiency in the investigation process and reduces the cost of reconciliation. RS comprises of two modules:
RS-Matching to solve complex matching cases and false breaks
RS-Substantiation to solve 'true' breaks or exceptions
Our RS solution is highly efficient and offers automated, accurate matching and exceptions handling, along with adjustment amount recommendation and audit trails. Some benchmarks of our solution are given below:
95% accuracy in break resolution
50% reduction in investigation time
Dramatic improvement in match rates
We cover the following reconciliation areas at present:
NOSTRO/VOSTRO
Positions and Holdings: FX, Stocks, Bonds, Derivatives, Front Office, Back Office
Bank Reconciliation: GL, Cash, Due From Due To
Tell us about yourself, your previous jobs/ventures? What were you doing before this startup?
Abhishek is the Founder and CEO of the company. He is responsible for strategy, product and revenue growth, and serves on the Board. He holds 15+ years of remarkable experience across multiple sectors including technology, finance, and regulatory compliance. Holding a master's degree in Applied Mathematics from the University of Southern California, Abhishek worked with JP Morgan, New York, as a quantitative trader, before founding Tookitaki. He also worked in DoubleClick, a subsidiary of Google as a software engineer. He loves to solve puzzles and is an avid reader.
Where is your startup based out of? Why do you think that is the best place for you?
We are based out of Singapore. The city state is one of the leading financial hubs in the world with most of the global banks having core operations being carried out from here. Apart from general business benefits such as lower corporate tax rates and strong international network of agreements, what we really appreciate is the co-operative mind of the government and various regulators here for modern technology. Most regulators in the world are skeptical about modern technologies such as artificial intelligence and machine learning. Singaporean regulators, especially MAS, has a pro-active attitude towards these technologies. In fact, the central bank has always encouraged the use of these technologies by banks. You may find evidences here. As a player in these modern-era techs, Tookitaki believes that Singapore is the best place to have a headquarters because of the country's liberal mind.
As a startup founder, what are you paranoid about? What keeps you awake at night?
We are an extremely client-focused and keen to incorporate client feedback to our products. As Jeff bezos said client's appetite is always changing. "People have a voracious appetite for better way, and yesterday's 'wow' quickly becomes today's 'ordinary,'" he writes. Bezos notes that as technology improves, customers are demanding more – and more quickly – than ever before. That means that companies and organizations that do not rapidly adapt to meet these challenges could quickly get dropped from customers' minds.
This process is hugely challenging as we need to grow unlimitedly with limited resources and time. This is what keep us awake. As a client-first company how do we keep up with client's growing needs.
Who are your competitions and how are you better than them?
Both AMLS and RS have legacy rules-based systems and machine-learning based systems as competitors. Our solutions are unique and offer superior benefits as compared to our competitors.
AMLS
Our AMLS is fundamentally different from and superior to existing AML products and new-age competitors as the solution is built with a design philosophy of providing both maximum detection coverage (detecting unknown cases) and maximum alerts yield (minimizing false alerts) while the platform being fully transparent.
Our solution features a dynamic scenario repository to update and evolve AML detection scenarios automatically to maximize detection coverage. Through our proprietary semi-supervised approach, the platform uncovers intricate relationships and creates new detection scenarios. The scenarios get auto-updated into the repository. This allows maximum detection coverage over changing times. The supervised model layer of our platform is able to learn intricate patterns of suspicious transactions and handles highly skewed data, while the unsupervised model differentiates patterns between anomalous transactions and usual ones, helping identify unknown 'true' suspicious transactions. The predictions from both supervised and unsupervised models are combined by the scoring algorithm, ensuring detection of both known and unknown true suspicious cases, respectively. Once a new pattern gets detected, it automatically gets part of the supervised model and the overall scenario repository is updated.
AMLS also has intelligent triaging capabilities that help prioritize alerts based on prediction score and distributes them across three buckets – L3, L2 and L1, with L3 being the highest priority bucket. For instance: if alerts 'A' and 'B' are both predicted to be 'true or suspicious' but have varying scores like 83 and 55, respectively, then alert 'A' will be in L3 bucket, while alert B will be in L2 bucket. This helps channelize investigation effort and alert handling process. Benefits of the concept include focused investigation and improved process efficiency, and smart sampling and assigning of alerts by supervisors. The process leads to auto-closure of low-quality alerts in L1 bucket of almost 40-60% of the alerts, bringing in massive operational efficiency in the alerts handling process.
Further, the solution provides detailed explanations for every alert to ensure better regulatory compliance. It also actionable analytics for an integrated AML view across key components of transaction monitoring and name screening.
RS
is built with a design philosophy of providing robust coverage and scale in automated break resolution across various reconciliation areas in the banking and financial services industry. It complements and seamlessly integrates with existing reconciliation systems. It can also independently work as a full-fledged competent solution with guaranteed improvement in operational efficiency across its modules:
Matching Module: It uses AI techniques (primarily game theory algorithms) to handle processing errors and system limitations to produce matches and automatic reconciliation.
Substantiation Module: It uses ML techniques (primarily multi-classifier algorithms) to accurately detect break type and recommend adjustment amount required to reconcile. In addition, it is able to detect outliers/anomalies and present an explanatory trail, helping in faster detection of 'new' break types. Apart from break type detection, the module has two key features:
Adjustment amount recommendation: It is able to recommend the difference in transactions and support quick, accurate reconciliation. Such automation can save lot of manual calculation and ensures faster exceptions handling.
Audit trail: It provides a thorough audit trail that can explain cause of break in detail, helping banks with actionable steps. Besides, it provides explanation across model outcomes.
How hard is it to have a work life balance as a startup founder and how do you manage it?
We love what we do so we really enjoy this journey to make Tookitaki a huge success.
Have you raised funding? If yes, then we would like to know the details. If no then please tell us if you are looking to raise.
We are a Series-A funded company. We have raised USD7.5 million so far from various VCs.
What's the biggest misconception people have about you? Why do they have that? What's the reality?
Biggest misconception is based on our website that we are a generic data science platform. We have a data science platform called TDSS, which we use to build various case-specific products. In reality, we are a very focused company and we provide an ML platform to help create banks sustainable compliance programs.
What gets you excited about this company?
We have completed four years as an incorporated company in November this year. Tookitaki has been successful in creating added value to all its stakeholders since its inception. From a humble beginning to a leading Regtech player, Tookitaki has come a long way. Today, we have offices in Singapore, India and the United States and have been recognized by eminent industry players and clients. We had a great 2017-18 with 5x revenue growth. There are very few AI/ML Regtech companies who have done multi-geography deployments and Tookitaki is one of them.
Looking forward, I am optimistic about our future and as the regulatory compliance industry starts growing at a faster pace, we remain prepared to proactively seize the opportunities. We are in a rapid growth phase with some ambitious targets. As a CEO, building the blocks of a well-synchronised machine that can produce tremendous scale in years to come is another exciting task I am currently involved in.
Tell us how a day in your life looks like? Your schedule for a day right from the time you get up till you hit the bed at night.
In the morning, we have meetings with our APAC sales team, followed by client meetings till afternoon. We then have product team meetings till early evening. After dinner, we have US sales and strategy meeting with US team.
Tell us about your team and how did you meet each other?
We built our management team largely from known acquaintances and clients/colleagues. The key people in the management team apart from me are:
Jeeta Bandopadhyay – COO
Edward Rounds – General Manager, US
Seth Twery – VP, Client Engagement
Andrew Margonis – Director, Product Management
Anirban Sarkar – Head of Business, India
Sharad Gupta – Chief Business Officer
Kevin Pratesa – VP, Sales, APAC
Know a great startup story or want to share your own? Write to us at contact.bangaloreinsider@gmail.com and we will get back to you. For more updates follow Bangalore Insider on Facebook.
Author
Sponsored Ads