ThinkScript Technologies Private Limited is a Pune based startup founded by Amit and Richard. ThinkScript have its presence in London and Pune. Their London office is basically involved with sales whereas Pune is a development center.
This company was started in the wave of technology trends moving in the direction of web and app based applications. Me and my partner Richard saw the immense potential of the JQuery and Javascript technologies to do wonders in the area of websites and mobile applications, says Amit.
We at Bangalore Insider had the opportunity to catch up with Amit, the co-founder of ThinkScript and to know more about the startup, read his inspiring story.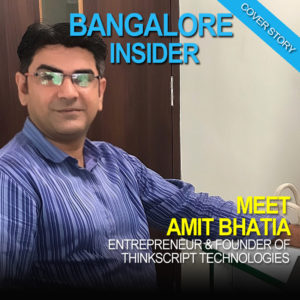 Give a brief info about your startup?
We are called ThinkScript Technologies Private Limited, a small technology start up based out of London, UK and Pune, India. We take pride in defining ourselves as pioneers in the world of scripting and web technologies (hence the name).
What made you start your startup and what problem does it solve?
This company was started in the wave of technology trends moving in the direction of web and app based applications. Me and my partner Richard saw the immense potential of the JQuery and Javascript technologies to do wonders in the area of websites and mobile applications.
Once the seed of the idea was planted in our heads it was impossible to get it out. So one day we decided to quit our comfortable, high paying jobs and started hunting for works where we can revamp and rewrite the exising and new websites to show the world what they can achieve using JQuery and JavaScript frameworks.
Tell us about yourself, your previous jobs/ventures? What were you doing before this startup?
Richard and me used to work together on an development of an CRM/ERP system for one of the world's largest marine fuels supplier. We worked on the system for several years and made it live and imperitive to the business success of the company it was built for. The system was a huge in every sense for the word.
Richard was head of the IT Department and I was working for him as the head of development team.
Where is your startup based out of? Why do you think that is the best place for you?
We are based out of London, UK and Pune, India. London mainly focuses on the sales and delivery whereas Pune is our development hub. London is a great place to be to look for work and customer contracts because of the huge presens of the financial services companies where as Pune is the best place for development because of the immense flow of readily available talent and gifted programmers who share our passion for technology.
As a startup founder, what are you paranoid about? What keeps you awake at night?
Running out of ideas and innovation! On the contrary it is this paranoia which keeps us awake at night but at the same time it makes us do things better the next morning
Who are your competitions and how are you better than them?
All the companies in the world who are working on the web technologies are our competitors and in some way our partners. We believe in healthy competition.
How hard is it to have a work life balance as a startup founder and how do you manage it?
There is literally no work life balance when you are running a start up, every min or every hour of every day of the week is working.
Being a small size company all departments are handled by the same set of people so there is literally no time left.
Have you raised funding? If yes, then we would like to know the details. If no then please tell us if you are looking to raise.
Yes we have. We have pitched in some of our references to fund our ideas and they have believed in us and funded us. For contract reasons we cannot really disclose the details about it.
We are always looking for funding for expansion, there are literally a dozen of ideas we are trying to build up which are not taking off because of lack of time and funds.
What's the biggest misconception people have about you? Why do they have that? What's the reality?
I come across as a very arrogant, stubborn and workoholic person. And that is complete false, I am neither of them, I just have very clear priorities in my head and those priorities take over every aspect of my interaction with other people.
What gets you excited about this company?
The momentum. The speed at which we build our customer's websites and their web content is simply astonishing.
Tell us how a day in your life looks like? Your schedule for a day right from the time you get up till you hit the bed at night.
The day is packed up with calls and conversations between people. I wake up with my phone buzzing with calls and messages, have my tea and breakfast while responding to messages and emails arrived while I was sleeping. Then it's an hour long drive from home to office which I spent listening to audio books on Audible. My favourites are the stories of start up founders. Currently I am listening to The Everything Store (Jeff Bezos)
As soon as I get to office there are things piled up already to be taken care of right from discussions of the live support issues to development of current projects to the discussion about future leads and projects.
The day ends in a blink of the eye and whenever it feels like I can't focus for the day I leave for home with my audio book for an hour long drive back.
Tell us about your team and how did you meet each other?
We have a small team of around 12 people. 3 in London 9 in Pune. Me and Richard met at our last job. We hired Kuladip later on who is pivotal in his role to make the craziest ideas and schedule commitments we make to our customers, a reality. Over all the years I still wonder where did he gets his energy and talent to store so much information and utilise so much knowledge from his head.Rest of the team has been hired which includes Nihar, Vishal, Vishal K, Sapana, Varsha, Shweta and Satish.
Know a great startup story or want to share your own? Write to us at contact.bangaloreinsider@gmail.com and we will get back to you. For more updates follow Bangalore Insider on Facebook.