Sponsored Ads

The Hub is a Bangalore based startup founded by Azaan.
As founder we can't help but be paranoid about everything and anything. There are days where I see everything as a threat to the existence of our business and days where I feel naive for thinking that everyone I meet could potentially be a partner and join us in our journey to reshape the way our generation interacts with space, says Azaan.
We at Bangalore Insider had the opportunity to catch up with Azaan, the founder of The Hub and to know more about the startup, read his inspiring story.
Give brief info about your startup?
The Hub Bengaluru is Bangalore's only shared space ecosystem providing creative spaces for #Coliving #Coworking & #Events under one roof! Located at the iconic Safina Plaza in the heart of Bangalore city, we accept only the coolest, quirkiest and lucky few who will be part of our creative family. We are a curated community of open-minded thinkers, dreamers and doers looking to engage with our community and build meaningful relationships.
What made you start your startup and what problem does it solve?
AZAAN
I was inspired by the quality of my student accomodation while I was studying in Los Angeles. Not only did they have great amenities but they also went out of their way to help facilitate interactions between the residents. That's when i realised the power of community! I knew I wanted to create such an environment for millennials in my city.
India is home to one of the youngest populations in the world. Half of its population is under the age of 25 and and astonishing two-thirds are less than 35. Indian millennials want to live and work in a new environment. Access and is more important to our generation than ownership.
Another common problem we help alleviate within the housing market is complicated legal contracts and high deposits that restrict movement and burden tenants.  Co-living offers flexibility for a mobile generation. With the globalisation of technology and rise of freelancing, 9-5 decade long careers are a thing of the past. Low deposits and one month notice periods make it easy for our members to hop around the country and world to find the best opportunities.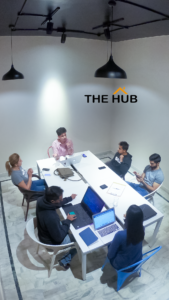 Tell us about yourself, your previous jobs/ventures? What were you doing before this startup?
AZAAN
I have always enjoyed getting my hands dirty and build something that people are excited to be a part of. In highschool I served as School President, in college I was on the board of two of the largest entrepreneurial organizations on campus, I also headed college programs for companies like General Assembly an ed-tech startup that is now a unicorn. I have the ability to spot trends and hop on them early. I like building teams of great people around causes and ideas that will make our world better. I always feel like I knew I would end up doing something exactly like The Hub. As cheesy as it might sound, I feel like I have been training my entire life to be a founder of a disruptive startup and I enjoy every single moment of it now!
Where is your startup based out of? Why do you think that is the best place for you?
VIKRAM
We're currently based out of Bangalore, located in the heart of the city, at the iconic Safina Plaza- one of the first shopping malls in Bangalore city. This is an ideal location for us because of accessibility to the metro station, offices and restaurants.
As a startup founder, what are you paranoid about? What keeps you awake at night? 
AZZAN
As founder we can't help but be paranoid about everything and anything. There are days where I see everything as a threat to the existence of our business and days where I feel naive for thinking that everyone I meet could potentially be a partner and join us in our journey to reshape the way our generation interacts with space.
I'm usually up till the wee hours of the night reading startup news, following the NASDAQ, or reading up on global real estate trends, or watching Ellen on Youtube!
Who are your competitions and how are you better than them? 
For the kind of business model that we have structured, there are very few competitors in this space. However, if we individually break it down to just a co-working or co-living space then we're competing with the likes of Nestaway, Homigo, Zolo, WeWork, Awfis, 91Springboard and the about dozen co-living space providers and over a 100 co-working spaces. Competitors help us validate the market and educate customers on the shift that's happening in the way we interact with spaces. However, we are unique because we offer co-living, co-working, and events all under one roof and each of these areas play an equally important role in our business.
How hard is it to have a work life balance as a startup founder and how do you manage it?
AZAAN
This one I really struggle with. Although I have gotten better at letting go over the last few months; I- just like many founders have a tough time letting go of even the smallest of things and delegating them to my team. My innate desire to get involved in even the smallest of decisions ensures that everything meets the highest of standards but it also distracts me from looking at the big picture. Over time, I have learned the importance of building an amazing team of dedicated people who share the same vision- aligning their interests with mine, and delegating responsibility to them. Trusting them and ultimately being there for them when they need me- instead of the other way around!
Have you raised funding? If yes, then we would like to know the details. If no then please tell us if you are looking to raise.
VIKRAM
No, we're bootstrapped, self-funded and going strong but definitely up for a round of Shark Tank soon!
What's the biggest misconception people have about you? Why do they have that? What's the reality?
VIKRAM
We are proud to say we're a well kept secret in Bangalore and since we are located inside Safina Plaza, people think we're just another retail store. Ask any Bangalorean about Safina Plaza and they can only think of Sarees, curtains and flash sales!
The reality is, we are steadily changing people's perspective and now that word has started to spread about The Hub, it's just a matter of time before Safina Plaza is known for a whole lot more than just a "shopping" plaza.
Another common comparison people often make when they first hear of what we do is drawing parallels to  PG's (Paying Guests) . At The Hub, we're not in the business of offering a room, a desk or a event space. We offer platforms to build your life on. More than a bed to sleep, a desk to work, or a stage to perform, we offer a community that you can be a part of, we offer a network you can tap, an audience you can leverage, creative resources to take your idea to the next level, we operate an operate an ecosystem that will help you succeed.
What gets you excited about this company?
Seeing people's reactions & expressions when they visit us. The moment they walk through the doors of our space, they know we've got something uber cool going on! That vibe and energy gets us excited and now that it's been almost two years since we kicked off, we're more excited about growing The Hub and we're pretty confident that it's going to be a bright future.
The sheer size of the market and the media and big players slowly realizing that this is the future of urban real estate means that there is going to be a flurry of activity in this space in 2019.
Tell us how a day in your life looks like? Your schedule for a day right from the time you get up till you hit the bed at night.
AZAAN:  One of the reasons why I could never imagine myself in a typical 9-5 desk job is because of the unusual hours I keep. I suffer from insomnia cannot go to bed before 2 am and usually getto work by 11 am. My morning have to start with a giant mug of coffee- black no sugar, a nice hot shower, catching up on the news on the way to work. At work I spend most of my time either sitting with my team and helping them with problem solving or meeting potential new partners for us to collaborate with. I head to the gym around 7:30 pm and eat dinner about 9. That's when my creative juices start flowing so I work on social media ideas, website updates, and explore lots of seemingly outrageous moonshot ideas.
Tell us about your team and how did you meet each other?
VIKRAM
The best part about our team is we all come from backgrounds that are in line with the ultimate vision of The Hub. It's like the alignment of stars in the night sky to build a constellation!
1. Abdul is the Head of Finance with over 10 years of experience in his respective field
2. Bharath is our Chief Community Officer, with a strong background in operations and has also served quality time in the hospitality industry, he is ready to take on anything you throw at him.
3. Vikram Heads Partnerships, Social Media & Marketing. Comes from a hardcore corporate background with over 8 years of experience from working for big guns like Dell & Infosys.
4. Agil is our Crayon Evangelist! Takes care of our visual content and all the cool videos that you see across our social media pages.
5. Sanya is our Community Associate and comes with 2 years experience in the field of events. She actually went to high school without founder!
6. Azaan, our Founder and Chief Happiness Officer is a Bangalore boy through and through studied entrepreneurship and marketing at The University of Southern California in Los Angeles and came back to build The Hub.
Know a great startup story or want to share your own? Write to us at contact.bangaloreinsider@gmail.com and we will get back to you. For more updates follow Bangalore Insider on Facebook.
Sponsored Ads