Sponsored Ads

Sumara is a  Bangalore based startup founded by Ayushi Sinha. It is an online donation platform which donates a percentage to the NGO whenever people place their order on Amazon or Flipkart.
Sumara is a platform where people can donate automatically whenever they shop online at no extra cost or effort. With every order they place on Amazon or Flipkart, we donate a percentage to organisations that support NGOs, says Ayushi.
We got an opportunity to talk with Ayushi,  the founder of Sumara. Read her story to know more about her journey as an entrepreneur.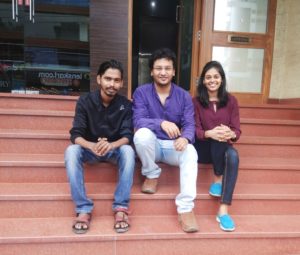 Give a brief info about your startup?
Sumara is a platform where people can donate automatically whenever they shop online at no extra cost or effort. With every order they place on Amazon or Flipkart, we donate a percentage to their partner NGOs.
To ensure transparency, people get to see how much they donated and where their money went in
real time. They can share on social media and inspire their network to do the same.
What made you start your startup and what problem does it solve?
In India, a lot of us do not care to donate as much as we should. It might be because of ignorance or simply because it requires too much of effort. Meanwhile, online shopping is on the rise. Indian consumers have been shopping crazily at every next sale. Could the two concepts be coupled together? That's when we got the idea of merging them together into a beautiful workable product.
  Tell us about yourself, your previous jobs/ventures? What were you doing before this startup?
We are a small team of passionate individuals aiming to build a successful venture. We take up high-scale enterprise tech projects. We have worked for companies like Flipkart and Myntra before starting with companies of our own.
Where is your startup based out of? Why do you think that is the best place for you?
We are happily based out of Bangalore. We have been in this startup capital since 6 years and are in love with the city (except the traffic!). This city has given us our jobs, our startup experience, investor connections, funding and so much more.  
As a startup founder, what are you paranoid about? What keeps you awake at night?
As an early startup, our focus is to maintain speed and quality at the same time. The idea is to be aggressive ourselves and build the same values in our employees as well.
We are mostly up in the night thinking about the next ideas. Our minds almost always have something to brainstorm, but this also helps us to break the monotony with current work.
 Who are your competitions and how are you better than them?
Our competitors are companies like Cashkaro that provide cashbacks to customers. Indian audience will often find cashbacks more appealing than donations.
We are better than cashback-offering players in terms of our turn-around time. A user will be intimated about a cashback only after a month or so. Whereas, with Sumara, a user will instantly know where his money went and how it impacted the society. That closes the loop and provides instant gratification to a user.
 How hard is it to have a work-life balance as a startup founder and how do you manage it?
As a startup founder, it is hard. As startup couple founders, it is harder. Our personal and professional life is not very different. We talk about our product strategy at dinner table and discuss our next friend's marriage at office. But at the end of the day, it's great to have someone with whom you can share your dreams and work towards making it come true.
 Have you raised funding? If yes, then we would like to know the details. If no then please tell us if you are looking to raise.
Not yet. We believe funding should be raised at the right time. We are happily bootstrapped as of now.
What gets you excited about this company?
Users! I will be honest. There is nothing more exciting than seeing real people using your product.
Tell us about your team and how did you meet each other?
We are a husband-wife couple, met in college, fell in love while doing jobs and happily got married last December. That is also when we started our entrepreneurial journey together. We have built startups in the past and worked for companies like Flipkart and Myntra. Doing a startup together has its own charm which we are enjoying to the fullest. And we are only getting started!
Know a great startup story or want to share your own? Write to us at contact.bangaloreinsider@gmail.com and we will get back to you. For more updates follow Bangalore Insider on Facebook.
Sponsored Ads