Sponsored Ads

StayAbode is a Co-living spaces startup founded in 2016 by Viral Chhajer, Devashish Dalmiya, Varun Bhalla.
The company operates on a 'full-inventory' model wherein we take up entire buildings on long-term leases, re-work the interiors to convert it to a co-living space and rent it to our customers with a fully managed space where housekeeping, WiFi, security are all a part of the package, says  Viral.
We at Bangalore Insider had the opportunity to catch up with Viral, the CEO of StayAbode and to know more about the startup, read his inspiring story.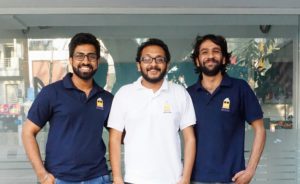 Give a brief info about your startup?
StayAbode was founded in 2016 with the single objective of creating a living space which is both hassle free and with a vibrant community which allows young millennial to move into a space they can call home. The company operates on a 'full-inventory' model wherein we take up entire buildings on long-term leases, re-work the interiors to convert it to a co-living space and rent it to our customers with a fully managed space where housekeeping, WiFi, security are all a part of the package.
What made you start your startup and what problem does it solve?
The start of the story was when Devashish began understanding the concept of community living while solo backpacking throughout India and Europe. Unpopular in India, he wanted to introduce the idea of living in a community with like-minded individuals. He teamed up with Varun Bhalla and me on his return, and the three of us started StayAbode which really was looking to solve the transition young professionals make when they move into a city for a job. We solve the living equation which is hassle free with managed living spaces and low deposits along with a great community of like-minded people.
Tell us about yourself, your previous jobs/ventures? What were you doing before this startup?
In my previous roles I co-founded a company to help brick and mortar stores design and deliver flash sales through a SaaS platform and also managed the marketing at Runnr and was part of the initial team there and really gathered a lot of my startup nous from these spaces
Where is your startup based out of? Why do you think that is the best place for you?
We are based out of Bangalore and as our idea is to really create a living and community ecosystem for millennial migration for the sake of work, Bangalore was the perfect candidate for such a venture. We have the largest number of first adopters across any new startup concept in Bangalore itself and this sense of openness to experimenting and multi-culturism allowed Bangalore to be the perfect option for our startup.
As a startup founder, what are you paranoid about? What keeps you awake at night?
I think the usual things. Are we building a sustainable business? Are my consumers happy with my product? Is my team constantly improving the product? And most importantly, are we listening to our customers, to improve? Besides constantly working on bringing on the right investors and managing expectations, we are always wary of ensuring that data are driving our decisions and if there is an efficient process to disseminate data across the stakeholders.
Who are your competitions and how are you better than them?
We have many players who are around the same size as us and as the space is new, most of us are really creating the space and learning. Our focus is on creating a hassle free experience while building a vibrant community and different players look at that piece differently so its very tough to say we are better than anyone, but our focus on creating a new asset class in real estate investment occupied by a vibrant community of millennials does set us apart.
How hard is it to have a work life balance as a startup founder and how do you manage it?
You have to ensure that you are constantly engaged and on top of things while building out your company as the initial years are the ones that lay the foundation for a smooth future. We have created teams and young leaders who ensure that there is transparency across the business and that problem solving is key to our process which makes me redundant in a lot of the decision making which allows me to focus on the larger picture and deep dive where required. That allows me some sense of balance but that is always tough at the stage of the company.
Have you raised funding? If yes, then we would like to know the details. If no then please tell us if you are looking to raise.
Yes we have raised a Pre Series A round.
What's the biggest misconception people have about you? Why do they have that? What's the reality?
Nothing really. I'm an open book.
What gets you excited about this company?
The space we are in. Millennial living and solving for it is clearly the need for the country right now and to be the forefront of this space both from a solution and product perspective is very exciting because everything we do is pioneering work and can define the space for the coming years.
Tell us how a day in your life looks like? Your schedule for a day right from the time you get up till you hit the bed at night.
It's a combination of meetings at work and with potential partners and investors. Work guides my day and  I always work to slip in some swimming or a workout
Tell us about your team and how did you meet each other?
I met Devashish through common friends here in Bangalore itself and began work on StayAbode where I brought Varun on board from Treebo Hotels to build the technology piece. Devashish primarily looks after the finance function and Varun has built the Tech and continues to ensure we are differentiated basis our tech-first approach across every aspect of the business.
Know a great startup story or want to share your own? Write to us at contact.bangaloreinsider@gmail.com and we will get back to you. For more updates follow Bangalore Insider on Facebook.
Author
Sponsored Ads