Sponsored Ads

Speedforce is a Consultancy of Multiband Two Wheeler Service Stations\Workshops across the country.  Speedforce is founded by Mohan M Vaidya,  Kapil Bhindi and Deepen Barai.
With the increasing numbers of two-wheelers in India and growth rate of almost around 20% year on year from last 5 to 6 years this is high earning potential business.
We got an opportunity to talk with the founders of Speedforce. Let us see what they have to say.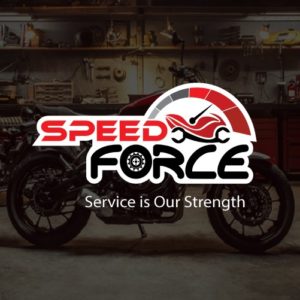 Give a brief info about your start-up?
We are into Consultancy and development of Multiband Two Wheeler Service Stations\Workshops across the country. With the increasing numbers of two-wheelers in India and growth rate of almost around 20% year on year from last 5 to 6 years this is high earning potential business. With added features like doorstep service, vehicle pickup & drop facility, on road breakdown support, AMC, accidental service, insurance renewal and support it's becoming fast popular and more convenient among new generation with a single window service. Low investment and high returns is the key success of this business. Our online and offline support and training boost the confidence of business owner.
What made you start your start-up and what problem does it solve?
(Mohan M Vaidya)
I was working with one of the leading two-wheeler company for 36 years after sales service department. Owning a business was always a dream. Three more friends were of the same opinion. So it was a joint decision to form a new company. Other three partners are from the same field. In current market situation service provided by the available channels has own limitations, where has customer's expectations are increasing day by day. With the new approach to service, we are trying to bridge a gap.
(Kapil Bhindi)
With a vast experience of over around 16 years in Banking\Finance and insurance industry and have worked in middle management level there came a time at the juncture of an age wherein I felt a need to start a business in the service industry because in today's time service industry plays a huge role in Indian Economy. In this endeavour and search of a service industry business, I found out that there is a huge vacuum in two-wheeler service industry as there were majorly 2 types of service providers (OEMs & LGOs). With these providers, the customer of the industry was either dissatisfied or less satisfied due to various factors like time\costing and trust factor. So I started the survey amongst the local public of Baroda about the need that they actually want. With this me and one of my old friend and current colleague developed the innovative idea in two-wheeler service industry wherein we started giving Free Pick Up & Drop Facility, On Road Breakdown Support and all the two-wheeler related services under one roof for working on this model for around five years individually and after developing a good satisfied customer base we decided to form a start-up and established a company under the name of Speedforce.
(Deepen Barai)
After working in telecom, insurance and networking industry for more than 18 years I decided to start a venture wherein I would enable myself to create Young Entrepreneurs and via them generate more and more skilled employment in my area and with this would support my nation. Being from the business family and serving in corporate sector I decided to create a holistic model in two-wheeler service industry and started walking on this path where I found out my old friend and now colleague. We both got together and developed a chain of individual workshops in and around Baroda which gave services to customers on their doorstep and would help them with breakdown support on the road this included all the other services related to two-wheelers under one roof. After creating almost around 70 entrepreneurs and more than 210 skilled employees I found out that this noble profession should be carried forward in the form of a professional start-up company and then we together founded a brand Speedforce.
Tell us about yourself, your previous jobs/ventures? What were you doing before this start-up?
Mohan M Vaidya says: I am an automobile engineer. Worked with Bajaj Auto Ltd for 26 years in the service department as a service engineer and then regional manager for Maharashtra, Gujarat and MP & CG. Last 10 years in Network development. The job involves extensive travelling, service infrastructure development, training, spare parts management, customer handling, customer satisfaction, and product feedback. In Network development, dealer's performance monitoring, Reviews, new appointments, terminations was the nature of job.
Kapil Bhindi says: A commerce graduate I have worked in various fields of banking\finance and insurance industry with companies like Standard Chartered Bank, Kotak Mahindra, Future Generali, and Bharti Axa & Dlf Pramerica and reached from the lowest level to a middle management profile in my last assignment. During the tenure, I looked around the sales, recruitment & development of various departments. My core competency was man management and team development.
Deepen Barai says: Belonging from a small town I joined telecom industry and then subsequently moved on to the insurance and network industry I have worked with different geographical peripheries of the country and have established and developed a good potential network of various genres. In my professional journey of more than 18 years and starting at a very basic level I reached onto a substantial height of management level. During this experience, I have worked with companies like Vodafone, Idea, Airtel, Bajaj Allianz and Reliance Life. My core functioning area included Recruitment of Dealers, Agents and Business Associates.
Where is your start-up based out of? Why do you think that is the best place for you?
Our start-up is based in Baroda (Gujarat). After the survey we did in the local market as our first workshop we developed was in Baroda and there was a huge potential for the services that we provide in automobile market. More so the local public of Baroda are majorly of service (Job) class and does not have spare time to service their vehicle. After the success of our first workshop we developed the entire chain in an around the city and today we are very successful to develop the same in entire Gujarat.
As a start-up founder, what are you paranoid about? What keeps you awake at night?
What I promised I must deliver.
Strong base Foundation with steady growth.
Create a good brand image in the industry.
Franchise Growth is our growth.
To become a pioneer in vehicle and customer service.
Who are your competitions and how are you better than them?
If we see specifically the kind of business we do there is as such no competition in the market which provides the entire package to a business prospect or to a customer. Also if there is a competition it is only limited to a private business and the model that they provide is very costly as compared to our business solutions.
How hard is it to have a work-life balance as a start-up founder and how do you manage it?
 It is always difficult for a businessman to balance a work and life not only start-up but a good old businessman also, because one of the factor of key success of any business\businessman is the availability to internal and external customer. But we as a team are able to give equal justice to family and work as we plan our tasks and we have a specific entity in our team for a specific task to be performed. So the time devotion on each job is decided planned and executed very well till now.
Have you raised funding? If yes, then we would like to know the details. If no then please tell us if you are looking to raise.
 Currently, we are managing through our own funds. We are expecting a tie-up with MNC or leading brand. After this tie-up we may need funding from outside.
What are the biggest misconception people have about you? Why do they have that? What's the reality?
Our business model is based on new generation and young customer's .In markets both young and old customers are available. While young needs services on one click & transparency, old need to get the vehicle service in front of them. We designed the process in such a way that both will be satisfied. Old and existing garage owners are not ready to change and do not want to invest on new ideas while new young & qualified people are slightly hesitant to go for this business.
At first sight they feel it may not get the require profitability.
But this is not true as our recently opened franchise started making profit from 1st quarter itself.
What gets you excited about this company?
 Great satisfaction of providing solution to edge old business.It's a complete new approach to this kind of business. We are creating business opportunity for new entrepreneur and via this generating skilled employment opportunity. We are sure of successful business for any non-technical person through our guidance and continuous training and mentoring.
Tell us how a day in your life looks like? Your schedule for a day right from the time you get up till you hit the bed at night.
 After finishing the daily personal routine we start our day at 9:00 a.m. sharp with this we gather at our office and start following up with the team in the first hour regarding the franchise development and franchise tasks for the day. We have a dedicated business development as well as technical team to help the franchise in their day to day routine throughout the tenure. After that we ourselves on our own start meeting the prospects of the day which are already scheduled a day prior. The sales meeting prospects is being done till 3:00 p.m. and after that we break for lunch till 4:00 p.m. After that we start meeting different vendors\opportunities of upcoming time which we can accumulate in our model and help franchise to increase their revenue. Because we believe we should keep changing with the time by adopting the new changes. After finishing the day by 7:00. We again get to gather with the team and discuss on the entire day with the franchise if found some major points we try and clear those. After reaching home by around 8:30 we spend our entire time with family till we sleep on our individual schedules.
Tell us about your team and how did you meet each other?
The details about the team have already been discussed in the above points.
Me (Kapil) and Deepen being from the same industry vis. Insurance and both of them belonging from the same town were quite in touch with each other. Somewhere in the back of our mind we were planning to do a business of service industry being experienced from the same domain. Deepen came up with a brilliant idea of starting a multibranded two wheeler workshop and then after survey we started with one workshop and rest is history.
During our journey and our fond habbit of meeting new people daily we came across Mr. Mohan Vaidya who was very well experienced in the domain and have being served in a giant automobile company we explained him the concept and made him associate with us to play a very key role in the organization with his experience and knowledge the foundation of the organization has become very strong with deepen and kapil playing a front role and Mr. Vaidya with a back end strong support.
To summarize the journey of all three of us has been very excited with eventful learning. We hope to continue the same in future and create new milestones in multibranded two wheeler service industry market.
We promise to provide best in class vehicle and customer service.
Author
Sponsored Ads