Sponsored Ads

Smerkato is a Bangalore based startup founded by Sekhar. Team Smerkato is working hard to integrate entire food order and supply chain process by using Artificial Intelligence so that it saves time and money for their clients.
The food chains/ restaurants/ hotels can place orders for their all grocery requirement directly on our platform and the orders are delivered right at their location within 8 to 16 Hours from the time of ordering, says Sekhar.
We got an opportunity to talk with Sekhar,  the founder of Smerkato. Read his story to know more about his journey as an entrepreneur.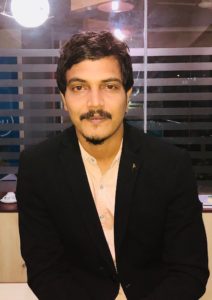 Give a brief info about your startup?
Smerkato means 'Smart Market'. Smerkato has its origin from Italian word 'Mercato', which mean market. With Smerkato, we are trying to make the whole ordering/buying process for customers "Smart"; At Smerkato, we are working towards organizing the food and grocery ecosystem of India using Technology and Data science with margin-based revenue model. The food chains/ restaurants/ hotels can place orders for their all grocery requirement directly on our platform and the orders are delivered right at their location within 8 to 16 Hours from the time of ordering. We're working on integrating our entire order/supply chain process by using Artificial Intelligence which fundamentally save's time and money for our clients. IBM has shown interest in helping us to develop the AI to reach our bigger goals. We are building Products, Platforms and Services in the Service sector and organising a disorganised market.
What made you start your startup and what problem does it solve?
I'm a person who looks to do things differently and create a meaningful impact to society. During my formative years, I wanted to start my own product based software company; however, prior to my  start, I wanted to gain enough experience in the corporate setup which will be helpful with the start-up of my own. After spending 6+ years in corporate (Tesco as last employment), I realised "it's the right time for me to make a move and start Smerkato".
Smerkato major focus is on organizing things for the disorganized food and grocery industry, below are the problem statements we are looking at addressing on priority.
        Our aim is to bring transparency between teams and management in the food industry.
        We remove the hassle of managing multiple vendors and losing the focus on real/core business
        We make our clients to focus on serving their customers in a better way using our products to reduce the lapse rate.
        We take the hassle of finding the best quality items at reasonable prices for our clients
        We handle our clients invoices/purchase orders and give access to management to avoid fraudulent activities by internal teams.
Tell us about yourself, your previous jobs/ventures? What were you doing before this startup?
Sekhar, Founder & CEO of Smerkato; "I make decisions for a better tomorrow, I am passionate about things I do, I am fearless & disrupt myself when needed and I narrate people to live their dreams" :); Expert in Budgeting, Sales Strategies, Market Research, Analysis, Financial Forecasting, Technology.  My last employment before taking entrepreneurship is with world's largest retailer "Tesco U.K", Where I was looking after Tesco Dotcom business for U.K from India, by taking care of Availability, Late Deliveries, Freshness, Missing Items and Quality of the Items ordered by customers of U.K. Earlier to this I was associated with Allegis Group where I was looking after Financials, reconciliations, Rate cards, Incentives, Application development, Dashboard analysis, etc.
Where is your startup based out of? Why do you think that is the best place for you?
We're based out of Bangalore, as its the Silicon Valley of India with lots of startups around us to learn everyday either one thing or the other new things!
Advantages of Bangalore as the place to start our Startup –
o Availability of quality workforce
o Bangalore is the most mature city to try new things, where people welcome warmly!
o City has the strong educational system
o Many R&D divisions prefer Bangalore
Disadvantages of Bangalore as the place to start our Startup –
o Heavy competition with other states focusing on Startup benefits
o Huge cost involvement in setting up new offices
o Challenging logistics because of poor Road infrastructure and traffic
As a startup founder, what are you paranoid about? What keeps you awake at night?
I believe that being paranoid sometimes is good for business. I have had always been a committed, hard-working employee, who believes in getting the job done with dedication and perfection, and I expect the same level of commitment form from my team as well. When things don't as per my expectations, i start getting into key details of almost everything, leading to very less time for myself. However, with time and experience, I'm learning the art of delegation, setting the expectations and deadlines with the team.
Who are your competitions and how are you better than them?
Our major/potential competitors are
•  Udaan (Operational in Bangalore since 2017)
•  Jumbo Grocery (Operational in Delhi since 2016)
•  EZkirana (Operational in Bangalore since 2016)
•  Jumbotail (Operational in Bangalore since 2016)
How hard is it to have a work-life balance as a startup founder and how do you manage it?
Being an Entrepreneur, I should be very careful with my work-life balance… In my case, I take precautions for my employees to maintain it. As I've got very good support from my family to spend more time at work and do things differently.
Fundamentally, I'm loving what I'm doing and I'm passionate about taking my company to next level. So I never felt it as hard to manage my personal and professional life.
Have you raised funding? If yes, then we would like to know the details. If no then please tell us if you're looking to raise?
We're a bootstrapped startup where we invested our own money of +60 Lakhs into the business. Now we're looking at raising $2 Million to $5 Million USD from few VC's and HNI's, to increase our Client & Supplier base, and also to scale up our Technology & Operations
What's the biggest misconception people have about you? Why do they have that? What's the reality?
I feel it's good to have some misconception on me from my people. As you should not be understandable to every individual and of course "i'm not in this profession to keep everyone happy. I would rather need to sell ice-creams to do so!"
In my case. I feel lot of people who're around me think that sometimes I act/behave/smile etc., in a rude manner. The challenge what people should understand is that i'm in the process of building the best company to comfort them at every stage. In the process of doing so, if required, I would stand rude/harsh.
The bottom line is I usually dig everything in detail and take errors very personally as I look at my company as my baby which is growing!, Now people having misconceptions because they are not able to understand what i'm targeting at.
What gets you excited about this company?
Everything excites me about my company.  To list few of them are below
When you know you're going to bring change in the food and grocery ecosystem for your country and create jobs for so many people.
When you walk on the floor and see people working towards building your vision
When your daily schedule is unroutine and crazy and you set goals to achieve them!!
When you wait to hear negative feedback from your customers/critics
When you learn to say "no" for most of the things
When you know you don't do trial release but you do pilot release!
Tell us how a day in your life looks like? Your schedule for a day right from the time you get up till you hit the bed at night.
With 18+ active hours my day is a roller coaster ride with maximum time on work and decent time with family.
Tell us about your team and how did you meet each other?
All the 3 Founding partners know each other since 10 years and all of us believe each others expertise at the areas we're handling. Yogitha has 8 years of experience in Operations, Loyalty, Brand & Customer Management, Project Management and Guruprasad is with 13+ years of experience into Marketing and Sales. Need to mention about my early teammates Chandu who only talks coding language and adding Tyagi the one who does coding with extra activities. Deveshwar has joined us at a later stage and playing a very crucial role in building our sales numbers… We've got strong advisory and mentorship team starting with Nitin who is with us since our Day-1 and whose expertise lies in building marketing strategies, financial and many.. is from XCapital Ventures, Anand Kannan with strong market connect and Praveen Rane who is a Managing Director – Rane & Co
Know a great startup story or want to share your own? Write to us at contact.bangaloreinsider@gmail.com and we will get back to you. For more updates follow Bangalore Insider on Facebook.
Sponsored Ads