Sponsored Ads

The SMART Taxi is a Ahmedabad based startup founded by Dhruvam. The SMART Taxi has its presence in 7 cities including Ahmedabad, Vadodara, Rajkot, Jaipur, Pune, Indore and Bhopal. They are working smartly to expand themselves in other part of India soon.
Four trips a month I do it by my self as a standard practice, which gives me chance to interact with customers and collect raw feedback and suggestion for improvement. During that rides I play role like a regular driver, to even observe the customer behaviors too, says Dhruvam.
We at Bangalore Insider had the opportunity to catch up with Dhruvam, the founder of  The SMART Taxi and to know more about the startup, read his inspiring story.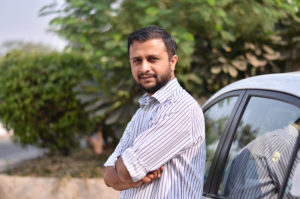 Give a brief info about your startup? 
Future is all about customer experience and we understand it very well. The SMART Taxi is all about creating the best in class cab riding experience, specially crafted for business class people and corporate companies. We achieve this by providing Well maintained cabs, loaded with state of the art features and driven by well trained and courteous professionals. We have observed a upware trend in demand of Indian consumers for the best quality services. There are class of people who is ready to pay a bit premium charges for availing such service, and they are our targeted audience.
All our cabs welcome customers with a defined welcome speech, followed with soothing music for a relaxing feel. In addition to it we offer water bottles, cookies, snacks packet, chocolates to our customers which are part of thier package. Our cabbies (drivers) are trained and tested in terms of behavioral skills and driving skills, to add value to the overall customer experience.
With us , One can customize the experience by making it more richer and premium, as per need, with addition of  wifi connections, amazon kindle, cold drinks, magazine and many more. We do constant market research for adding more and more features in our list, as per marker demand, for betterment of customer experience.
We offer cabs for hourly rental and outstation. Hourly rental is best suited for within city roaming which starts from hiring cabs for 8 hours /80 KM. Outstation journeys are travelling outside cities for one or more days.
The SMART Taxi was started at Ahmedabad with one cab, in Sep 16, which I was driving by self. Today we are an aggregation company having 60+ best performing cabs ,with a mix portfolio of sedan (Dezire, Etios, Xcent , Amaze) and MUV ( Innova/ Eartiga and similar). We are present in 7 cities including Ahmedabad, Vadodara, Rajkot, Jaipur, Pune, Indore and Bhopal and have a strategic time bound  plan already in place to expand in other cities of India.
What made you start your startup and what problem does it solve? 
Where others are focusing on delivering a taxi service, we are focusing on delivering a richer and memorable cab experience to our customers. It all started in 2012, where I was associated with an MNC and use to travel a lot in taxis. I was noticing every aspect and it was definately not upto the service standard, for what they were getting paid. Bad car condition, bad behaviour of driver etc were few of the common experiences which i had during that time.
On another side , my travelling in a flight and staying in hotel were fantsatic experiences , i had.
On a day while travelling back from Bangalore to Ahmedabad in a flight, i got a first strike of this idea as a single liner that what if  "A taxi offers hospitality like airways and facilities like a good hotel".  I started analyzing  things and gathering courage to start this, which took 4 years for me to finally go for it and we started.
Tell us about yourself, your previous jobs/ventures? What were you doing before this startup? 
My story is same what majority of middle class indian family has. My father was a banker and mother, a housewife, a little brother and sister.  My family was having a great belief on me coz my academics records were good. I completed my mechanical enginerring from one of the most reputed university ( Nirma University) of Gujarat. Thanks to campus placement that before completing my graduation, I was holding job in my hand from an MNC company and got posted at Bangalore. I joined that company in 2008 in production, planning and purchase arena.
In 2010, i got married with a girl who was my school friend as well and my title turned from bachelor to married. This title transformation brought additional responsibilities too.
In 2013, i got an opportunity to joined a company in Ahmedabad and I grab it. My salary was hiked as well as position and was happy from outside.
But from within, that one liner (which I shared earlier) was always pinching me inside , to do something on it. I still neglected it due to lacuna of courage to leave well paid job and due to fear of failure.
My inner voice to quit job and start something on own was rising day by day , due to the situation i was observing around me, when my colleagues were sharing their bad experiences when they hired taxis. Slowly i found that this problem was not only with the people whom I know but it was  faced by a large group of people in the city. That gave me confidence  and one day i decided to quit the job and started focusing on building a solution which will address this issues of customer.
Where is your startup based out of? Why do you think that is the best place for you? 
We are based at Ahmedabad.  Rather than identifying best place to operate , I choose Ahmedabad as a market to start with coz of my local knowledge about city geography,  better understanding of market dynamics and customer behaviors.  Finally on 5 Sep 16 we started.  There was another reason for choosing Ahmedabad as a market as it also helped me testing concept, gaining confidence and getting initial paid customers , who then started referring to thier friends and relatives in other cities and like wise we started expanding.
As a startup founder, what are you paranoid about? What keeps you awake at night? 
Our brand reputation and delivering a supreme cab riding experience sustainable to our customers are two main area, where i do not tolerate any compromise. Here our laid out business policies ,  processes onboarding of cabs and cab partners  and customer feedback mechanism helps us achieving both the objectives well.
Who are your competitions and how are you better than them? 
We compete with all cab companies who operate in corporate domain . Mainly to name few like Car club, Avis and Orix etc. We differentiate our service in terms of features as well as prices. Some of the features and options for customization what we offer to our customers is not offered by other players. In terms of price we have positioned our self a bit lower compare to them, which gives us added advantage in capturing marker share faster.
How hard is it to have a work life balance as a startup founder and how do you manage it? 
Work life balance is really a toughest challenge for a startup founders. Specially people like me who dropped out from a well paid job and initiated a startup. You tend to face social and economical barriers a lot in initial days, but still show must go on. Sometimes there were scenarios where I have to take away my time with family and rush to address business urgencies.
My ability to prioritize things according to need of that particular situation helps me Managing this scenario well.
Have you raised funding? If yes, then we would like to know the details. If no then please tell us if you are looking to raise. 
We are bootstrapped till date. We will surely get in touch in case of any such need.
What's the biggest misconception people have about you? Why do they have that? What's the reality? 
People majority of time carries misconception about us , that we are another platform like Ola or Uber, which we are not.  I do not blaim customers to have it coz both of these companies are dominating Indian market currently.
However , There are fundamental differences between us. To say few like ,
-Their core business is for travelling from point A to point B within city, where as we operate outstation journeys majorly.
– They have hatchbacks, sedan and MUV as vehicle  catagory to offer , where as we operate only with sedans and MUVs.
– They are app based service , where as we are a call based.
– Their major business comes from individual customers , where as ours come from corporate.
– they target masses , where as we operate for classes.
What gets you excited about this company? 
Its a dream what we all as a team fulfilling and seeing dream turning into reality is a excitement in it self. For all of us at The SMART Taxi, achieving highest customer satisfaction by providing the best in class cab riding experience is everything. Specially, when customer appreciates us for our service and efforts, it even boost the zeal for making it refined further.
Another important factor which boost us, is our fleet owners and partners community, who make this experience a reality for customers. We create business opportunities for them.
Tell us how a day in your life looks like? Your schedule for a day right from the time you get up till you hit the bed at night. 
I am a strong believer of starting the day earliest. My priorities for next day are set a day prior. Some are even planned a week before. I ensure that I given enough time to review every aspect of business including marketing, strategic planning, new customer onbaording, latest innovation in service,  business allocation to partners, team alignment,  ground activities and customer feedbacks. Meanwhile I do ensure to have a healthy food, timely, to keep body healthy, fit and fine. I do spend 20 minutes a day alone daily, where I hear my inner voice and talk to self. Indian Music is very close to my heart, which I listen while driving back home.
Four trips a month I do it by my self as a standard practice, which gives me chance to interact with customers and collect raw feedback and suggestion for improvement. During that rides I play role like a regular driver, to even observe the customer behaviors too.
Tell us about your team and how did you meet each other? 
Ours is a proprietorship firm. As a team, there are individuals who support me  as business consultants in different core areas of business, mainly for strategic planning, marketing , accounting , cab on boarding and business expansion , customer help desk and booking center.
Mainly our core strength is our ground team i.e. fleet owners and cab owners associated with us. They are the people whom we have taken atmost care while selecting and are delivering experience as per our set standards , 24X7.  Every cab owner or fleet owner has to pass through a 5 step selection process before joining us. We get thier references from local search engines.
– Vehicle checking
– Document verification.
– Rate negotiation and contract formation.
– Training.
– A 5 minute Telephonic interview of each drivers to understand his driving skill , behavior traits , how much he cares for customers etc.
Know a great startup story or want to share your own? Write to us at contact.bangaloreinsider@gmail.com and we will get back to you. For more updates follow Bangalore Insider on Facebook.
Author
Sponsored Ads