Sponsored Ads

SimplyGuest is a Bengaluru-based startup founder by Subbu, Ambareesha Athikunte and Mayank Pokharna. SimplyGuest was established in 2015. They provide fully furnished homes to working professionals near to their workplace with all essential amenities like high-speed wi-fi, water, LPG, DTH and lot more.  They have also started a hostel with high-quality facilities including food. They also conduct an audit on a monthly basis to check the quality of services which they are providing are in line with commitments or not.    
We got an opportunity to talk with Mayank, one of the co-founders of SimplyGuest. And I am sure; his story will inspire you. Let's look at the journey and see how he and his team are working hard to help people to convert their dreams into reality.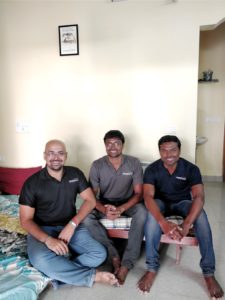 Give a brief info about your startup?
SimplyGuest provides fully-furnished homes to singles, working professionals, and couples in close proximity to their workplaces. The accommodation is completely managed and hassle-free; rent is inclusive of all monthly bills including electricity, water, 20-100mbps WiFi, DTH, unlimited LPG, domestic help, repairs and maintenance. SimplyGuest takes care of finding qualified flatmates as well as their entries and exits. Tenants can move into any house in our network at no extra cost when they change jobs or workplaces. SimplyGuest also provides bicycles on rent for an easy commute and recommends a curated list of cooks and maids to the people living at SimplyGuest homes. SimplyGuest recently started a professional hostel as well. The attempt here is to change and improve many aspects of traditional PGs. For starters, the food offered at these hostels is of high quality. There are monthly audits to ensure that food standards, safety and hygiene are maintained. There are no curfews in these hostels.
What made you start your startup and what problem does it solve?
The original idea was actually very different. We set out to certify rental houses along the lines of certifying used cars. We would certify a house for its livability quotient by trying to answer questions such as, 'is there a provision for a washing machine?', 'are there enough plugs in the house and are they all working?', 'is the geyser working and what is its capacity?' and so on. But unlike certified cars, people weren't willing to pay for certified rental houses. They would rather go through the difficulties of living in a suboptimal house than to pay for it. So then we pivoted to PG aggregation. That didn't work either, as PG owners weren't open to upgrading their facilities with technology. However, during the research for this project, we visited numerous PGs and realized that they were nothing short of cattle-houses. Even if you were willing to pay a higher monthly rent, you couldn't find a decent PG. That's when we decided to create an alternative to paying guest accommodation. We rented a flat in an upscale apartment society, furnished it with everything a family would require, got a very good WiFi connection, DTH, LPG, made the kitchen functional and hired domestic help; it was everything one could possibly ask for in a house. People could rent rooms in a good apartment without worrying about finding other flatmates. Very soon, the flat was fully occupied and that was our Eureka moment. Bangalore attracts a lot of singles; many of them earn well and don't want to compromise on the quality of their lifestyle. At the same time, they don't want the hassle of finding flatmates or managing the consequences of changing flatmates such as splitting furnishing costs, adjusting security deposits, paying and splitting bills, managing the house overall etc. This is exactly the problem that we have set out to solve.
Tell us about yourself, your previous jobs/ventures? What were you doing before this startup?
Subbu Athikunte is a software engineer with deep experience in all aspects of software development. He worked at Apigee (later acquired by Google) before quitting to start SimplyGuest. He has worked on distributed systems, analytics, big data, cloud computing, UI, develops and nearly everything else in the field of large-scale software projects. Ambareesha used to work on civil and PWD projects before SimplyGuest. He is very experienced in setting up and managing ground operations of infrastructure projects. Mayank Pokharna has worked with Indian start-ups like Practo and Cuemath in their hyper-growth phase. In his previous role as a chief of staff at Cuemath, he worked on streamlining multiple business processes to drive productivity and sales. At Practo, he was responsible for creating and managing end to end operations and business intelligence processes.He was a SimplyGuest customer before joining hands with Subbu and Ambarish.
Where is your startup based out of? Why do you think that is the best place for you?
SimplyGuest is based out of Bangalore. Bangalore attracts a lot of youngsters; it has a cosmopolitan culture. Unlike cities like Mumbai which contain traditional industries, Bangalore's is made up of knowledge-based industries. People who come here don't want to compromise on their freedom and the quality of their lifestyle. At the same time, they don't want the hassle of finding flatmates or managing the consequences of changing flatmates such as splitting furnishing costs, adjusting security deposits, paying and splitting bills, managing the house overall etc. This exactly matches the kind of problem we are trying to address and hence it is the best place for us.
As a startup founder, what are you paranoid about? What keeps you awake at night?
We are paranoid about nearly everything. Everything is volatile in the early stage. Providing consistent customer experience is what keeps us awake at night. We are built on top of a bunch of unreliable services. It's a challenge to provide reliability on top of failing, chaotic services.
Who are your competitions and how are you better than them?
We compete for head-on with companies like Nestaway, Homigo, Colive, SquarePlums, StayAbode, etc. PGs are still relevant and provide advantages that a distributed model like SimplyGuest can't provide. They are concentrated living spaces and take advantages that come from economies of scale. This concentration makes operations easier. Some upscale paying guest accommodations are extremely well operated. We provide a completely ready-to live house and we manage day-to-day operations of a house. It;s like having a homemaker on hire. All repairs, maintenance, bill payments, are taken care by us. Our average tenancy duration is 7 months which is more than we initially expected. We make living in shared accommodation very easy. Our tenants are guaranteed that they will continue to pay the same rent even when other tenants move out; this removes the dependence on flatmates. Even if only one person is currently occupying a house, they will have access to all utilities, connections, domestic help and all other services. We ensure housekeeping gets done regularly. We have an online expense sharing tool (like splitwise) for flatmates to split expenses among themselves; these expenses then get settled along with the rent so that tenants don't have to open their wallets every time they have to split bills. We also assist with deep cleaning whenever there is a need for it. Ultimately, our customers get predictable rents, and a consistent, quality living experience throughout their stay. We provide a curated network of house service providers like cooks, water can providers, housekeeping staff and certified meal delivery services. We want to integrate more services in the future and make living alone still easier. We have also built a robust payments system. All payments – rent, security deposit, bills, and owner payments – are executed online. Tenants get an itemized rent invoice and they can pay through a computer or a mobile phone using any mode of their choice. We also have technology to manage all backend operations that can generate rental agreements, manage internal tenant movements, manage assets in the property, manage house keys, etc. very efficiently.
How hard is it to have a work-life balance as a startup founder and how do you manage it?
We are on the ground most of the times showing homes, servicing guests and scouting opportunity. Sometimes we meet at Mayank's place when we have to discuss anything. Each one of us work on our own, wherever we feel comfortable. There is no life, it's just work.
Have you raised funding? If yes, then we would like to know the details. If no then please tell us if you are looking to raise.
We are self-funded and bootstrapped. Our focus was to build the product and services until now. We are in a pretty good shape now to raise external capital; we are looking to raise funds. We have been talking to many investors. We have rejected an acquisition attempt from a major company who is trying to enter this segment.
What's the biggest misconception people have about you? Why do they have that? What's the reality?
People think we are expensive compared to Nestaway. In reality, its the opposite. Our competitors hide all the essential charges. Its like ex-showroom price vs on-road price. You can't drive a car by paying ex-showroom price. They also hide the fact that if you are the only person staying in a house, you will end up paying the entire utility bills. With us its what you see is what you get. There are no hidden costs.
What gets you excited about this company?
We are excited about the opportunity in front of us. We are solving a fundamental problem people face, reliable housing. As commuting time to workplace gets longer, people prefer staying closer their workplaces. It also encompasses food, security, travel, housekeeping, utility connections, a lot of house-related issues. This industry has been unorganized. We are excited about these problems and we are in the right position at the right time to find effective solutions.
Tell us how a day in your life looks like? Your schedule for a day right from the time you get up till you hit the bed at night.
We work long hours. Sleep is the only time we aren't working. There is no set schedule as we run everything ourselves. We design our own software; we design some of our furniture ourselves; we have our own ways of sales and marketing; we run an efficient vendor and service network; We don't know when someone wants to visit a house or when someone complains about something. So we are on toes all the time.
Tell us about your team and how did you meet each other?
Subbu and Ambareesha are brothers. Subbu is a software engineer, and Ambareesha worked on civil projects. Mayank started out as a customer of SimplyGuest before joining full time. We blogged about this process.
Know a great startup story or want to share your own? Write to us at contact.bangaloreinsider@gmail.com and we will get back to you. For more updates follow Bangalore Insider on Facebook. 
Author
Sponsored Ads