Sponsored Ads

Simply For Homes is a Bangalore based startup and they also have office in Gurgaon and Manipal. Simply For Homes is founded by Jagan.
We started up around a year back and have been working in the POC model across some South Indian cities to validate our business model and make the right tweaks before looking to scale the business, says Jagan. 
We got an opportunity to talk with Jagan, and see what he has to say. I am sure his interview with us will inspire you.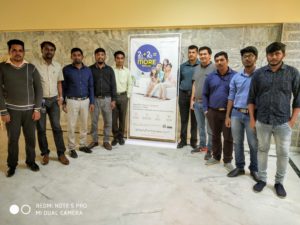 Give brief info about your startup?
Jagan: Simply For Homes is a platform that connects 3 entities namely banks/financial institutions, merchants and consumers who walk into the merchant stores and are looking for financing options to complete their purchase. We started up around a year back and have been working in the POC model across some South Indian cities to validate our business model and make the right tweaks before looking to scale the business
What made you start your startup and what problem does it solve?
Jagan: We got our inspiration from the fact that there are a number of fintech's that give you a personal loan, but there are few who give you a loan for your home improvement. Our differentiation comes from the fact that someone looking for a home improvement loan, would not require the entire money in one go, but will need it in stages. Our loans precisely solve for this problem with a Line of Credit product wherein the interest is charged only on the disbursed amount through which the customer ends up saving 2% to 4% during the tenure of the loan.
Tell us about yourself, your previous jobs/ventures? What were you doing before this startup?
Jagan: I was associated with organizations like MUrgency, Citrus Payments, InMobi, ngPay etc in roles spanning across strategy, sales, P&L and Business Operations
Where is your startup based out of? Why do you think that is the best place for you?
Jagan: Our venture is based out of Bangalore with offices also in Gurgaon, Manipal etc. Given we are running a fintech venture, it was natural for us to be based out of Bangalore where the tech talent predominantly is and is a ripe city for us to solve the problem statement for our target audience
As a startup founder, what are you paranoid about? What keeps you awake at night?
Jagan: Policies around KYC validation, digital signatures would make the onboarding of customers straightforward. Lack of those would make me paranoid.
Who are your competitions and how are you better than them?
Jagan: Our competition comes both from traditional business's who have been around for while and also new age business's looking to disrupt the lending industry. Our model of providing loans to people to spend in our closed network of merchants helps banks/financial institutions as this model defines the end use and the hypothesis is it will lead to banks lowering the rates of interest over a period of time when they realise lower delinquencies through this model. Hence our business model helps banks, merchants and consumers too eventually and this is how we are better than our competition!
How hard is it to have a work life balance as a startup founder and how do you manage it?
Jagan: Working in a startup brings with it its own set of fun rides/exciting situations as well as trying times. Deriving the most out of good times helps you manage the not so rosy times.
Have you raised funding? If yes, then we would like to know the details. If no then please tell us if you are looking to raise.
Jagan: We have been angel invested by some prominent investors from the US and a large business conglomerate from India.
What gets you excited about this company?
Jagan: The fact that the ecosystem including us has only been able to attack 5% of the population pyramid, and the fact that there is 95% of the pyramid is available to help solve the pain points for. This coupled with the fact that the per capita income in India is going to grow many-fold with higher aspirations, and a much higher need for credit provides a solid opportunity!
Tell us how a day in your life looks like? Your schedule for a day right from the time you get up till you hit the bed at night.
Jagan: A majority of my time goes around trying to make our process/technical interactions with our banks, consumers and our merchants seamless!
Tell us about your team and how did you meet each other?
Jagan: Our team is an amalgamation of hardcore sales folks, merchant engagement team, data scientists and our technology teams.
Know a great startup story or want to share your own? Write to us at contact.bangaloreinsider@gmail.com and we will get back to you. For more updates follow Bangalore Insider on Facebook.
Author
Sponsored Ads