Sponsored Ads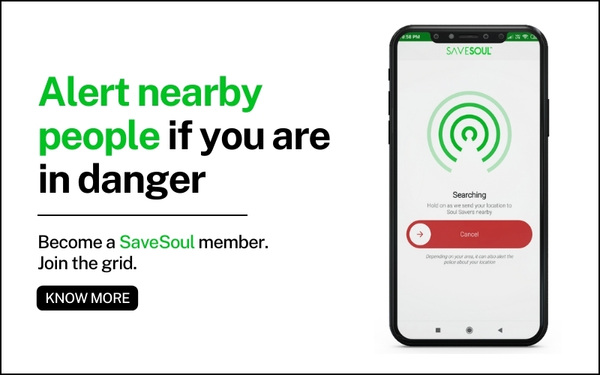 Security products are on the constant evolution of being better and advanced than the previous version. It's what keeps them at the optimal choice to safeguard buildings or any specified area. With the addition of the latest features into these security products, replacing the outdated ones can be a hassle. You require about 150-200 connectors to bridge the gap between the old and the new which can be a calculated and necessary nightmare.
However, for a company named Sacumen, things like these entice them to try something unique and different with connectors to offer robust and innovative solutions. Moreover, they map out the entire lifecycle of connectors and offer services related to connectors, connector design, and product development. Bangalore Insider had the unique opportunity to have a small chat with the founder, Nitesh. If you want to read more, then we have provided our entire conversation below.  
Give a brief info about your startup?
The term Connector means a thing which links two or more things together. Security Product Companies have faced a continuous challenge to keep pace in building integrations to newer 3rd party products as well as support the existing integration Connectors. On average, each Security Product Company needs to build 150-200 Connectors which help to enhance the capabilities of their products.
Sacumen has been at the forefront of working with Security Product Companies to address these challenges.
Sacumen has built 750+ Connectors in the areas of SIEM, IAM, Ticketing Systems, Incident Response, Cloud Applications, Cloud Monitoring, Threat Intelligence Feed, Endpoint Security, Cloud Storage, DevOps, GRC, Vulnerability Management, Authentication, etc. Sacumen also has 2 products in Connectors space. First one is call DaaS ( Data Collector as a Service) and the second one is CaaS (Connector as a service).
Sacumen had witnessed more than 100% growth year on year over the past few years. This growth has further accelerated during the pandemic with Sacumen looking to double its workforce in next 6 months.
What made you start your startup and what problem does it solve?
The foundation of Sacumen was built on the philosophy of being a niche player in the cyber security market and solve critical problems for Security product companies. Sacumen was born to address the pressing needs of Security Product Companies looking for a trusted, focused and niche Security services partner to help them develop innovative Security Products and solutions so that they can stay ahead of the curve in view of the ever-evolving security challenges and stay relevant in a competitive market and ever-changing business dynamics and threat landscape.
We realized that building and maintaining Third party integrations or Connectors are so called 'necessary evil' for a security product company to make their product usable and sellable. We decided to solve this problem and have been Laser focused on our approach. This has helped us build a strong differentiator for ourselves in the market and leading to our exponential growth. In fact, all our customers currently are only Cyber security product companies!
Tell us about yourself, your previous jobs/ventures? What were you doing before this startup?
I do not fall into the category of "born entrepreneur". I do not have those stories of selling lemonades! That is why anyone, who is looking to start a business and thinks that one needs special skills and background, can look at my journey and realize that it is not the case. I started as a Software Developer in Wipro Technologies and had progression for next roles such as Security Architect, Practice Lead, Practice Director and finally starting on my own. It is all about having trust in your abilities, be focused, and consistently work towards making yourself better. Given a choice between taking a role with high impact and high paying job ( with no impact and growth), I always preferred the former. Those choices have led to where I am, and I have never regretted my choices. I have never looked for shortcuts to success.
I live by quote: "We're here to put a dent in the Universe. Otherwise, why else even be here". I believe I can make that dent through my actions and contributions in the Cyber security space and leave a legacy.
Where is your startup based out of? Why do you think that is the best place for you?
We have 4 development centers ( i.e.: Bangalore, Pune, Ahmedabad, and New York) and our Headquarter is in Bangalore. Bangalore, apart from the wonderful weather, has a bustling startup ecosystem. This helps us to attract the quality talent to work with our client who have the Top developers and development processes.
As a startup founder, what are you paranoid about? What keeps you awake at night?
Covid came as shocker for the world. It taught very valuable lessons to businesses across the world. Many businesses (specially startups) were wiped out.
For me, the whole journey through Covid (and continuing) came as blessing in disguise and made us stronger. It taught me the importance of never taking things for granted and have strong differentiators in what we offer to our customers. It reminded me that one needs to "Delight the customer" and the days of just a satisfied customer is gone. We have never deviated from our focus to solve a specific problem area for our customers and strived to be the best in that.
Key here is to keep improving and innovate. Failure to keep with this spirit and approach will always give me sleepless nights.
Who are your competitors and how are you better than them?
There are arguably no companies that exclusively focus on working with Cyber security product companies and that too in the Connectors space. Most services company offer integration services in a generic way. What makes Sacumen a premier cyber security company is not only its development skills but also the know-how of how the 3rd party products work and the Use cases of the various categories in Cybersecurity while building these Connectors. One of the key differentiators that Sacumen brings to the table is it's partner ecosystem. The company has built more than 165+ partnerships till date. Last but not the least the company's undivided focused is the key to help product companies reach the market faster. It is one of the crucial factors that helps in extending client satisfaction.
"We want to be known as the Powerhouse for Connectors"
How hard is it to have a work-life balance as a startup founder and how do you manage it?
The term "work-life" is very misleading and stupid!. It gives a message that a wonderful life and work exist in separate spaces. This may sound contrarian, but I do not believe that the concept of Work-life balance exists for a startup founder. Business demands hard work and availability of the founder. There is no substitute to hard work, if you are looking to build a successful business. More importantly if one carries the passion for what one does and is clear with what one wants to achieve then work makes an exciting and fulfilling life.
Have you raised funding? If yes, then we would like to know the details. If no then please tell us if you are looking to raise.
Sacumen was started with the initial funding from Venture fund known as Clarion Venture Partners. Currently we are not looking to raise any funding. But we look forward to raise funding after 1 year to support our goals to accelerate product growth, and expansion into newer regions.
What's the biggest misconception people have about you? Why do they have that? What's the reality?
The biggest misconception people have about me is that I have everything worked out and leading a fairy tale life. The reality is quite the contrary. The excitement in running a startup is that most of things will never be worked out and one needs to constantly work on doing things in a better and innovative manner to survive. Encountering new challenges and solving them is what makes this journey fulfilling.
What gets you excited about this company?
I do not like monotonous work, that is why I like to challenge ourselves every day. Cyber security space throws those challenges and that is what makes it an exciting space to be in. As a company, we have been very focused in solving specific problem area related to building integrations for Cyber security product companies. Getting an opportunity to work with leading developers in the world to build security products and solution is fascinating. Also, we are proud of the Culture we have built up based on how we do our business and what we want to be known for. We are not looking to create a replica of another services companies. We would like to leave a legacy where he and his team builds a world class services company which is known to solve complex problems in the Cyber security space.
Tell us how a day in your life looks like? Your schedule for a day right from the time you get up till you hit the bed at night.
The day starts always before that day! Planning for the week and days is typically done on a Sunday evening. I do keep Time blocks for all the critical execution and planning activities. I have at least 30 minutes "Me Time" every day to do a self-assessment and think of ways to improve myself. This 30-minutes session is typically done at the start of day. It is followed by physical activity in form of cardio and gym ( though I have not been consistent????). My role has shifted from a complete doer to guiding and mentoring my leadership team. I do get involved in technical review of strategic engagements.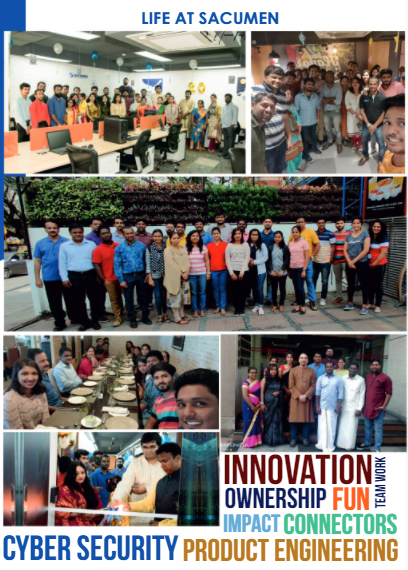 Tell us about your team and how did you meet each other?
I founded Sacumen in the year 2015 with seed funding from Venture Fund named "Clarion Venture Partners". I was looking for a Sales leader who could accelerate the growth of Sacumen and found Praneeth. Praneeth, who heads the Sales and Partnership at Sacumen, joined  Sacumen in 2017. Praneeth came with background of working with Services companies in the product engineering space and that was a great fit. Praneeth , with his impeccable experience in growing Sales and understanding of customer requirements, serve as Client Champion to ensure that desired outcome are met. We also have Subhashish who is Director of Delivery.
Know a great startup story or want to share your own? Write to us at bhumikka@insidermediacorp.com and we will get back to you. For more updates follow Bangalore Insider on Facebook and Instagram.
Author