Sponsored Ads

Saby's Barbee Mania is a company founded by Sarah Yunus which makes homemade spices. Try their homemade spices and find the difference.
"It was not an easy journey setting up Saby's. When I started I was myself not sure, where I was headed for. But today I am glad that things have worked out well, says Sarah.
We got an opportunity to talk with  Sarah, the founder of Saby's Barbee Mania and I am sure; her story will inspire you. Her mom is the inspiration. Let's look at her journey as an entrepreneur and see how she and her mother experiments with the spices to provide a better experience for their clients.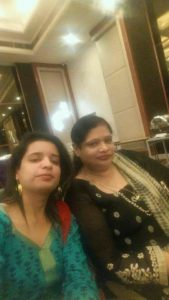 Give a brief info about your startup?
Saby's Barbee Mania (SBM) is a company that makes homemade spices using the secrets of our ancestors and especially that of my Mom (Naseem Yunus) who has been cooking ever since the age of 10yrs. My association with spices began when I grew the passion to open a restaurant. However, due to certain constraints, I missed out fulfilling that dream. But today my dream is bigger and it extends to catering to hundreds of household, restaurants and coffee shop.
I know about the secret recipe of my spices and it has been with me since the age of 13yrs old. To think of it, the spices business has always been in my blood. I hail from a Gujarati Muslim family and late dad was from Porbandar. All the same, it was not an easy journey setting up Saby's. When I started I was myself not sure, where I was headed for. But today I am glad that things have worked out well.
What made you start your startup and what problem does it solve?
I wanted people to eat tasty & healthy and didn\t wanted them to compromise on the diet to lose their weight.


Tell us about yourself, your previous jobs/ventures? What were you doing before this startup?
I am born & bought up in Bangalore, I always wanted to do something different from others, and heard a lot of ancestors stories from my mom which inspired me a lot, her support, her love, her blessing has got me till here. She has been both a dad and a mom as I lost my dad when I was 11yrs.I started working when I was very young at the age of 13yrs joined my mom (Naseem Yunus) export business, after which I had a boutique at home and an e-commerce garment store for 8+ years and did many freelancers works like Graphic, Web & DIgital marketing services.


Where is your startup based out of? Why do you think that is the best place for you?

 Its based out of Bangalore, but we deliver our products all over India & abroad.

As a startup founder, what are you paranoid about? What keeps you awake at night?
 Nothing paranoid about, yes I'm awake at night researching more unique spices with more benefits for my clients, As at time I get
inquires for making customised spices and I love to work on them.
Who are your competitions and how are you better than them?
 This is a complete different concept as of now I have not come across much competitors, but you never when one comes up. Keeping fingers
crossed and I have the trust and confidence that once a client taste, my species which not switch one to other.
How hard is it to have a work life balance as a startup founder and how do you manage it?

Not been very difficult for me to manage as my mom (Naseem Yunus) supports me a lot, making it easy for me to manage and let me mention I m a Workaholic.
Have you raised funding? If yes, then we would like to know the details. If no then please tell us if you are looking to raise.
Looking to raise.

What's the biggest misconception people have about you? Why do they have that? What's the reality?
Really!! Are you serious?  Stop kidding? Than comes let me try and than I hear a Wow
What gets you excited about this company?
I love being connected with food, I get to feel the aroma of spices mix them. Im always excited when it comes to food.
Tell us how a day in your life looks like? Your schedule for a day right from the time you get up till you hit the bed at night.

A day can be scheduled but your Life can't be I just get up making myself ready for any challenges which are stored for me today, face them
no matter how stressful day I have finally given a smile to myself and just sleep.
Tell us about your team and how did you meet each other?
Never see each other, but now can't live without seeing each other, Its none other than my Mom (Naseem Yunus) We are a team of 2
who work in this concept, share our success, experience, learn more new things, and just make the show run. Glad to have her as my
mom and more glad to have her associated with Saby or I can glad that I'm associated with her that's why I have Saby today.
Know a great startup story or want to share your own? Write to us at contact.bangaloreinsider@gmail.com and we will get back to you. For more updates follow Bangalore Insider on Facebook.
Author
Sponsored Ads