Sponsored Ads

Roamanchak is a Bangalore based startup founded by Priyanka Mhatre and Pardeep Rana. It is a travel brand which covers unseen sites across world.
 The channel in a short span of time has been able to get 2.96 lakh followers who have been surprised to see the kind of locations our country has. Roamanchak is a channel that provides quality travel content for brand integrations. To create meaningful content that in tern helps brands reach the right audience.
We got an opportunity to talk with both the founder of Roamanchak. Read their story to know more about their journey as an entrepreneur.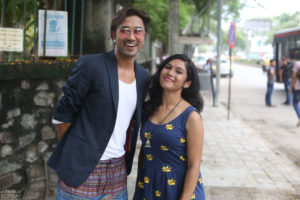 Give a brief info about your startup?
Roamanchak is travel brand and the first project that we started is a digital travel series where both of us, Priyanka Mhatre and Pardeep Rana traveled across the 29 states in 100 days. Covering some of the most unseen location, bizarre traditions, tasting delicious food and meeting inspiring people. The channel in a short span of time has been able to get 2.96 lakh followers who have been surprised to see the kind of locations our country has. Roamanchak is a channel that provides quality travel content for brand integrations. To create meaningful content that in tern helps brands reach the right audience.
What made you start your startup and what problem does it solve?
Both of us used to work in Jio Studios and there came a point in our lives where we wanted to explore our own capabilities. Our work did not challenge us enough and more so it din't make us happy. Thats when we decided to start our own venture to be able to create something that we loved. 
With the launch of 4G services in India along with Reliance's competitive strategies. We knew the content space was going into the boom phase and wanted to be an active part of it. Creating content that we were passionate about. Our main objective was to cover INDIA first. Outbound travel is increasing because other countries are promoting themselves more in India than our own country. People know more about international destinations rather than our beautiful states. It has become a trend to put a hashtag of international destinations on pictures without having any clue about the beauty of our own country. A true traveler is the one who knows his/her own country first and then explores the world. There is so much in India which has not been promoted by our government. I remember reading about this place called Yana Rocks in Karnataka. I was shocked that inspite of living in Karnataka for 7 years I had no clue about this place. As we started researching we realised we did not know our country at all. It was strange that being a traveler I was not aware of such places. I believe the problem lies in the way most people look at our country. The west seems to be better in all ways and India is looked at with skepticism. Most people do not realise the how rich our history was, how intelligent our ancestors were, how culturally diverse our country was, how diverse and stunning our topography is. Also, most of the places don't seem to be promoting themselves. Through our project, we wish to inform and educate people about such places in our country. 
Tell us about yourself, your previous jobs/ventures? What were you doing before this startup?
Pardeep:
Well, I belong to a small village in Himachal Pradesh. I grew up in the beautiful range of Dhauladhar mountains where I did my schooling and then moved to Punjab for my graduation. I came to Mumbai for my post graduation in Biotechnology. Soon After my post graduation, I got a job offer from a research company where I worked as a Researched Scientist on Breast Cancer. I worked there for two years, but I always knew that if destiny brought me to the city of dreams then there might be something else hidden for me. I never disliked my job because it was a respectable job with the responsibility of doing good for humanity. There was a moment when I had two career choices, one Ph.D. option in Germany and other to do an internship in Media company without pay. 
This time I took a risk and left my job to explore the hidden side of me. I was always very fond of the media industry and modeling but never had guts to do something in that space. So when I got an opportunity to enter in a media company I didn't think twice to explore it and I chose the unpaid internship over a paid Ph.D. in Germany. I learned about the camera, editing, direction, scripting and social media at that time and got a job offer within 6 months from Reliance Jio Studio. I worked there for 3 years until the time Roamanchak came into my life and I decided to do something big.
Priyanka: I was born in Mumbai but lived in the Middle East (Oman and Dubai)  where I spent most of my childhood. That's probably where I get my passion for travel. My father has been an avid traveler and he made sure we went somewhere every weekend. My parents and sister are true travelers in the sense that they all love to explore the natural, cultural and historic side of a place. So the explorer always lived within me. I returned to India in 2006 for my further education where I did my bachelors from Bangalore and worked in JPMorgan for a few years thereafter. The media space has always attracted me so I decided to do my MBA. Post that I joined Jio Studios in 2014 as a Manager when the department was going through a change. They were getting into the content creation space which turned out to be the perfect opportunity to explore the aspects of filmmaking, which has been a dream.
Both of us met in Jio where we were trying our luck at the content creation space. We loved the work so much that we ended up learning how to write, shoot and edit which wasn't a part of our job profile. However, this eventually helped us in the long run. Post quitting our jobs we decided to start out own company.
Where is your startup based out of? Why do you think that is the best place for you?
We are based out of Mumbai, the place where both of us were able to fuel our passions. The city of dreams has not only made our dreams come true but been able to give us the opportunity to explore different facets of our personality. We were able able to move from one profession to another with ease. In today's digital world the location of ones business seems to become less relevant. However, the financial capital of the country has been able to add to its own value.
As a startup founder, what are you paranoid about? What keeps you awake at night?
As a startup the one thing most are paranoid about is business development. To be able to reach out to more customers so as to be able to sustain in this competitive world. Statistics say that 9 out of 10 startups fail in the first year of business. I fell most do so as they are not able to manage the flow of income. Apart from this editing and work keeps us awake at night.
Who are your competitions and how are you better than them?
Our competition is everyone in the content space who is looking for that mind space. There are new content creators getting into the space everyday. So being able to stay relevant is essential. We are making sure we stay true to our beliefs and ideas so as to deliver quality content consistently.
How hard is it to have a work life balance as a startup founder and how do you manage it?
We love what we do therefore work becomes more of fun. So balance is maintained as you happy doing what you do. Even if it means working the entire night editing. 
Have you raised funding? If yes, then we would like to know the details. If no then please tell us if you are looking to raise.
The company has been fully self funded as of yet but we are looking to raise the funding in the future.
What's the biggest misconception people have about you? Why do they have that? What's the reality?
Most people feel that our work is like going on a vacation, like a holiday that never gets over. That is how one must be feeling watching the videos but on the contrary we are working all the time right from shooting every place we go, editing all the footage, getting it uploaded, taking to brands, marketing pretty much everything a startup has to go through.
What gets you excited about this company?
Pardeep: Yes, I have got zeal for travel from my mother. As I have mentioned that I belong to a very small village so my mother never got the chance to travel far from our home state but she always had dream of traveling the entire world. She used to share her dreams with me and I never realized when her dreams became mine. Till now I have traveled more than 10 countries but all because of work purpose. I could never enjoy the stay or feel the vibes of any country while I traveled. Because all the time I was working and for a corporate company more you work more they expect. I reached a point where I decided to quit my job and travel on my terms. It wasn't easy to again start from scratch but this time I was even more confident and positive towards life. Roamanchak is not a project or a company for us it is our courage, our hope and our ability to challenge life on the way to our destination.
Priyanka: The idea of exploration of different lands, cultures, food, and history has always intrigued me. This was further fuelled by my parents who are travelers. I believe travel teaches you so much that a book could never do. Both of us were struggling to find the happiness we were looking for in our work. Roamanchak was born out of that struggle to find meaning in our lives. I don't think I have met anyone that has not said this "I wish I could quit my job and travel". We had always said that we wanted to see the world but before that, we wanted to see our own country. Roamanchak has given me the ability to make my passion into work that I love.
Tell us how a day in your life looks like? Your schedule for a day right from the time you get up till you hit the bed at night.
Our day starts with getting in touch with brands, journalist, PR agencies, meeting clients, getting the edits done and posting on all the social medias. But the time the day ends we have our video and photo edits running into the night. Startups normally don't have a fixed work schedule so they end up working most of time.
Know a great startup story or want to share your own? Write to us at contact.bangaloreinsider@gmail.com and we will get back to you. For more updates follow Bangalore Insider on Facebook.
Sponsored Ads