Sponsored Ads

Plash is a Bangalore based startup expertise in designing marketing campaigns and develop useful productivity tools. This company is started by three founders: Vikas Jha, Neels Steyn and Eugene Goh.
"Success and failures are a part of every single effing entrepreneurial journey.- Vikas Jha"
Vikas Jha wakes up at 4 AM to plan his day and work on things which require undivided attention. Even though he is a successful entrepreneur, his family is equally important to him and he loves to cook for his family every time he can. We got an opportunity to talk to Vikas, the founder of Plash Media and you will be inspired by his views, his journey and plans ahead.
Give a brief info about your startup?
Plash Media is a confluence of technology and design. We create with help of both art and technology: either marketing campaigns or technological products. But both help to influence the behaviour of end users: sometimes buying habits, sometimes product habits, sometimes work habits.
Plash media has two business arms:
Creative Digital Agency – Limitless
AI powered Technology products – Alore
Alore is an AI-powered integrated CRM and inbound marketing platform launched in 2017. Alore provides a comprehensive suite of productivity-centric sales and marketing features.  It has advanced CRM capabilities, a built-in email finder, a personalized DRIP email campaigns creator, a newsletter curator, and the option to have your own AI-powered virtual assistant capture leads and schedule meetings. Alore also provides advanced tracking and analytics of campaigns and data, all wrapped up in an intuitive but powerful user interface
What made you start your startup and what problem does it solve?
Plash was established initially as a news aggregation app which gradually evolved into our digital marketing agency – Limitless.
While doing the BD for Limitless, I used to try various CRMs but was frustrated with the existing CRMs not solving all my needs. The more I understood my needs, I felt intrinsically motivated to just come up with a CRM for myself. Gradually with time this became a whole new AI powered SaaS tool – our latest offering Alore CRM
Tell us about yourself, your previous jobs/ventures? What were you doing before this startup?
I started my career as a mercantile marine and established my first startup in 2007 called Marine Solutionz. I exited from the venture in 2009 and pursued an MBA degree from Rotterdam School of Management, Erasmus University. The Netherlands
Post MBA, for about 3.5 years I worked with an early stage clean-tech VC fund based out of Amsterdam -Start Green Venture Capital. Here as a VC, I invested in close to 15 deals and managed 2 planned exits.
Where is your startup based out of ? Why do you think that is the best place for you?
Though headquartered in Singapore, the startup is largely based out of Bangalore. When I decided to change gears from being a venture capitalist to an entrepreneur, I was advised by family and friends to move to Silicon Valley. However, I believed in India having more opportunities for growth than any developed nation and in 2013, I moved back to India to:
Experience and contribute to the Indian entrepreneurship eco-system
Practice what I preached as a VC and to become a better VC
Initially I was contemplating between Pune and Bangalore to start my startup but eventually decided on Bangalore to access its better talent pool.
As a startup founder, what are you paranoid about? What keeps you awake at night?
I'm paranoid about productivity.
I value it immensely and a dip in productivity over a period of time, for an individual or a team really takes my sleep away.
Who are your competitors and how are you better than them?
The tool is in its nascent stages of launch yet showing a promising number of signups. We are competing with the likes of Hubspot, Pipedrive, Zoho CRM for a slice of the pie.
Alore has been designed to solve a majority of the sales and marketing challenges startups and small businesses face when expanding the business. For e.g. Besides its advanced and easy to understand CRM functionality, Alore also provides an email finder feature to find out the validated email ID of a prospect and create super easy to implement DRIP email campaigns to make follow-ups and emailing easy. Alore also provides an AI-powered chatbot to act as your virtual assistant so you don't miss any leads or interactions with anyone in your funnel.
So basically you don't need to subscribe to a number of tools when your budgets are low yet remain competitive with access to advanced technology to maximize your outreach.
How hard is it to have a work life balance as a startup founder and how do you manage it?
It is quite hard and in this regard, I think your partner's support matters tremendously. I work six days a week and work late hours. I try to keep my wife updated on what's going on at work and what I plan in the coming days. I introduce her to my colleagues once in a while, so she can relate better. I keep my Sundays wholeheartedly dedicated to family. I love to cook, so I pamper my wife regularly by cooking her favourite dishes for her.
Have you raised funding? If yes, then we would like to know the details. If no, then please tell us if you are looking to raise.
We raised an angel round of funding in 2013 but unfortunately cannot disclose any details around that as part of my investor agreement. Currently, we are not looking at new funding.
 What's the biggest misconception people have about you? Why do they have that? What's the reality?
Haha. This is an interesting question. Well, everyone thinks I'm an extrovert, but I am not. It's something I am because I'm needed to be. I am intrinsically shy and would prefer being alone in the company of a book or my family.
What gets you excited about this company?
The possibilities!
Both the business arms, Limitless (The digital media agency) and Alore have endless possibilities.
Limitless is one of the leading agencies harnessing data-backed decisions to marry art and technology. We have created a number of successful campaigns led by technology infused into art. For e.g. our campaign #maketimeforlife had a reach of close to 200 million people with a spend of 20,000 INR where we harnessed technology and data to tell our story at the right time, at the right place, to the right segment.
With data and technology getting better the possibilities to create and highlight the artistic aspect is going to be stellar in the coming days.
Alore, on the other hand, is our technology arm with Artificial Intelligence as its foundation. We have just launched our first product – Alore CRM which harnesses AI to begin and have a number of them in the pipeline. We are confident that with better technology in the future and AI being more researched, the expanse of what we will be able to offer would be spectacular and something humans cannot imagine at this point.
Tell us how a day in your life looks like? Your schedule for a day right from the time you get up till you hit the bed at night.
I wake up at around 4 AM and until 7 AM I wear my maker's hat. I work on codes, design and any pending work that needs my undivided focus. (I've even blogged about it in case you want to read more – Why I wake up at4AM every day)
Around 7 AM – I do some cooking
I reach office by 8.30 AM to avoid the Bangalore traffic. I hate getting caught in a traffic hours!
Then onward I wear my manager's hat and get on with work managing various teams and the days battles until 21.00Hrs on a good day. If there is any issue etc then I'm in office for longer.
I reach home and spend some quality time with my family and usually put my phone away until the next day's 4 AM !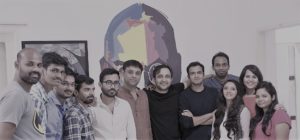 Tell us about your team and how did you meet each other?
We are 3 Directors at Plash Media. Neels Steyn, Eugene Goh and I. Neels is based out of Sydney and Eugene is based out of Singapore.
Neels and I were classmates during our MBA studies at Rotterdam School of Management in The Netherlands. Neels introduced me to Eugene as he and Eugene were colleagues at the Boston Consulting Group.
Know a great startup story or want to share your own? Write to us at contact.bangaloreinsider@gmail.com and we will get back to you. For more updates follow Bangalore Insider on Facebook
Author
Sponsored Ads