Meet Tina Mansukhani Garg, she is the founder of Pink Lemonade. It is a marketing agency providing all type of branding services.
 It was a bold move to start an agency with no funding or partners, but I realized it was important. Sometimes, the only way you can realize the grandest vision the universe has for you is by getting over your doubts. I took a leap of faith and delved into something I passionately enjoyed doing. It was the birth of Pink Lemonade, says Tina.
We at Bangalore Insider had the opportunity to catch up with Tina, the founder of  Pink Lemonade and to know more about the startup, read her inspiring story.
Give a brief info about your startup?
Pink Lemonade is a full-service Brand Communication Agency helping clients from various sectors with strategic branding, creative, digital marketing, videos, and experience design. We began as a small agency in 2011 with a handful of employees. Within seven years, Pink Lemonade's portfolio included a staggering 500+brands across more than 10 industries. With over 200 years of collective team experience and 90+ internal employee engagement initiatives, Pink Lemonade has carved a niche for itself in the industry today.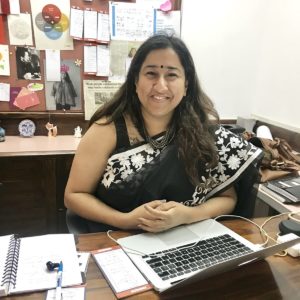 What made you start your startup and what problem does it solve?
I started off working as an individual consultant in 2009. By 2011, work had expanded to the extent that I had to set up an organization and get together more people, if I was to deliver everything I conceptualized. It was a bold move to start an agency with no funding or partners, but I realized it was important. Sometimes, the only way you can realize the grandest vision the universe has for you is by getting over your doubts. I took a leap of faith and delved into something I passionately enjoyed doing. It was the birth of Pink Lemonade.
Offering end-to-end solutions, Pink Lemonade's repertoire boasts corporate identity and brand positioning, marketing collateral, social media support, content, brand activation, events, exhibitions, internal communications, in-house design and web support, videos, and presentations. Pink Lemonade is one of the few and niche agencies to bridge the creative and digital divide. Starting off as a creative agency, we have quickly covered web technologies, in-house video production and UI/UX capabilities to give clients a new world of marketing needs.
Tell us about yourself, your previous jobs/ventures? What were you doing before this startup?
Very early in my career, I knew I would be following my passion and not what I studied to do academically. And so graduating as an engineer from University of Pune, I quickly made the shift to Mass Communications, and completed my Masters in Communication and Journalism.
Working with India's best publications to writing for corporate organizations to conceptualizing internal communications and marketing communications campaigns, I realized that I loved the creative work. From agency life I went on to work as Communications Specialist at Ernst & Young.
Where is your startup based out of? Why do you think that is the best place for you?
Pink Lemonade is based out of Bengaluru. Bengaluru is the city of and for startups. Companies and people in this city have a growth mindset, with an accelerated growth curve. Often they pivot as early evolution validates their idea easily. Naturally, this means marketing opportunities in the world of startups change everyday. That apart, Bangalore being the technology hub, presents us with access to a number of multinationals and indigenous brands too. Whether it's Practo or Swiggy or Flipkart, or multinationals like Jockey, Lenovo, GE Healthcare, Bangalore presents us with an opportunity to explore multiple domains.
As a startup founder, what are you paranoid about? What keeps you awake at night?
While churning out the best creative output, it is imperative for me that my people enjoy what they do. The culture of loving what you do, coupled with a holistic work environment – so work becomes an extension of life and vice versa – is what makes Pink Lemonade what it is. I believe that without a happy mind, no one can deliver a good output and I am a paranoid about maintaining this amidst growth and new talent acquisition.
Other than this, what keeps me awake at night is what keeps any other entrepreneur awake too – chasing payments on time and keeping healthy cash flows throughout! The mindset that your agency is a "vendor" has to change, to accept agencies as a "partners". That's truly when we will get paid on time for the good work we do.
Who are your competitions and how are you better than them?
A good creative/digital agency in Bangalore, or one with a national presence would be competition for us.
We are a full-services agency with a 100 people today. It is a size that not many others can maintain. That itself is a plus for us. Also, I believe what we can offer all under one roof today is way more than others can – we have a fullfleged video production studio at Pink Lemonade, capabilities to develop long-format and short-format copy for B2B and B2C communication, full-play digital services, amidst the ability to support media planning and integrated marketing all under one roof.
How hard is it to have a work life balance as a startup founder and how do you manage it?
I started an office across the floor from home initially. This helped me monitor with my children's day-to-day activities with considerable ease. As the Pink Lemonade team grew over 45 of us, we shifted to a bigger office space.
Having juggled with my work and my home, I have realized how difficult it was to handle both well. So, I encourage women to return to work after their break and Pink Lemonade does its best to offer an environment that is conducive for them to manage their work life balance.
But working at an agency can be intense and work-life balance sometimes gets skewed. For the people at PL, we do specific initiatives to help the stress reduce – spa holidays, hobby sessions, fun at work, among the freedom to bring your children to work – everyday if needed.
When it comes to me or the other leaders, somehow there is a perception in the corporate world that leadership is about delegating and maintaining a work-life balance at the top of the chain while the reports at work continue the late hours. The reality is quite something else. In my mind, a leader must be ahead of their game. For that you have to constantly invest in your own growth and learning – so you can holistically guide the team. Which means you have got to do more than the team does. It's the law of life. So when I build this into my life choices, it's really not about work-life balance anymore but of seamless self growth.
Have you raised funding? If yes, then we would like to know the details. If no then please tell us if you are looking to raise.
Pink Lemonade is a completely self-funded venture and the idea was to have it this way. I am extremely proud of the fact that we started my business with zero capital and the business funds itself. The entire growth, infrastructure, and people have all come from the company's revenue. We kept building our corpus to invest in things we needed, while the monthly cash flow takes care of the expenses. The idea to share this openly is to encourage other women entrepreneurs to take the plunge and not let investments deter you.
The question of raising funds – if the need be, why not? Growth, expansion, mergers, geographical planning – open to all but for the moment, I think we're well taken care of!
What's the biggest misconception people have about you? Why do they have that? What's the reality?
Ha ha! Good one. When you're leading an organization people have a lot of misconceptions about you. It could be right from being the fearsome approval point for creatives to being the business owner who keeps all the profits.
The reality – Pink Lemonade stands for good work. When we commit to a client we have no business to deliver anything but the best to them. In a bid to ensure that quality, sometimes the company leadership has to be firm and ask for adherence to creative briefs and rework. Change is never easy or pleasant so naturally it will result in some ire. Part of the game.
As a business owner, my one genie wish is to earn more so I can share more with my colleagues. From the start, PL's principle has been to ensure collective growth for our people. Our liberal payout policies have held us in good stead in the past and as we grow I want to be able to do this more often.
What gets you excited about this company?
The work, the clients, the team – we get different kinds of creative work across various industries. This gives us a chance to learn about these industries and also about their dynamic markets. Interacting with the team over a new brief or new challenges, gets me all excited as we brainstorm or uncover new ideas and perspectives.
Another thing I thrive on is a challenge. If a client presents a never-seen-before need, that is something I love to crack. This 'can-do' attitude has indeed brought us where we are today.
Tell us how a day in your life looks like? Your schedule for a day right from the time you get up till you hit the bed at night.
My day starts with a morning walk amidst my plants. And it doesn't end till I have read up or learnt something new. This is a discipline I recently started with and absolutely love the positivity it brings me.
Because everything in between is a roller coaster and more. From reviewing designs and copy to brainstorming sessions and meeting clients across the city or attending calls, there's not a dull day at Pink Lemonade.
I look forward to one-on-one lunch sessions with my team members when I get to know them better. Some of them are truly earnest in their sharing of both personal and professional stuff, which gives me so much to connect with them on.
Among other things, I attend internal training sessions and external conferences too, apart from mentoring other women and giving back to the ecosystem, so some days are pretty much covered with such sessions too.
All along, the central message of my day is to ensure personal and professional growth for all.
Tell us about your team and how did you meet each other?
My core team is a bunch that was destined to work with me. Some have worked with me long before I started PL, while others stumbled into Pink Lemonade, wanting support or help with their careers – little knowing that their careers would find home at our agency.
Intending to help others in their journey, has coincidentally been one of the most beautiful ways in which I have met my team and somewhere I believe, this was destined to be.
Know a great startup story or want to share your own? Write to us at contact.bangaloreinsider@gmail.com and we will get back to you. For more updates follow Bangalore Insider on Facebook.