Pharma studio is a Bangalore based startup founded by Amat and Abhishek Shivaram.
"With oodles of experience in this space thus, we decided to focus our energies towards a segment that is extremely important to our society. We just grasp the pulse of a pharma and a healthcare brand and know exactly what to suggest", says Abhishek.
We got an opportunity to talk with Abhishek, one of the co-founder of Pharma studio. And I am sure; his story will inspire you. Let's look at the journey.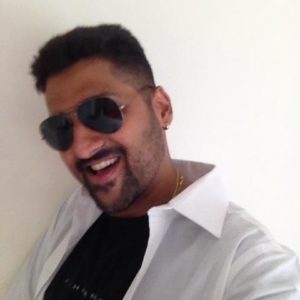 Give a brief info about your startup?
Pharma studio is a dedicated consulting firm in the Pharmaceutical, healthcare and allied sectors. With this space having to tackle competition multifold, we thought, we could dedicate our creative resources in this segment to help a healthcare brand picture itself better.
What made you start your startup and what problem does it solve?
My partner and I have been part of the events and activations space for close to a decade and a half. In this tenure, our primary list of anchor clients were from the pharma sector. With oodles of experience in this space thus, we decided to focus our energies towards a segment that is extremely important to our society. We just grasp the pulse of a pharma and a healthcare brand and know exactly what to suggest.
Tell us about yourself, your previous jobs/ventures? What were you doing before this startup?
Both of us (My business partner, Amat and I, Abhishek Shivaram) were part of the events and activations industry for close to a decade and a half. While I was always on my own and had a couple of other business verticals that started and tanked while the events were still my mainstay, Amat had experience though briefly in a couple of agencies. Predominantly though, we both used to have our own set of clients and dedicated ourselves towards flawless service.
I also am a sports presenter and was part of the Royal challengers Bangalore web TV crew for the IPL season 2011-12 and Champions league T20 2011-12.
Where is your startup based out of? Why do you think that is the best place for you?
Our startup is based in Bangalore. We, however, have a PAN India presence and operate in more than 24 locations across the country that also includes tier two cities and towns. Over the years, apart from working towards clients' satisfaction, we have constantly built people and relationships that have held us in good stead.
As a startup founder, what are you paranoid about? What keeps you awake at night?
As a founder, if I say, I am not afraid of getting repeat business I am lying. If I am not constantly thinking about new customer acquisition, I am not in the right place. I can't remember the last time I actually slept peacefully. Because the day I do that, I would have retired! I say this in a very positive note though, as complacency is an entrepreneur's biggest enemy and having experienced an extremely sinusoidal entrepreneurial journey so far, I am best equipped to talk of the highs and lows of start-ups and businesses.
Who are your competitions and how are you better than them?
I would say, any agency that is into the space of brand consulting, BTL and event management is my direct competitor. However, what separates us from the rest is, our experience, expertise and knowledge about medical marketing, medical and brand communication. Like I mentioned earlier, we as an agency can just grasp the pulse of a healthcare brand when we go for a client brief.
How hard is it to have a work life balance as a startup founder and how do you manage it?
This could be extremely subjective. I wouldn't say it is hard at all, but again, that depends on the industry one is part of. Personally as a start-up founder, though my mind is constantly thinking ideas, thinking customer acquisition, retention, client servicing etc., I do not compromise on social life. My family and friends are extremely important and that switch is something that I drew inspiration from one of Rahul Dravid's talks. When asked about his concentration and how he managed to become a batsman so difficult to dislodge, he had mentioned that he only focussed on one delivery at a time. He would then switch off and think of something else and then back to the next one! So yes, switching off and on is paramount and that is work life balance in an entrepreneur's life.
Have you raised funding? If yes, then we would like to know the details. If no then please tell us if you are looking to raise.
We have never gone the VC/AI route, but do propose to do so in the near future. We have always bootstrapped but going forward, scaling up is important and we look to raise capitals.
What's the biggest misconception people have about you? Why do they have that? What's the reality?
Well that's a tough one. I cringe when people tell me that they thought of me to be one who had an attitude. Attitude in a bad way. Because, honestly, I am quite affable. In fact, I get depressed without people around and make that effort to break the ice.
What gets you excited about this company?
The passion that I have for this sector, the sleepless nights we encounter with last minute briefs and the challenges that we face in executing events having received our confirmation 48 hours (sometimes 24), is what gives us the adrenaline rush. We love the tension work gives us, because honestly if work doesn't keep you nervous, or if it doesn't make you to fear failure, that is just not work!
Tell us how a day in your life looks like? Your schedule for a day right from the time you get up till you hit the bed at night.
 In our industry, regularity is something that is as absurd as you would call, spotting a dinosaur in today's world. However, to stay sane, we do the regular chores. I wake up and hit the gym. Typically my workout lasts for 45 minutes to an hour after which, I get my son ready for school and I get ready for work. I Drop him off, I go to office, finish up the day's meetings, work etc. and of I finish early pick him up or have somebody like the wife or my dad pick him. Evenings are generally at home but I do have that mandatory midweek drink. On a regular day I hit the sack by 11:30 PM and on weekends the party keeps me going! I however work on weekends when the demand is on.
Tell us about your team and how did you meet each other?
We have a core team of 5 people in Bangalore that includes my business partner. Amat and I have been together since college and we were vocalists in our college band. Ever since, we've been business partners/associates. The rest of the team were acquaintances, but really good ones at that as our team is extremely passionate and talented. We have business associates across the country and we generally share a brilliant bond. Like I said, over the years, we have invested in making people!
Know a great startup story or want to share your own? Write to us at contact.bangaloreinsider@gmail.com and we will get back to you. For more updates follow Bangalore Insider on Facebook.