Sponsored Ads

Pet Project is a Bangalore based startup founded by Tanya and her husband. They provided education and  high-quality products to ensure that their parents are able to provide them the best suitable products as per their requirements.
Our goal is to provide great food, better grooming products and charming accessories that allow your pet to fully express their personality, says Tanya.
We got an opportunity to talk with Tanya, it is an inspiring story of the co-founder. Read her full story to know more about the startup.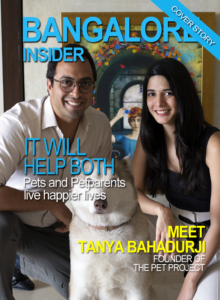 Give a brief info about your startup?
The Pet Project is a pet supply company with a focus on education and starting a dialogue about what our pets truly need to be healthy and happy. Our goal is to provide great food, better grooming products and charming accessories that allow your pet to fully express their personality. We've curated very specific high-quality products to ensure that each pet is treated in a manner best suited to their needs. For we know better than anyone that a pet is unique – and it's time we celebrated it!
What made you start your startup and what problem does it solve?
The Pet Project is actually a very personal venture for us, and it all started because of our dog Kafka. Like his namesake, he defies definition. Sometimes playful, sometimes standoffish, sometimes loving and always a lord, Kafka runs on no one's schedule but his own. But then he fell ill – repeatedly. We spent years chasing up doctors and doing our own research on how to make him better until we found that a better, more tailored diet made a difference… the crucial difference. This opened up conversations about pets and their needs with our friends. A lot of people faced the same problem. Something in the pet market was missing: an organised space that truly saw these pets and gave them the individual care they deserved. Enter The Pet Project… we wanted to create a pet supplies company in the organised space that would help pet parents from all over the country understand their pets and their needs better.
Tell us about yourself, your previous jobs/ventures? What were you doing before this startup?
There are two partners in this venture, my husband and I. My husband comes from a business background and runs a couple of businesses (including Vantage Advertising, a national outdoor advertising company). I am primarily an artist, but I also used to work as a freelance graphic designer for companies such as Kotak. It's the perfect balance, really – I take care of the creative and brand aspects of the company while he oversees the day-to-day running of the business.
Where is your startup based out of? Why do you think that is the best place for you?
Our start up is based out of Bangalore. The city has one of the highest concentrations of pets in the country and it is where we are based, so it seemed apt to start a pet company here. Our 1st store is at Sanjaynagar and we've just opened out 2nd in Jayanagar. That being said, we are looking to expand our retail stores to other cities and our website already delivers all over the country with no delivery charge.
As a startup founder, what are you paranoid about? What keeps you awake at night?
When starting a business, you have about a hundred things to do and plan in a day and any one of those hundred can keep you up at night. But it is not allowing these problems to overwhelm you that actually allows you to succeed. Understanding that not everything is under your control and learning to trust your partners and the process makes things run a lot smoother. That being said, a seamless experience for our customers is paramount and we do everything we possibly can to keep them happy – which sometimes takes a bit of creative problem-solving.
Who are your competitions and how are you better than them?
That's a tough question to answer. The pet industry is growing at a tremendous pace and we believe that there is room for everybody. We believe that our emphasis of education and our vetting process to keep only the best quality brands from all around the world sets us apart.
How hard is it to have a work-life balance as a startup founder and how do you manage it?
There are plenty of times when it can get overwhelming and you think to yourself that you don't have enough time to do everything you want. But I think perspective and actively teaching yourself to live in the moment really helps.
Have you raised funding? If yes, then we would like to know the details. If no then please tell us if you are looking to raise.
No, we haven't raised any funding as yet and it's not something we've set our sights on for the near future. Our brand was started to help our pets and educate the public about their needs – we are very committed to this philosophy and direction. We have enough capital to see ourselves through the first few years and are also determined to grow the company organically. This independence will allow us to make sure that we take the full responsibility for the task ahead.
What gets you excited about this company?
The fact that it can serve as a platform to educate and help pets. It will help both pets and pet parents live happier lives.
What's the biggest misconception people have about you? Why do they have that? What's the reality?
N/A
Tell us what a day in your life looks like. Your schedule for a day, right from the time you get up till you hit the bed at night.
Everyday varies greatly. When starting a business, there are so many varied and small intricacies that need to be looked into that it is impossible to have set routines. We usually start with reviewing our website and social media activity, fulfilling the overnight orders and shipping them. Since we just launched our new store, the last few months had us pretty tied up with that. We also do a lot of events so we can interact directly with the pets we love so much and see what they like and don't like on a more personalized level. This doesn't take into account the every day of running a business like marketing, accounting, stock taking etc. As I said, every day is different and we've come to embrace the chaos.
Tell us about your team and how did you meet each other?
NA
Know a great startup story or want to share your own? Write to us at contact.bangaloreinsider@gmail.com and we will get back to you. For more updates follow Bangalore Insider on Facebook.
Sponsored Ads