Sponsored Ads

Pavan Priakash Badllani, he is a motivational speaker, author of 13 books, celebrity graphology consultant and a personality development coach. We at Bangalore Insider had the opportunity to catch up with Pavan, read her inspiring interview.
I think what motivates me to keep going is the support and love that I receive from my friends and family for my work. The idea of providing maximum motivation and value drives me to keep moving forward. I have been through some really tough times, heart breaks, failed relationships, due to which I have had many sleepless nights, overthinking sagas and pondering sessions about the purpose or existence of my life,says Pavan.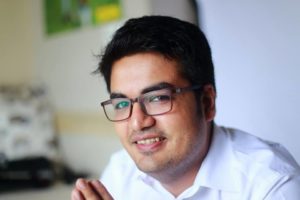 Tell us about yourself, what do you like most about your field of work?
My name is Pavan Priakash Badllani. I'm based in Mumbai. I'm a motivational speaker, author of 13 books, celebrity graphology consultant and a personality development coach. I'm 26 years old and I am proud to be in this profession of coaching and consulting since the past 8 years now. I started speaking on stage at the age of 17 when I learnt graphology, the science of analyzing a person's complete personality through their handwriting and signature which was introduced to me by my father, Mr. Prakash Badlani and his friend, Mr. Anal Pandit who taught me this unique science.
In my journey of 8 years of speaking on stage, discovering and rediscovering myself, and finding my career as a motivational speaker and author, it took me 4 long years from 2013 – 2017 and 14 different career changes to finally understand what my true potential and life purpose was all about.
What I love the most about my work is that I get the chance to meet people from all walks of life and I get the chance to serve them with my purpose of helping them take their lives to the next level, personally and professionally.
Your previous jobs/ventures? What were you doing before choosing this field?
Before entering in this field, I was working in 14 different jobs and ventures over the past 4 years. I started off as a celebrity manager,  went on to do celebrity sales, anchoring, acting, stand-up comedy, photography, acting, tarot card reading, real estate, offering guitar lessons, digital marketing, event management and many more professions where I tried and failed miserably.
How did you land up doing what you do now?
From 2013, after completing my graduation in mass media, I was constantly worried about my career and my future. With endless errors and failures, just when I was about to give up, an incident changed the course of my life. On the night of my birthday, 23rd of October 2016, I was in a complete mess. I was 24 years old. All my friends were happy with their office jobs, clicking pictures with their colleagues, making money and going for trips all around the world.  Even though I was trying out my hand in all of these various professions, I wasn't getting any financial success or inner satisfaction as to what was I supposed to do. It was killing me inside, and I was in a dark state of depression with sleepless nights haunting me every single day. That night, when I came back home, before sleeping, I took an oath and I told myself, "In one year's time by the end of Oct 2017, I'm going to change my life, no matter what happens." I don't know how but that a cinematic moment of taking that oath for myself, changed my life.
On Jan 26th 2017, I was on a trip to Mahabaleshwar with 4 of my best friends, Jitesh Chabbria, Saurabh Khanvilkar, Kedar Lalwani and Divesh Jiandani gave me the idea of starting my own YouTube channel. They told me, that since you are talented with so many different fields, why don't you pick up one of them and create content? I replied, "I'll definitely do that once I am back in Mumbai."
Yet again, deciding which field to pick up was a big question. I then thought to myself, that apart from all my talents, "What is that one thing that I am the best at?" and with an epiphany I realized that I am the best at conversing politely and uplifting people in large numbers from their problems and giving them hope even in their worst times.
That's what led me to pursuing motivational speaking as a full time profession. So on 5th of February, although I was lost and hesitant in the beginning, I picked up my iPhone camera, a lapel mike, a gorilla tripod, printed and stuck motivational posters on my bedroom wall and positioned myself for my first video, titled as "How to become a billionaire and 5 steps to take risks in life." I wasn't a billionaire myself, but I wanted to make people who heard me, feel like a billion bucks, no matter what stage of life they were at.
After the first video was well received by my friends and family on social media, there was no looking back. By Oct 31st 2017, I was the host of my own graphology TV show called "Hastakshar" on Astrovaani, Airtel DTH, I had interviewed 5 inspirational celebrities for my YouTube channel, Inspire Me by Pawan Badlani, I had written my first book called "The Win-Lose Situation" and I had completed more than 500 inspirational videos in less than a year's time.
A big lesson that I have learnt being in this profession of motivational speaking, is that even if you are lost in your way to achieving success or you feel you have faced too many rejections, it doesn't mean that you aren't eligible to help others or guide them with their life purpose.
Your next big step or idea, to help others win, might just be your single biggest victory to help yourself and others live a happier life filled with love, hope and fulfillment.
If not the current profession, what would you have been?
I think if I wasn't in the current profession, I would have been a voice over artist or a mimicry artist. I can mimic more than 70 Bollywood and Hollywood artists. I am a huge fan of comedy as a genre. Ashish Chanchlani and Karthik Aaryan are two of my favorite actors. I remember the entire Pyaar Ka Punchnama monologue by heart. So much so that I have even recorded it in one take and put it up on online.
What motivates you to keep going? 
I think what motivates me to keep going is the support and love that I receive from my friends and family for my work. The idea of providing maximum motivation and value drives me to keep moving forward. I have been through some really tough times, heart breaks, failed relationships, due to which I have had many sleepless nights, overthinking sagas and pondering sessions about the purpose or existence of my life. And I never want to go through that ever again nor would I wish anyone to go through that. But it's a fact, that the very same experiences I have been through, people are struggling with every single day, maybe at a much higher level. To help them get out of that slump of loneliness and depression and help them transform par excellence in every area of their life, is my life's purpose and mission.
Tell us how a day in your life looks like? Your schedule for a day right from the time you get up till you hit the bed at night.
To be honest, I have been a night owl for quite some time now since my college days, but I have realized the importance of discipline and created a new schedule which I have been working on following for the past few weeks now. This is what it looks like –
5:00 am – Wake up
5:15 am – Prayer or mediation along with visualization of my goals
5:45 am – Having a liter of warm water and fruits
6:00 am – 7:30 am – Workout (Walking and Yoga)
7:45 am – Breakfast
8:00 am – Taking a shower
8:30 am – 12:45 pm – Work meetings, consultations and business calls.
1 pm – Lunch
1:30 pm – 3:30 pm – Work meetings, creating new content, consultations and business calls
4:00 pm – Workout (Walking and Yoga)
5:00 pm – Taking a shower
6:00 pm – Dinner
7:30 pm – 8:30 pm – Recreation and chilling out
9:00 pm or max by 9:30 pm – off to bed.
Any regrets till now? If yes, will you like to share it with our readers?
Yes. The biggest regret I have had is that during the times, when I couldn't find my career path, and my family was still supporting me, I used to play the blame game. I used to blame myself, make excuses about my circumstances, my living conditions for all my failures and incapability to achieve any kind of success in life. And this used to happen on a constant basis. But when I realized what I was doing, I asked myself, "Who's listening to all these excuses or hue and cry about not winning, except me?" My own stories and limiting beliefs were single handedly destroying me, one breath at a time.
If you were given a choice of meeting any person you want, who will be that person?
I would love to meet Tony Robbins. He's an inspiration to so many people all around the world. With being an authority on peak performance coaching and training, his success story from being a janitor to becoming the world's #1 motivational speaker is a legendary transition. He makes me believe in myself, and he has this quote which says, "Stop being afraid of what could go wrong, and start being excited about what could go right." which is a powerful lesson for every single one of us.
What is the biggest misconception that you think people have about you?
The biggest misconception that I think people have about me because I am a motivational speaker, there aren't any moments when I don't feel sad, lonely, depressed or just low on some days altogether. We are all human beings with our own range and capacity of emotions. As a speaker, I am constantly working on helping people but that doesn't mean that I am perfect. I am simply an instrument or a medium, so to say to help people become happier and feel successful in their life so that they aren't misguided in their path to achieving their goals and dreams.
Any message that you want to send to your readers?
The only message that I would like to give to all the readers, is that no matter what stage of life you might be at, whether you've hit a weight loss plateau, lost a job, clueless about your career or life purpose, started a new business, entered into a new relationship, got married but things aren't working out, your friends have cast you aside, lost a loved one, going through a financial crisis or through an emotional breakdown. No matter what kind of issues you are facing at this moment, I am here to tell you that it's not the end of your world or your life. If you contemplate on ending your life or giving up, remember, we have just one life to live. Giving up shouldn't even be an option for us. What if today, was the last day of your life, would you still complain or cry about your circumstances? No. You'd go much higher level thinking about how you can truly make an impact in this world. You're never too small to make a difference. And I'd like to end with a quote by Dalai Lama, which says that, "If you think you're too small to make a difference in this world, try sleeping with a mosquito." Cheers!
Know a great startup story or want to share your own? Write to us at contact.bangaloreinsider@gmail.com and we will get back to you. For more updates follow Bangalore Insider on Facebook.
Sponsored Ads