Sponsored Ads

One Big Party is a Bangalore based event management company founded by Pooja Tyagi and her husband Atul Tyagi. Pooja took a break from her corporate job after the birth of her first child, and she did not return to her job, she has chosen to start her own company and this gave birth to One Big Party.
"Memorable events don't just happen. Organizing and holding an event takes planning. And above all, we have to be in tune with clients emotions", says Pooja
We got an opportunity to talk with Pooja, the founders of One Big Party. And I am sure; her story will inspire you. Let's look at the journey and see how she and his team are working hard to help people to convert their dreams into reality.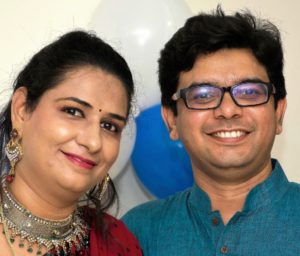 Give a brief info about your startup?
One Big Party is an event planning company providing theme based party services in Bangalore and specializes in customizing clients vision.
We interact with our clients to go over all aspects related to the theme, colour story, interests, vision, and vibe. We achieve the look by designing elements such as handmade pompoms, lovely rosettes, cutout danglers and fully customized party Setups.
What made you start your startup and what problem does it solve?
I wanted to explore my creative side and was motivated by having the freedom to do what I want and when I want along with having true potential to earn 🙂
Tell us about yourself, your previous jobs/ventures? What were you doing before this startup?
I worked in IT sector for 7 long years and then took a break when my first child was born. The break continued for 2 years and then I had a choice to either return to IT or start something of my own. I chose latter and co-founded "one big party" along with my better half Atul Tyagi.
Where is your startup based out of? Why do you think that is the best place for you?
we are based in Bangalore. I think anyone who has a good valuable idea can set up a profitable business here. Bangalore is a city of opportunities.
As a startup founder, what are you paranoid about? What keeps you awake at night?
Precisely, there is nothing that I am paranoid about but I constantly work on strategies to improve margins and profitability while enhancing the client's experience.
Who are your competitions and how are you better than them?
Having hundreds of event planners around we definitely, face a cut-throat competition. What makes us different and a step ahead of them is our ability to understand clients requirements fully.  Be it a first birthday bash or a baby shower, We spend a really good time to understand what client wants and then we make our suggestions. Also, we offer a very competitive and reasonable pricing with top quality party arrangements.
How hard is it to have a work-life balance as a startup founder and how do you manage it?
It does get overwhelming at time. striking a balance between work and personal life gets challenging sometimes. But a business demands all the hard work and skills that you possess, so you have to keep going without much of complaining. Its more like a roller coaster ride but so be it 🙂
Have you raised funding? If yes, then we would like to know the details. If no then please tell us if you are looking to raise.
No. As of now, not looking to raise any funding.
What's the biggest misconception people have about you? Why do they have that? What's the reality?
The biggest misconception that people have is that event planners and very expensive and they will be left with a big hole in their pockets of they hire one.
In reality,  event planners work to obtain maximum value from a budget, at the same time making the whole experience hassle free for the client.
What gets you excited about this company?
Memorable events don't just happen. Organizing and holding an event takes planning and hell lot of hard work. And above all, we have to be in tune with clients emotions. So we get an opportunity to touch people's life with each and every project we undertake and that's what excites me the most.
Tell us how a day in your life looks like? Your schedule for a day right from the time you get up till you hit the bed at night.
I am always on a run 🙂 Right from sending off kids to school to attending clients calls is no less of a marathon. On the event days, I spend 7 to 8 hours at the venue from start to finish. A quite lot of time also goes into coordinating with the vendors. A lot of times, the party themes require lots of handmade stuff and we spent endless hours in getting those beauties crafted out.
Tell us about your team and how did you meet each other?
I am proud to say that we have a super enthusiastic and a very creative team who is always on the roll 🙂
with their support, we have also ventured into photography services recently 🙂
Know a great startup story or want to share your own? Write to us at contact.bangaloreinsider@gmail.com and we will get back to you. For more updates follow Bangalore Insider on Facebook. 
Sponsored Ads