Sponsored Ads

Noisy Newton is a Bangalore based startup founded by Leela and Georgie. They offer unique and scientifically designed learning material for kids of age 4 to 14 years. They also mentioned that their products are reviewed and tested by the in-house team which includes children and experts from industry.
It is perhaps one of the only companies that has children as an integral part of its core-team "By the children-For the children".
We got an opportunity to talk with Leela, the founder director of Noisy Newton and see what she has to say. I am sure her interview with us will inspire you.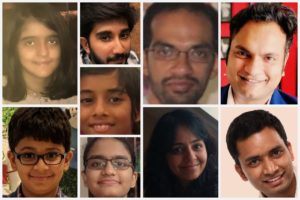 Give a brief info about your startup?
Noisy Newton is a Bangalore based, science learning startup, incorporated in 2017. NN was started by an erstwhile scientist Leela Maitreyi, later joined by Georgie Paul, a communication/branding expert & graphic designer. NN offers a unique product portfolio for children between the ages of 4 to 14 years.
Newton's portfolio includes thematic Science Tinker & Learn Products for children. Narratives & stories as a conduit for scientific problem solving is their USP.
Each product offers a bouquet of items-stories, real scientific equipments, experiments, games, collectibles and much more. NN envisions taking hands-on experience to a brand new level. This, they achieve through a product range designed using a very scientific pedagogy. They are the first in the country & one of the very few globally, to create such products using this robust method of learning. The activities are designed meticulously using applied themes, tested & reviewed by the in-house team that includes children & experts from the education, design & science fraternity. It is perhaps one of the only companies that has children as an integral part of its core-team "By the children-For the children".
What made you start your startup and what problem does it solve?
Newton aims to bring a much needed change from a "Rote & Repeat" to an " Exploratory" model of science learning. A huge paradigm shift is the need of the hour.
A shift from our system's focus from grades to excellence is what will prepare the next generation to face the ever changing demands of the new & future economy. A shift that would enable congruence between learning and career needs. We'd like children to learn through our products & philosophy, the art & science of solving hard problems and what it takes to pull off a complex endeavour, how to plan, collaborate, fail and not give up. In other words, we want them to see what science can do when they are used by a creative mind. Our envisioned goal is to foster higher order scientific thinking and problem solving.
Tell us about yourself, your previous jobs/ventures? What were you doing before this startup?
Leela-I am a Molecular Biologist with over 13 years of experience across academia and industry. I have been extremely fortunate to have been part of the crème de la crème research institutions in India. I was part of the core team in a drug discovery company spearheading some of their key research domains. I was also part of another initiative, responsible for creating career readiness programs across the biology & chemistry verticals. After a rather fulfilling stint in these places is when Newton was conceptualised and brought to reality.
Georgie-I have been working as a communication designer for the last 12 years. I hold a BA in communication design from Swinburne University in Australia. I work on a variety of projects, from print based branding to web, signage, space and exhibition design. Toy design & packaging is what drives my creative juices flowing.
I met Georgie whilst looking for a graphics designer. One meeting & there was instant consonance in our passion & vision for design thinking & children's science learning. And thus began the Newton journey!
Where is your startup based out of? Why do you think that is the best place for you?
We are based out of Bangalore. The place is buzzing with energy and the people are amiable and multicultural. Bengaluru offers a lot of options for many meet-ups focussed on startups and entrepreneurship, accelerators & incubators. Bengaluru has a very startup-friendly crowd. People are ready to try out new options, and untested solutions. Other entrepreneurs are always ready for discussions and there is always something in common to discuss when one founder meets another. Bengaluru offers a varied audience to support diverse start-ups. Even the most niche start-up like ours can find a target audience here. The diversity and a growing migrant population is the most attractive factor in Bengaluru. That said, the most important reason for starting up here was that our families and homes are in Bangalore.
As a startup founder, what are you paranoid about? What keeps you awake at night?
Startups are super draining-physically, emotionally & financially of course:-) and it's agnostic of the size & nature of business. For me, its been a very spiritually challenging experience. It's a wave form- some waves are extraordinarily exhilarating & uplifting and some are downright scary and drowning. I started my first prototypes literally on my dining table with loads of scribbled sheets of data, test tubes & a curious 6 year old hovering around. I doubled/tripled up as the founder, scientist, packer, customer support, delivery executive to building networks & relationships. Initially I was in a perpetual paranoia juggling between the umpteen roles. The desire to get all of this 100% right kept me awake for nights.
I am a much different person now though, not that I don't have my anxious moments but this whole journey has shown me the "way to be" most often than not and "The way" is to stay firmly at what I believe in with my head clear and calm.
Who are your competitions and how are you better than them?
India is in the most open-minded stage now. Newer ideas are more welcome than ever, talent is humungous and hence so is the competition. I would like to believe that there are a few very accomplished companies in the science learning space but each with a very definitive and unique solution. Calling them competitors maybe a tad bit unfair on us. We are at a relatively embryonic stage with our hearts in the right place and we believe so are the other few good players in this sector. So far, we have been so entrenched in creating what we set out to, that the only competition that we have encountered is with ourselves and our deliverables & haven't let an outside competition to get under our skin. That said, we are well aware of the market, players and the know-hows!
So what makes us different?
There are clearly a few things that we very strongly believe in. The underlying philosophy of the company is our DNA-"Learning by Doing" & "By the children-For the children". Our goal is to make kids learn science through doing, experiencing and innovating as opposed as following, memorising and replicating. Our products are critiqued by children and that's what makes the final outcome very child-centric.
The product intent & content is first-of-it's kind. Using one of the most regarded and robust methods of learning to create a product is clearly our USP and we are very glad that we could be the first movers of this pedagogy in the science products space.
The product themes are applied as opposed to concept based, making us a niche company, not something many have tried before.
One of the key differentiators would have to be our beliefs, as cliched as it may sound. Being a scientist and a parent myself, one thing I was very sure about was the quality of the items used. We are very particular about our lab-ware & consumables used, no cheap items are ever even considered, though it could cut down our costs by several folds. We also strongly believe in" empowerment through collaborations" which is why our supply chain and assembly team is from the lower income groups, who are part of the Newton family in true spirits.
How hard is it to have a work life balance as a startup founder and how do you manage it?
Maintaining a work–life balance is a tad bit tricky in the first years of a startup, but at the end of the day, what it boils down to is working hard during work hours and outside of work hours putting the same level of dedication into family, friends & yourself. And start as you mean to go on – get it right early on and it will only get easier.
For me, managing NN is no different from bringing up my son. There was paranoia at every step in the initial phase and soon I learnt to accept that there isn't much that I can control, hence to just enjoy the whole process once I put in my best and more. I have learnt to know when to stop thinking of work, and to focus on cherishing moments with my family & friends. Business deals can happen anytime, special memories can be created just once. My balance comes from being aware of my limitations and instead of delving into it I enjoy everything that work throws at me. Exercise and music are my biggest stress busters and they keep me in control mostly:-).
I am not "Zen"-ned yet but with every new challenge and phase, I am getting better at handling the stress and uncertainty that starting up brings with it!
Have you raised funding? If yes, then we would like to know the details. If no then please tell us if you are looking to raise.
Not yet. We are bootstrapped & this was part of our plan. We have created 4 exciting products, two of which are in the market and 2 are ready for launch. We are now at a stage where we need to raise money for building a larger team, product scale up and new product development. We are working towards it and hoping to get things rolling.
What's the biggest misconception people have about you? Why do they have that? What's the reality?
That we are similar to Flintobox.
The word activity & box may be the culprits:-).
We are very different from them in almost every way except for the "Box" part. Our products are sold in a box agreed but the very premise of our company & products is different. We are a purist science company and have no art and craft activities. We are only B2C currently & sell through online marketplaces and we are not subscription based. Our products are all based on a very strong pedagogy not used by them or anyone else thus far. Next few months would see a few B2B engagements. Having said that, comparisons are imminent and we take them in our stride!
What gets you excited about this company?
EVERYTHING!
The joy is comparable to having a baby. Every milestone is precious and inexplicable. And the challenges are part of the deal. While they may seem like energy intensive processes, they surely are just as exciting as the rewards. But most of all, the fact that from being a scientist who knew nothing but science, this journey has introduced me to a life time of learnings. For someone who barely knew the difference between credit and debit, I think I have walked a decent path & still dare to go more:-).
Entrepreneurship is all about breaking out of one's comfort zone and the learnings are more holistic than any MBA can ever offer.
We are taking baby steps but it's important to note that not only has this taught us about business & markets but also about relationships, networking & value building.
Tell us how a day in your life looks like? Your schedule for a day right from the time you get up till you hit the bed at night.
I start my day quite early and the first few hours are devoted to my kid, school, family. Post that, until early evening, the day just zooms by with emails, calls, meetings, product design and much more. I try and wind up work by early evening and very occasionally schedule calls post that. I work six days a week and keep Sunday strictly for family. I make it a point to work out atleast 5 days a week. One needs to be physically fit to work hard. Music and exercise are my "ABSOLUTE" stress busters. Meeting friends at a regular interval keeps my adrenaline high.
Tell us about your team and how did you meet each other?
Leela is the founder director & Georgie is the co founder, Rupesh Shah is our Advisor-A seasoned entrepreneur in the education sector, Rupesh brings in a huge value across several verticals. Jayasankar Divakarla is an advisor-Jayasankar is our"go to guy" for all things techie and strategy related.
Thomson-Operations, helps us perpetually with all the running around & procurements.
Vedant, Roshan, Navya, Shrushti are the backbone of our company. They rip our ideas and products apart and bring them to life when it reaches the costumer's work-bench.
We work with lower income groups for all our assembly & packaging.
The co-founders met each other through a common acquaintance and the rest of the team formed as we went along. It's been a great time working with each other so far and we hope to create more magic for the curious little ones as we go along!
Know a great startup story or want to share your own? Write to us at contact.bangaloreinsider@gmail.com and we will get back to you. For more updates follow Bangalore Insider on Facebook.
Sponsored Ads