Sponsored Ads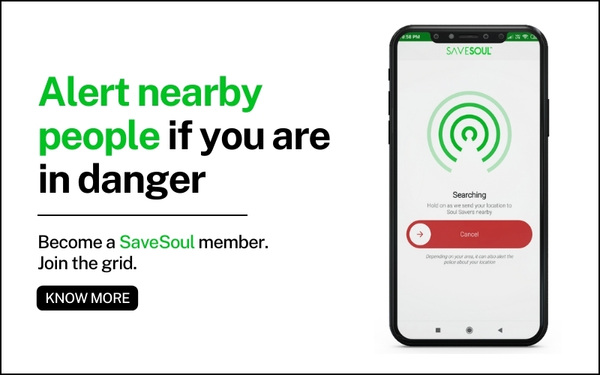 Apartments, enclosed villas, offices, enclosed communities and several other private properties often have the topmost security enforced for the safety of people living in the premises. But then the only flaw that one can find is the security post where books and ledgers are being used to maintain entries of the visitors to date. However, a company named NoBrokerHood has implemented a unique solution to overcome this issue.
NoBrokerHood is a company that deals greatly with the security aspect of things. Gone are the days where you relied on pen and paper to manage things. With the application, you can easily record data of visitors, manage the people leaving the community and even check out accounts, payables, staff attendance, society management, club maintenance and so on. Whatever activities required physical notes to be written can now be stored in the application with cloud backup to be used by anyone accessing the application. Bangalore insider got an opportunity to learn more about the company by speaking with Mr. Akhil Gupta, the Co-Founder and CTO of NoBrokerHood, to shed some light on the company. Learn more from the interview excerpts provided below 


What made you come up with this idea?
The idea for NoBrokerHood came about when we realized a major need-gap: that most residential societies across India were still using outmoded means for community management. Physical registers were used for everything, from guest entry and staff attendance to monthly collections and maintenance reports. Not only was this process inconvenient, opaque, and cumbersome, it also made fact-checking and historical analysis extremely difficult. Critical issues such as security, safety, and well-being of the residents were also at risk because of this obsolete approach.
We decided to leverage our strong technological capabilities to solve this challenge and provide a tech-driven upgrade to society living and community management through NoBrokerHood. The app combines several different functions – such as society entry, staff attendance, payments and accounting, society management, club maintenance, etc. – that can be accessed through a single platform. Doing so ensures more seamless, real-time digital record access for society management committees while also providing greater safety and ensuring better well-being for residents.
What differentiates NoBrokerHood from the competition?
NoBrokerHood is an integrated visitor and community management app that caters to the holistic needs of a new-age, digital-first residential society. It comes with a robust tech stack and cutting-edge features that enable more hassle-free and seamless society living and management for its users. However, what differentiates NoBrokerHood from other apps in the category is the team's commitment to constantly revamp the services with changing consumer needs.
For instance, in April 2020, when India was just coming to terms with the growing momentum of the COVID-19 pandemic, we introduced the Grocery Services feature on the NoBrokerHoodapp.It was anticipated that people will need easier and safe access to grocery services for their daily requirements. However, going out to purchase groceries would have multiplied the risk of accidental transmission within the society. We quickly brought on board two of the largest online grocery service providers to consolidate orders from within residential societies and ensure that the daily needs of residents were met without any risk to their health and safety.
We also introduced a Homechef feature designed specifically for bachelors living in societies who were facing challenges because of the lockdown. Most of these young professionals/students employed cooks as they either did not know how to cook or did not have the time to cook meals themselves. The feature connected them with individuals within their societies that liked cooking, allowing them to place orders for food cooked in a hygienic environment by trusted individuals during the lockdown.
We also introduced several other features on the app to improve safety within residential societies during the pandemic. Its proprietary Touchless Entry feature, for instance, used Face Capture technology to identify visitors and service staff that enter residential societies on a regular basis. This contactless process eliminated the need for passcodes (which led to security issues such as the entry of unauthorised individuals) and biometric scanning (which increased the risk of COVID-19 spread through physical contact). We also introduced an AI/ML-backed COVID tracker to collate and share real-time containment zone data with society residents through the app. Armed with such granular data through integration with AarogyaSetu, society residents and management committees could make better decisions regarding the entry of visitors and staff in residential complexes, thus minimizing the chance of accidental transmission.
Further, we streamlined the collection of recurring payments such as rents and maintenance fees by integrating NoBroker Pay into the app, thus allowing residents to seamlessly pay their monthly dues through a host of online options such as credit/debit cards, UPI, NEFT/RTGS transfers, etc. The auto-debit feature also allowed residents to automate the payment process and make it more hassle-free while eliminating the need for paper-based payments such as cash or cheques that required physical visits.
We also defined clear SOPs to keep society residents safe and secure during the pandemic. For instance, no entry into the society was to be permitted without wearing a mask and a mandatory temperature check at the gate, be it for visitors, delivery personnel, maids, or any service/support staff. The temperature check was integrated with NoBrokerHood's management system to ensure that anybody running a high temperature was automatically categorized as high risk and denied entry.
What are the future additions to the applications?
The NoBrokerHood team is constantly evaluating ways in which we can make society living easier and more hassle-free for resident communities. We have rolled out several new feature features recently. These include an Intercom feature that will ensure seamless communication between residents without needing to share their mobile numbers with each other. The aim is to minimize the operational costs for residential societies by replacing the expensive physical equipment that guards use to communicate, collaborate, and coordinate with each other during normal situations and in emergencies. The SOS button for emergencies and Guard Patrolling with geotagging of QR codes are a few examples. We have more interesting features coming up and will share the news on them soon.
Is the application only restricted to societies or can it be expanded to other places as well?
We launched NoBrokerHood primarily to make society living safer, securer, and more comfortable for our customers. Currently, it is being used in over10,000 societies across the major Indian cities including Bangalore, Pune, Chennai, Hyderabad, Delhi-NCR, Mumbai, Jaipur, Ahemedabad, Kochi, Nagpur and Coimbatore. We anticipate the need-gaps being faced by our customers and upgrade our application with features aimed at addressing them.While the app is currently focused on resolving the challenges faced by society residents, we have also expanded its use across sectors in localities.
Does the app have an international presence? If so, which cities has its expanded towards?
Not yet.
What is the major problem that is being addressed by NoBrokerHood?
Book-keeping has conventionally been done manually on registers. To access relevant information, community managers need to scan through society registers to pull out records of billing, accounting, staff attendance, etc. This makes running operations such as making maintenance payments, booking facilities, and ensuring the safety of residents extremely time-consuming. This was the primary need-gap that we aimed to resolve through NoBrokerHood: making community management and society living simpler, easier, safer, and more convenient.
Over time, we upgraded the app to resolve further challenges that we observed, especially those foregrounded by the pandemic. Today, the app is equipped with cutting-edge features such astouchless entry, security, club maintenance, digital payments and accounting software, GPS-based tracking system, health tracker, visitor management, etc.The idea is to ensure maximum safety, security, and convenience for society members, managers as well as residents, while minimizing errors – all through a single platform. Some of the top features are explained in detail below:
1. Accounts and billing solution over a single interface
Society managers can do bookkeeping, asset management, and bank account management on a single dashboard. The app is integrated with a robust ERP and enables residents to keep track of their pending payments.
2. Digital payments and bill maintenance
The app allows users to carry out all transactional activities including paying their rent and bills related to maintenance, security, etc. from the safe confines of their homes.
3. Virtual communication with society members
Through chats and forums feature on the app, society admins can group chat, text, broadcast messages, and VoIP calls to seamlessly communicate with individuals or groups.
4. Monitoring services and staff
NoBrokerHood can be usedto mark the attendance of service staff, such as security guards, as well as to keep track of their activities.
5. Guard Patrolling
The system leverages unique QR codes linked to latitude and longitude and placed at strategic intervals within the society premises. Guard devices are, in turn, equipped with geotagging and GPS. Therefore, they can scan the QR stick to get the match, marking their presence at the assigned location and sending the admins the notification on the app in real-time.
6. Touchless entry
The app utilizes facial recognition technology to replace or supplement biometric-based systems to enable entry and exit. This feature enables society members to minimize their physical contact environment while assisting in maintaining better hygiene.
7. Domestic staff management and attendance; visitor management
The app alerts the users through real-time notifications about the arrival of their staff within the society premises while marking the attendance digitally. Users can also keep track of visitors, cabs, and deliveries using the app, even when they are not inside the society. This protects the users against malpractices and provides an additional layer of safety and security.
8. Health tracker
NoBrokerHood app has AarogyaSetu integrated into it. This feature empowers the users to make informed decisions when it comes to granting a visitor entry. The AI/ML-powered system tracks every single visitor and alerts the users in case they have passed through a COVID containment zone.
9. SOS alerts
The app offers a special SOS button to uses to alert on-duty guards to come to their aid during an emergency.
Author