Sponsored Ads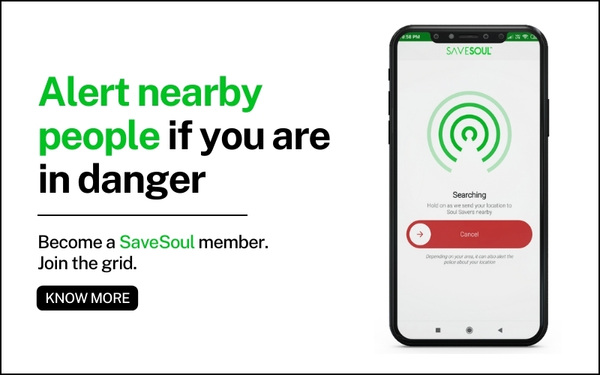 To be safe and to be secure is an evolutionary trait that we humans have been hard-wired to sense. While we humans (Homo Sapiens) have taken approximately 100,000 years to reach the top of the food chain, our evolutionarily adapted brains still take some time to realize that the days of our hunter-gatherer lifestyles are long over and our lifestyles have shifted completely. While we are today quite safe from predators of the jungle, we're not yet quite safe from the organic beings that are not visible to our eyes and can often slip past our senses and security when we're the least aware of it. We cannot be on our toes all the time, because that is quite exhausting for our minds.
In order to alleviate our concerns we've seen many founders and entrepreneurs come up with products and series designed to help us live out our modern lives in the best possible way. While markets and economies are still under the shadow of the pandemic that emerged in late 2019, it is prudent to reason that humanity has stepped up as always, to develop vaccines in record times and to keep physical goods and digital flows of information running all the time.
Today, at Bangalore Insider we spoke to the founder of 'MY', billed as the world's first safety lifestyle brand. While the brand has a strong distribution network owing to the credibility of Kavin, its founder, readers can know more from the below excerpts of our conversation.   
Give a brief info about your startup?
About 'MY':
'MY', the World's first Safety Lifestyle Brand is a start-up that offers simple yet sustainable solutions to help people adapt to the new normal keeping in mind their safety and protection. All products at 'MY' are designed to integrate with our ecosystem, like our everyday products but with a safety quotient. 'MY' products are all designed and manufactured by the best in India, whilst adhering to the global standards to ensure plug and play for customers around the world.
Sectors of Operation:
We operate in the Manufacturing, Technology, Retail, and Marketing sectors.
What made you start your startup and what problem does it solve?
The issue addressed by 'MY' and the solution:
History has shown us that there'll always be an outbreak of some sort or the other every once in a while. We've had Ebola, SARS, MERS, and what have you not. Now it's Covid-19. Personal hygiene is no longer a choice, but a necessity. It is essential for our safety and the well-being of the people around us. That's the biggest lesson the pandemic has taught us and that's exactly the change we are trying to bring into the Market- "Seeing Safety as a Lifestyle".
Tell us about yourself, your previous jobs/ventures? What were you doing before this startup?
Kavin Kumar Kandasamy, Founder & CEO:
Age: 33
Educational Background:
2011 – 2012 – Master of Science in Global Business Management
Rouen Business School – Rouen – France
2007 – 2010 – Bachelor of Business (Management & Marketing)
Monash University – Melbourne – Australia
1994 – 2005 – Higher Secondary
Montfort Anglo Indian Higher Secondary School – Yercaud –Tamil Nadu- India
Work Background:
I am a renowned Educationist, Entrepreneur, and Humanitarian who runs 7 Educational Institutions and a few Organisations that range from Retail to Consulting. I have graduated from Australia and France and I spent the last 7 years growing my Organisation from 84 employees to 1000 employees it is today.
Where is your startup based out of? Why do you think that is the best place for you?
The founding of 'MY':
We were founded in June 2020 during the pandemic to create a Breakdown free World where Businesses and Institutions never have to shut down again. We were found with the vision of making safety an intended lifestyle choice for the people rather than a compulsion.
Location:
MYPPE Wellness Services Private Limited has its registered office in the industrial city of Coimbatore with branch offices in the Software City of India, Bengaluru, and dealer presence in 14 states across India. We have currently built a distribution network that serves the Middle East, Europe, and Southeast Asian countries. 'MY' has over 54 employees and has contract manufacturing facilities in Coimbatore, Bengaluru & Pune. We are an innovation-driven company creating a new and safer normal for all of us. 'MY' provides products & services to over 85 educational institutions and is the preferred protection partner for numerous hotel chains and corporates in India.
As a startup founder, what are you paranoid about? What keeps you awake at night?
The vision of creating a cutting-edge safety tech solution for humankind to live a breakdown free World had been keeping me up ever since the pandemic hit the Globe. We started with the supply of PPE Kits and moved on to ensuring a constant supply of masks to ensure the safety of frontline workers, Government officials and common people. But I always knew that this was not a one-time solution. Safety is the New Normal and only when Safety and Protection becomes a part of our lifestyle, we will be able to survive any pandemic in the future.
What was my major fear?
Being the first Company in the safety lifestyle space, we had to build the narrative from scratch. All our products are very technical and take a lot of time to develop, but the most important challenge has been testing and approval methods in India. We do not have a strong testing ecosystem in India and this limits ratification of innovation and hence the development of new products like our triple action masks, and UV Sanitizers which ended up consuming a lot of time. Also, our airborne pathogen measuring device is now in prolonged testing due to the early limitations of testing in India.
Who are your competitors and how are you better than them?
'MY' has the unique advantage of being the only company of its identity and offering at this point. But, our range of products-
'MY' UV One is made of superior UV-C lights that is first in India and directly competes with the Chinese UV lamp by other companies. We have designed and engineered to make 'MY' UV One ahead of its competitor by introducing the State-of-the-art-tilt-sensor technology where the UV rays automatically cuts off when it comes in contact with the human skin.
Similarly, 'MY' UV Safe which a 40-litre tabletop Sanitizer box contends with others in the market like Godrej and Philips but stands out in term of its elegant look and ease of use with one-touch safety knob and,
'MY' Mask Series 1 competes with Masks manufacturers like Cambridge Mask, Airific and Nirvana but is tailored to beat the competition with the use of built-in filters made of activated carbon impregnated with copper and lab-tested to kill 99.96% virus and bacteria.
Our distinct narrative as the World's first safety lifestyle company is that we move with a design first philosophy, utilise cutting edge tech. and localise all of our production within India, this is a key differentiator between all our competition and us. All 'MY' products are Designed and Made in India.
How hard is it to have a work-life balance as a startup founder and how do you manage it?
As an entrepreneur, educationist and a humanitarian with a foresight to develop innovative cutting-edge solutions, I have been waking up to the dream of creating a better and safer tomorrow every single day since the pandemic.
Now that 'MY' vision is becoming a reality via the creation of the world's first safety lifestyle brand, my desire to do more drives me through any obstacles that may arise. "When we do something we enjoy, it will never feel like a chore." The desire to make the world a better place has brought me closer to myself, my family, my well-wishers, and the people who rely on us to keep them safe.
Have you raised funding? If yes, then we would like to know the details. If no then please tell us if you are looking to raise.
'MY' is a completely bootstrapped company where co-founder Raja Palanisamy and I have been taking care of the finances ourselves. We are looking at the 1st round of funding and we are in discussions with investors to raise funding for the same in the upcoming months.
What's the biggest misconception people have about you? Why do they have that? What's the reality?
People who know me know that I have a strong academic background and that I play the role of an educator. It's been difficult to break free from this mindset and present myself as an entrepreneur in the health and wellness space. But now with the strong product positioning, innovative solutions and world class safety gears, people are now able to recognize me as an opportunist and a socially responsible leader who strives to make a difference in people's safety lifestyle.
What gets you excited about this company?
Imagine living in a breakdown-free World! Doesn't this thought excite you? This is the very vein that has and will keep me going every single day! 'MY' is the world's first safety tech. lifestyle brand and we are making products and services that will keep people safe on a daily basis. Through 'MY', we have designed products for peoples' lifestyles that range from India's first activated carbon plus copper mask to India's first designed and made in India pocket UV sanitizer, 'MY' Overalls made with Level 2 fabric that prevents any viral breach on a daily basis that can be worn and taken off easily on the go.
In our services category, in our pipeline is the launch of safety tech services. This will determine the safety of a place in real-time and help customers and employees to engage with the place in confidence. Our services will enable Companies, Institutions, and Businesses to assure 100% safety of their place, where they will find no reasons to shutdown ever again.
Tell us how a day in your life looks like? Your schedule for a day right from the time you get up till you hit the bed at night.
I've realised that representing a safety tech. company needs not just vision and direction, but also discipline and a healthcare routine that is not only visible during times of uncertainty, but also gets ingrained in your daily routine.
I don't just talk the talk; I live it by waking up at 4:45 a.m. to work on my body and fitness for an hour and a half, then planning out my entire day's itinerary followed by a healthy breakfast. The 10 minutes I spend with my children sets the tone for the rest of my professional day.
My typical day at work would include travelling, meeting with a number of like-minded entrepreneurs and business executives from whom I learn a lot, sending out business emails, meetings, follow-ups, budget reviews, and roadmaps, among other things. Apart from ensuring that I have a productive day at work, I ensure that my team share my enthusiasm for working toward an unified purpose, and my day always concludes with the most lovely time I spend with my family and children. I make sure my time with my family is never compromised.
Tell us about your team and how did you meet each other?
The Co-founder and I:
Raja and I share a strong 2-decade long bond that transcends friendship into the chemistry that balances and supports to bring out the best in each other. Mr. Raja is a trained pilot, with a legal and business background stretching from India to Africa. The penchant to take on challenges head-on has led them both to serve the PPE Market's demand with a significant supply of over 8,00,000 PPE Kits in the peak of the pandemic times in India to help Governments and Front Line COVID warriors fight the raging effects of the Virus. As months went by and the situation saw no light, they realized that people's lifestyle is not evolving as quickly as the microorganisms around are and that might be the root cause of all our problems. It was at this point that Raja and I began envisioning a company that would address and enhance people's lifestyles to a safer standard that would prevent another pandemic from affecting our closely-knit world.
'MY' Team:
MY' team includes carefully selected candidates from all over India. More than technical know-hows and subject expertise, I place more value on cultural fit and in ensuring that they are motivated by a common goal. The reason being as an educationist, I know that skills can be acquired at any point in time but character and attitude is what really needs to blend for a team to flourish. And when I know I have met the right people, they will surely be a part of 'MY' Team.
Author