Sponsored Ads

Scaling a restaurant is never an easy job. No matter how seasoned a chef might be, taking time, effort, and dedication to keeping that consistency is quite a monumental task. But when you look at the fast-food sector in the country, then things like Dosa, Rice, Curries, fries and other things can be made by anyone. However, maintaining that consistency is what differentiates a successful outlet when compared to a failed one. To maintain this constancy, the incorporation of machines comes to play, which does help extensively. Mukunda food is leading the way in using robotics to provide consistency in the food produced.
Mukunda Foods is a robotics and automation company that is based in Bangalore. It's a company that deals greatly with designing and developing machines that can replace traditional fast food preparation techniques. It's where churning out consistency and efficiency in the products is kept to a maximum level. It's not only fast foods, but then it's almost all types of food preparation techniques that can be transformed into a machine for a better outcome. Why have three staff in one outlet when you can open three outlets with the same staff and have machines do all the work. The company is quite innovative in what it does, and speaking with Eshwar K Vikas, Co-Founder and CEO, Mukunda Foods; we got to know a lot about the company and its operations. Check it out through the excerpts provided below.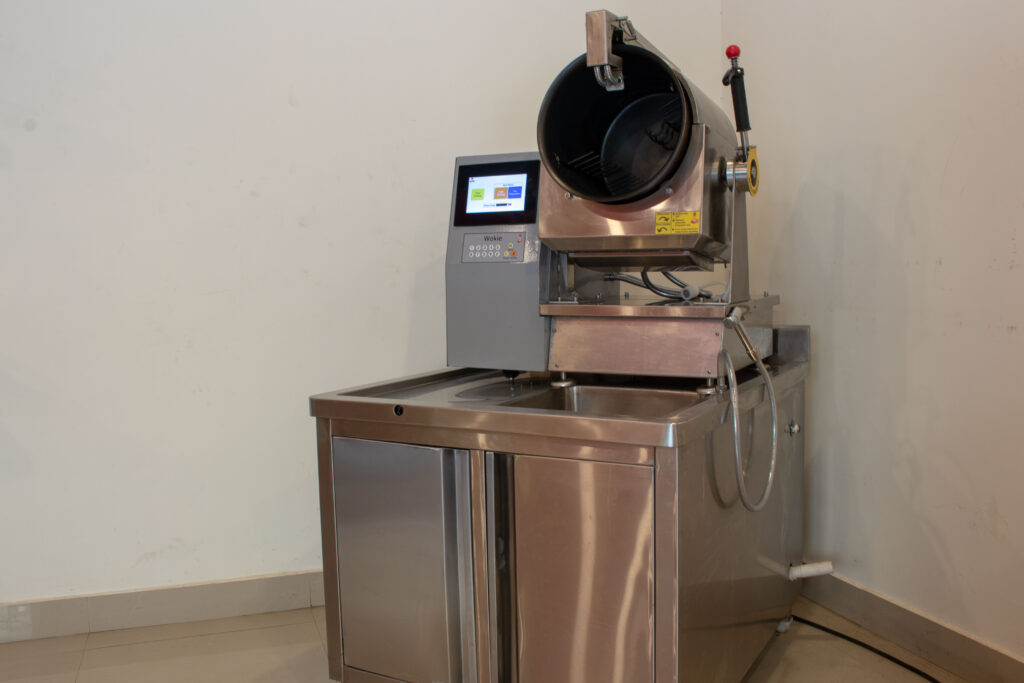 Give a brief info about your start-up?  
Mukunda Foods is a Kitchen automation company that helps commercial kitchens to attain operational efficiency. We make machines that cook food automatically. We have automated 14+ cuisines & the popular ones that make Chinese food, Pizzas, Dosas, Chai, Biryani, Fried food, Khichdi & many others.
Each product has been designed to be extremely problem solvers, while its core enables the food outlets to increase revenues while reducing the operational cost.
So far, our machines have helped 3000+ kitchens across 22 countries to put our bots, and we are currently working with reputed F&B companies and Kitchens such as Rebel Foods, Ola Foods, ITC, Chaayos, Swiggy, Wow Momo, etc.
What made you start your start-up, and what problem does it solve?
My first venture was a Quick Service Restaurant, and I wanted that to be the McDonalds of Indian food that I co-founded with my friend Sudeep Sabat during our college days. It did well, and our customers were really happy with the food, which encouraged us to start more outlets. However, things didn't remain the same, and we couldn't match the quality and consistency of the food when we scaled, and instead of being profitable, these outlets became cash burners for us.
That was a defining moment for us, and we started using our engineering capabilities and developed our first fully automatic dosa machine, i.e., Dosamatic. The whole idea was that every brand's outlet should serve Dosas with the same quality and consistency. Dosamatic also helped QSRs reduce spillage and dependency on skilled labour costs, and as a result, they could scale fast while reducing the NPS.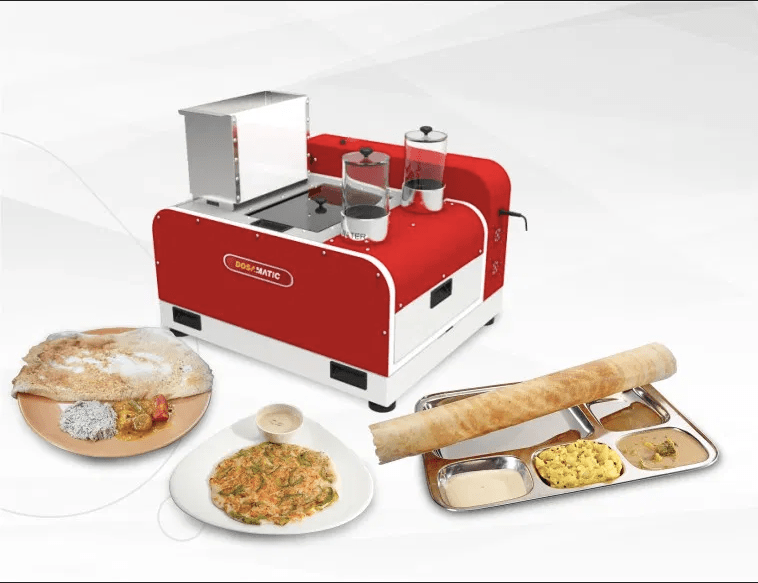 Where is your start-up based? Why do you think that is the best place for you?  
We are based out of Bangalore; however, we serve fast growing food brands across the globe. The city has the best entrepreneurial ecosystem and economic environment to start and grow a business and get great human resources. The best part about Bangalore is an aspiring crowd that wants to work at start-ups. Though the city is known as the tech capital, but many don't know the depth of manufacturing infrastructure that the city has. It houses global R&D centres, automobile hubs, defence hubs, and many PSU's that have built a network that we are leveraging over the ages. Bangalore has a true potential to become the next robotics hub for India and fuel the Make In India aspirations.
For an example, recently (during the pandemic), a USA company moved their R&D & production from China to us. They were happy to know they were from Bangalore as the city already ranks well globally.
As a start-up founder, what are you paranoid about? What keeps you awake at night?
Well, in the current scenario, it's covid, and I am sure that it's keeping many start-up founders awake just like me. Initially, my worry was how the business would respond to these uncertainties. However, with the changing dynamics of the post-Covid world, automation emerged as a stronger player as Restaurants are facing challenges in retaining skilled labour and maintaining hygiene and safety.
Since now I know that automation is the solution to their challenges, my constant endeavour is to understand what challenges they face in this new normal and how our solutions can help them optimise their businesses.
Who are your competitors, and how are you better than them?
Few folks have robotics solutions for domestic kitchens but not many for commercial kitchens, and to be precise, there isn't anyone who provides products similar to us.
None of our products is a me-too product, and each one of them is a solution to a particular problem faced by commercial kitchens. For example, tossing Chinese food might not sound like a tedious job, but it requires skilled labour, and the attrition rate is too high in the F&B services business. Our latest product, Wokie, is a solution to these challenges, and it can cook any toss-based recipes starting from Chinese foods to Indian gravies. Just like Wokie, every product from Mukunda is intended to solve a problem faced by our clients.
Most of our competition is at least five years behind us in the product evolvement cycle.
How hard is it to have a work-life balance as a start-up founder, and how do you manage it?
As a start-up founder, there are stretches in terms of time, and it is extremely consuming at times, and sometimes you get a lot of free time also. So, I try to make my Sunday's zero workings and spend time pursuing other hobbies.
Have you raised funding? If yes, then we would like to know the details. If no, then please tell us if you are looking to raise.
We have raised three institutional rounds of funding with the latest strategic investment from Ncubate Capital Partners, the venture capital arm of Gurugram-headquartered SAR Group. We are also planning for the next round.
What's the biggest misconception people have about you? Why do they have that? What's the reality?
I am not sure if it's a misconception, but my team feels that I am thinking about Mukunda 24*7. So, my take is it's partially true, and Mukunda is always on my mind, but I do like to relax, take out some time for my hobbies and go for a family vacation.
What gets you excited about this company?
Well, I have been there, and I know how difficult to scale food and beverage services. So, when my clients come back and say that the solutions are helping them reduce operational cost, or some come back saying that they could recover the cost of the product in 3 months, it gives me an instant kick. For example, Biggie's burger, one of the leading chains for grilled burgers, uses our automatic fryers across 5 of their outlets. Recently, the team got back to us saying that this product helped them solve overcooking and undercooking, and they could attain food consistency. They also wanted to try our latest product E-pan that cooks parathas, flatbreads, kulcha, puffs roti & omelettes. So, such customer stories keep us moving.
Tell us how a day in your life looks like? Your schedule for a day right from the time you get up till you hit the bed at night.
It's an exciting day at Mukunda Foods. It involves a lot of food; we get to taste pizzas, biryani, parathas & even some exotic cuisine every day. Many machines are under trials, and you end up eating a lot of food. The exciting part of the day is interacting with various food entrepreneurs and discussing their growth stories, the mistakes they have committed & brainstorm ideas about outlet expansion. Usually, selling machines is an afterthought; most of the time, we spend discussing with customers their growth journeys.
Often, we get a chef to visit us, and it's an eye-opener working with them. Personally, my favourite time is to learn from chefs about food, the intricacies behind them & how to serve a fantastic meal! For example, a chef from a large Indian foodservice brand recently came to make recipes on wokie, our Chinese food making machine. Initially, he was sceptical about the taste & will the machine be able to replicate the food. But once we gave him a manual wok and asked him to cook, he was super happy to see the machine replicate the food he made.
Being a hardware start-up, it's exciting to see various machines, talk to creative folks behind the machines every day and see the growth of various machines.
The day usually ends around 8 pm at the office, and I end up going home after tasting over ten different cuisines.
Tell us about your team and how did you meet each other?
Sudeep Sabat and I were collegemates, roommates and friends, and we aspired to build a big business to earn loads of money while having fun. But, gradually, people from different walks of life and expertise kept going, and today, we have a strong team of 100+ people, and the best part is having fun while making money is still an integral part of Mukunda.
Know a great startup story or want to share your own? Write to us at bhumikka@insidermediacorp.com and we will get back to you. For more updates follow Bangalore Insider on Facebook and Instagram.
Author
Sponsored Ads