Sponsored Ads

Mr Milkman is a Dairy Tech Startup founded by Samarth. It is Gurugram based startup founded in 2017.
In order to organize a largely unorganized sector, Mr. Milkman, a SaaS platform, enables dairies to track product lifecycle with real-time analytics and reports of their operations, says Samarth. 
We got an opportunity to talk with Samarth, and see what he has to say. I am sure his interview with us will inspire you.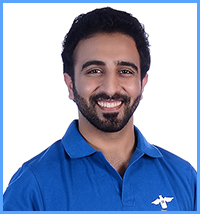 Give a brief info about your startup?
Mr Milkman is a Dairy Tech Start-up working towards enabling the dairy industry with technology and automation. Founded in late 2017, Mr Milkman today works with leading dairies to help them manage their operations.
Mr. Milkman not only provides dairies a way to manage their customer subscriptions and deliveries but also helps them manage their entire business – Right from farm to their customers' glass.
The platform enables its customers to track sales and customer consumption patterns by providing a real-time data driven analytical dashboard. This data helps dairies manage demand, sales forecasting and distribution.  The platform also creates offline distribution channel hubs and helps in managing transportation and end customer delivery.
What made you start your startup and what problem does it solve?
The idea of coming up with my start – up came from observing the local milkman who delivered to my house. He had no concrete management of his accounts and would leave it mostly to memory. If there was any change in the delivery schedule or quantity, it would have to be conveyed to him via the building's security guard, which eventually led to several misunderstandings and incorrect billings. The platform was conceived with a vision to change the perception of the local milkmen to the organized Mr. Milkman. The Platform built for the local milkman evolved to become the platform for dairies to get digital and automate their processes.
In order to organize a largely unorganized sector, Mr. Milkman, a SaaS platform, enables dairies to track product lifecycle with real-time analytics and reports of their operations.
In the dairy business, what comes back from the market is just as important as what goes into it. What I mean by that is, there are several components, such as crates, returned milk, glass bottles, etc., which are sent back to the dairies or milk brands. Mr. Milkman also helps manage the reverse logistics in these cases. Thus, from forecasting production to tracking damages and managing reverse logistics, Mr. Milkman takes care of it all. Apart from this, it also aids the automation of processes like generation of orders which are set to go to distributors, retail outlets or end consumers. The platform itself can also detect anomalies and notify the sales team of the dairy in case there are any sudden anomalies in the ordering patterns. This helps plug in the problem of unnoticed losses for our clients
Tell us about yourself, your previous jobs/ventures? What were you doing before this startup?
I am an Electrical and Electronics Engineer from R.V. College of Engineering, batch of 2015. I was briefly associated with Mu Sigma as a data analyst. I was also associated with the development of The Campus Connect in 2013, an organization aimed at bringing together campuses and bridging the gap between them.  I am passionate about technology and the various ways in which it alters daily activities. Golf and reading autobiographies of imminent business owners are other activities which keep me occupied
Where is your startup based out of? Why do you think that is the best place for you?
Our head office is based out of Gurugram.
Well, one of the reasons it turned out to be a great place to start was because it is my home town. I had the comfort of my own house and help from my family and friends during the initial tough times. Over and above, Delhi NCR had a lot of dairies that we were already connected with and their knowledge helped us design the framework of our product.
As a startup founder, what are you paranoid about? What keeps you awake at night?
I don't know if there is anything about starting-up that lets you have a peaceful sleep at night! It's almost everything right from how the product is being designed, the missed timelines, the client complaints, the future of the business and the finances!
But if we talk about present, now that we have passed quite a few tough stages, the one thing that I am really paranoid about is customer success and evolution of the product. The mind fills up with possibilities that the platform can achieve.
Who are your competitions and how are you better than them?
There are a few IT companies out there that we have identified, who had built a custom product for a particular dairy just like any software company does. They sell that product which they had developed for one to others. It is not a SaaS product though. As a platform we are growing, advancing in terms of technology and introducing new features regularly. The platform is being built with the cumulative experience of all the dairy clients and hence the product is coming out to be exactly what the dairies really need. The knowledge derived from other milk brands and dairies, helps us to ensure that you go to market faster without any additional effort on your part. Furthermore, our platform is cheap and built to scale. With all these benefits and more, dairies see value addition to their brands if they join our platform.
How hard is it to have a work life balance as a startup founder and how do you manage it?
It is extremely important to have a work life balance and equally tough to actually do it. When most of your time goes towards your startup and the remaining thinking about it, you are bound the mess up your personal life. I think it is all about managing your time.
In Mr. Milkman, in order to understand the operations of the dairy, I had to start my day at 4am and end it along with my team at around 8-9pm. This continued for over a year.
The only way I was able to handle this in a slightly better manner was to strictly follow my calendar and micro manage my time.
Have you raised funding? If yes, then we would like to know the details. If no then please tell us if you are looking to raise.
We have raised a seed round, and are closing our Angel.
What's the biggest misconception people have about you? Why do they have that? What's the reality?
Well my team used to think of myself as a very strict person and used to be afraid. That is one of the biggest misconception people have post meeting me.  They end up laughing at their own thought later on!
What gets you excited about this company?
The potential and the opportunities that can be explored with the dairies that we are partnering with.
Tell us how a day in your life looks like? Your schedule for a day right from the time you get up till you hit the bed at night.
My day generally starts with a work out at 6:30am. I make my own breakfast which I eat on my way to the office. My day at work if mostly pre-scheduled with pitches to new clients and exploring new possibilities with the tech team.  The day ends with a bit of Netflix while having dinner post which I read to book to help myself fall asleep.
Tell us about your team and how did you meet each other?
We are a small team. Everybody in our team came onboard through connects and references from our friend circles.
Know a great startup story or want to share your own? Write to us at contact.bangaloreinsider@gmail.com and we will get back to you. For more updates follow Bangalore Insider on Facebook.
Author
Sponsored Ads