Sponsored Ads

Moipot is a startup founded by Krishna and Rushabh. At Moipot they provide authentic sweets, snacks, pickles from different regions of India across country.
Once the order has been placed, we deliver the savories within 2-5 days. To ensure the freshness of the products, we pick them up from the vendor and courier directly to the customer. Thus the customer gets the savories fresh and faster, says Krishna.
We got an opportunity to talk with Krishna, the founder of Moipot. Read her story to know more about her journey as an entrepreneur.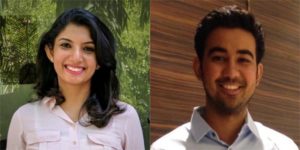 Give a brief info about your startup?
Moipot is an ecommerce marketplace where you get a variety of authentic sweets, snacks and accompaniments like pickles, mouth fresheners, etc. from different regions of India delivered to your doorstep. Customers can browse and search the website via specific product, brand or city. Once the order has been placed, we deliver the savories within 2-5 days. To ensure the freshness of the products, we pick them up from the vendor and courier directly to the customer. Thus the customer gets the savories fresh and faster.
What made you start your startup and what problem does it solve?
The Idea behind Moipot
While we were in US, we faced problem in getting Indian food items with authentic taste. The sweets and savories which we used to get there at Indian Stores missed the regional touch of Indian cities. We used to ask our family to send us parcels every few months from India and stuffed our luggage with food whenever we visited our home. We realized that we were not the only people facing this problem. Our friends back in India faced a similar issue when they moved to different parts of India due to work and missed the delicacies from their home town. This is when the idea of Moipot was born.
The Problem
We are trying to solve two problems. Lot of people migrate to different parts of India due to studies or work. Main problem is that there is no simple and easy way for people staying away from their home town to get authentic regional sweets and savories from their native place. The second problem is foodies don't get to explore delicacies from other cities of India very easily. They get to taste those only if they travel to that place or some of their relative staying there gets it for them when they visit. This is where Moipot comes into the picture. We provide a platform for them to get and try new savouries from all over India delivered to their doorstep in a couple of clicks.
Tell us about yourself, your previous jobs/ventures? What were you doing before this startup?
I (Krishna) was working as a Technology Associate at Bank of America, New York before I moved back to India. After that I worked as International Marketing Manager at an Ahmedabad based firm.
Rushabh has developed softwares at Synopsys, California. He has also gained marketing experience after moving back to India. Overall, we gained a good mix of Technical and Marketing skills due to these varied experiences.
Where is your startup based out of? Why do you think that is the best place for you?
We are based out of Ahmedabad, Gujarat. We have been born and brought up here. As it is our home ground, implementing things are easier and faster here. Also, startup ecosystem is getting stronger here so it helps to be amongst the early ones as you get priority access to new resources.
As a startup founder, what are you paranoid about? What keeps you awake at night?
Online marketing is completely a different ball game when you don't have a physical store/presence. So, cracking it in a stipulated amount of time and money is a big challenge for us.
Who are your competitions and how are you better than them?
This space is highly unexplored. Our number of competitors are in almost single digit. The things that set us apart are real time vendor dashboard and live chat. So, the vendor can control each and every minute detail of his entire store on the portal. It takes less than 24 hours for a vendor to register and start selling at Moipot. They needn't set up anything from their end to maintain or keep track of activities. The dashboard is self-sufficient for all their needs. For customers, we have a live chat facility. From imparting knowledge about savories to troubleshooting technical issues, it's a one stop instant solution for them.
How hard is it to have a work-life balance as a startup founder and how do you manage it?
It is very hard and important to maintain a work-life balance when your co-founder is your better half. Personal time gets highly evaded by work talks. We try not to talk about work after getting home. But, that's not been completely possible yet. So, Sundays are something when we completely stay away from professional life and try to spend some quality personal time.
Have you raised funding? If yes, then we would like to know the details. If no then please tell us if you are looking to raise.
We haven't raised funding yet. We want to expand overseas for which we are looking for funding.
What's the biggest misconception people have about you? Why do they have that? What's the reality?
Whenever someone first hears about Moipot, they start thinking about us as another Swiggy or Zomato. This happens because what Moipot is trying to get into is really new. But, we are not into hyper local market. We get your favorite delicacy delivered to your doorstep from your native place which can be situated in an entirely different corner of India.
What gets you excited about this company?
Indian market is very diverse and constantly changing. Tackling new problems is new ways every now and then is interesting. Also, our ultimate goal of making Moipot a one stop solution for all the authentic regional delicacy needs keeps us motivated.
Tell us how a day in your life looks like? Your schedule for a day right from the time you get up till you hit the bed at night.
Our day starts pretty early. We get into office by 9 am. Generally, meetings are scheduled during second half of the day. We wrap up work by 6:30 pm. Post 9 pm we try to unwind by either watching Netflix or taking a walk.
Tell us about your team and how did you meet each other?
My husband is my co-founder. Need I say any more?
Know a great startup story or want to share your own? Write to us at contact.bangaloreinsider@gmail.com and we will get back to you. For more updates follow Bangalore Insider on Facebook.
Sponsored Ads