Sponsored Ads

Meet Surbhi Agarwal Chhajer, she bakes cakes from 2014. CHOCOBAKE is the brain-child of Surbhi and she started from his dad's gowdown.
I started my store from my Dad's gowdown. My dad was my sole inspiration to the start my own store. My journey of owning  a Baking store CHOCOBAKE to a Baker started 3.5 years back.
We got an opportunity to talk with Surbhi, the founder of CHOCOBAKE and see what she has to say. I am sure her interview with us will inspire you.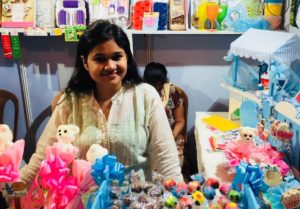 Tell us about yourself, your previous jobs/ventures? What were you doing before choosing this field?
I am Surbhi Agarwal Chhajer, born in Delhi and brought up in Kolkata. You all will be surprised to know that I was not at all from baking background. I completed my CS
And CA (Inter) being from a finance background I had no knowledge about baking.
I got married in Kolkata and due to my husband's job change i came to Bangalore.
I was working and was preparing for my CA finals before i started my journey as baker.
How did you land up doing what you do now?
I was preparing for my CA (finals). Amist job and studying I got an opportunity to open my own baking tools store in Year 2014. That time in Kolkata the baking profession was picking its pace.Bakers were finding it difficult to procure tools, raw materials so i found it very apt to get into Entrepreneurship.
I started my store from my Dad's gowdown. My dad was my sole inspiration to the start my own store.
Just few months before starting the store i attended few baking workshops in my free time. With that little knowledge i stepped as an Entrepreneur. That was the turning point in my life.Procuring baking stuffs from all over the country for Kolkata bakers was a challenging job.While selling the tools i gained interest in baking too. I use to take smaples of new tools whatever i use to procure to home and started baking with them.I gained so much interest in baking that i dint wanted to continue with store and wanted to be full time baker.I was managing both well but after marriage i turned my store to an online one and started full time being a baker.
My journey of owning  a Baking store CHOCOBAKE to a Baker started 3.5 years back.
What motivates you?
My biggest motivation is my dad. I wouldn't have been a successful entrepreneur without him. He is my biggest support system in every step of my life. From childhood i always dreamt of being a successful entrepreneur like my dad.
Whatever i wanted in life to aspire he was always there to take me forward.
One thing which i had learnt from him since my childhood is "Do watever makes you happy, Everything in life gives you Experiences which counts in life"
My mom always wanted me to disciplined in life and thats why i could acheive so much in life.
When i met my better half and my in-laws they were always very supportive and  acts as the pillar of strength to build my own brand name Chocobake.
How do you plan to stay ahead of your competitors?
Well, Competion is the basis of any economy which is unavoidable. My competition is with myself. Everday I competite with myself to be better than yesterday.
I believe if u want to stand out you need to serve the best Quality with a complete customer satisfaction.Build my brand value in a way which everyone talks about.
Clients are the one who take you to the top so their satisfaction is utmost important.
If not the current profession, what would you have been?
I would have been Working as a CA & CS in a reputed Company.
Were your parents supportive of what you are doing? What impact have they had on your life? 
Yes, in every step of life they were and will always be my pillars of strength.
Parents are the pillars for every child in their life. Whatever im am today is because of them. I owe my life to them.
What are your plans for the next 2 years?
Working very hard to build and take CHOCOBAKE to great heights, so that when i look back i would feel accomplished.
To come up with one of best online bakery website and to go Global.
What does a typical day off from work consist of for you?
I spend my off day watching movie with my husband and making the most of that day enjoying because i believe "all work an no play makes jack a dull boy".
Any regrets till now? If yes, will you like to share it with our readers?
No regrets till now because I firmly believe that whatever happens, happens for good and if it took time to happen there are reasons for the same.
"Why worry and have wrinkles rather smile and have dimples."
If you were given a choice of meeting any person you want, who will be that person?
I would love to meet French Pastry Chef Pierre Herme' and given a chance i would love to learn few things from him.
He is my sole mentor and i follow him.
Any message that you want to send to your readers?
We are the designer of our own destiny and there is no age to start afresh. Be confident and be you thats the mantra of my life.
Hey readers if you like about my new startup Chocobake  and want to know more do like my page.
Know a great startup story or want to share your own? Write to us at contact.bangaloreinsider@gmail.com and we will get back to you. For more updates follow Bangalore Insider on Facebook.
Author
Sponsored Ads