Sponsored Ads

Media Care Brand Solutions is a Mumbai based startup and they have presence in UAE and major cities in India. It is a PR and Digital Marketing company founded by Yasin Hamidani and Hemanshu Hemrajani.
Media Care as an agency is catering to clients across various verticals not only in India but also in Dubai. We have been providing services specialized in PR, Social Media Marketing, Website & App development, SEO & SEM and Email & SMS campaigns for brands, says Yasin.
We at Bangalore Insider had the opportunity to catch up with Yasin and to know his amazing story. Here are the excerpts from the conversation.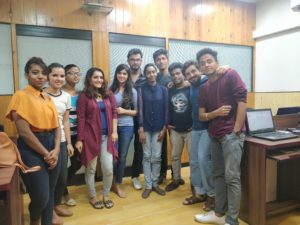 Give a brief info about your startup?
Talking about my start-up, Media Care Brand Solutions is a 360° Branding Agency specialized in PR & Digital Marketing. I and my partner Heemanshu started in 2016 with a barter deal which later grew on a larger scale and resulted in me and Heemanshu getting into partnership to start our own agency.
Media Care as an agency is catering to clients across various verticals not only in India but also in Dubai. We have been providing services specialized in PR, Social Media Marketing, Website & App development, SEO & SEM and Email & SMS campaigns for brands.
What made you start your startup and what problem does it solve?
Honestly it was never a thought to start an agency, as me & my partner Heemanshu were loaded with loads of freelance work. Unfortunately there came a point where it was unmanageable for us to look into multiple clients and attend multiple meetings, hence we gave it a shot to start our own agency and get an expertized team on board to work with us.
As the name goes Media Care, we specialize in media & communication and building marketing strategies for well established brand and upcoming brands in the marketing via various mediums of communication from PR to Digital Marketing.
Since we share a great relation with the Indian & UAE media, we do take care of a brands reputation in the minds of the media and consumers and ensure maximum publicity our clients receives via various media houses and via various strategies to engage with the consumers.
We do also help upcoming brands to build their website and apps and also help in various other marketing aspects like SEO & SEM and Email & SMS campaigns.
Tell us about yourself, your previous jobs/ventures? What were you doing before this startup?
Talking about myself, I got graduated in Mass Media from R.D National College, Bandra, Mumbai specialized in Advertising and currently also percussing my Masters in Advertising from the same institute. Being a media student it was always important for us to hold good & strong communication skills. During my graduation days I was more focused towards organizing and participating in college festivals which always tested my creative skills and be innovative and think out of the box. Before completing my graduation I interned with Zoom TV and then interned with a community radio station as an RJ.
I am a movie and a music lover and love meeting new people around and knowing them. And yes I love cooking as well as I do try my hands on the same on weekends.
I started my career with a boutique celebrity PR agency where I was managing some few well known celebrities from the B Town and T.V actors/actress, later I switched my self to corporate side of PR world and started working in an organization for almost 3 years where I gained the right kind of exposure and built some amazing media connections.
Apart from being the founder I am a visiting faculty as well for the media students in few colleges in Mumbai.
Where is your startup based out of? Why do you think that is the best place for you?
My company is headquartered out of Mumbai and has a Pan India & UAE presence with various associates working with us in tier II & III cities.
Since Mumbai is a financial capital of India, hence it's the best place for a PR & Digital Marketing Agency to have a base here. Apart from Mumbai I feel Delhi & Bangalore holds an importance for our industry and soon we will be having our own offices in these cities too.
As a startup founder, what are you paranoid about? What keeps you awake at night?
As a startup founder a lot of thing are constantly haunting around you. For instants get the right team on board which is knowledgeable and can lead the client to the next level, also this needs to be done in a limited budgets as a startup you cannot hire a team with a fat amount of salary. Many times there is always a fear of the competition in the market specially from the top agency as well from the freelancers in the market as they do tend to break the market by offering low quality services at low price. Another challenge is getting new clients or board which is the biggest challenge for any startup agency to grow.
And lastly the delay in payments from clients and the fear of not able to fulfill the client requirement is always something which keeps me awake at times.
Who are your competitions and how are you better than them?
Well my competitors are all those boutique & mid-size agency who specialize in PR & Digital Marketing, however in our industry we all work and refer each other rather than being each others enemy as we believe we all have the right to grow and you only win a client over your skills and work profile.
One of the strongest point we hold is that my team is completely young and energetic and understands what today's consumers are looking out for, where they spend majority of their time, what they read and what they eat. Secondly our connection with the media is also good where we build up innovative pitches for the media to cover a particular story. And lastly the dedication my team shows towards each client is something makes us fall into a better position than others.
How hard is it to have a work life balance as a startup founder and how do you manage it?
Honestly after starting up my own venture life has changed completely. There is always a constant hunger to grow and grab all the clients in the market and become the king but unfortunately you cannot make every client happy nor win them, all the time.
As a startup founder there is no personal life left, you are constantly in the pressure of getting new clients on board and pleasing them around to sign you as their communication agency. It maybe a weekend or a festive off, you are just making presentation, networking and pitching.
It becomes very difficult to manage around things as you always get firing from family as you don't tend to give attention to them nor attend any functions as you are bounded by meetings anytime.
Lately I have managed to have some experience executives on board who are helping us get new business which has lessen my load and focus towards my personal life and get better opportunities for existing clients.
Have you raised funding? If yes, then we would like to know the details. If no then please tell us if you are looking to raise.
No, it is a self-funded by me and my partner. As of now we aren't looking at raising any funds as we still making our base stronger in the market by poaching bigger clients in our kitty.
What's the biggest misconception people have about you? Why do they have that? What's the reality?
Well there are 2 things which people feel about me: 1) Too young to handle us – The biggest draw back which I have been facing is that I'm too young to handle a brand and lack experience, this is due to people go on my looks as I'm just 27. But the reality is that its wrong, I have worked with brand which hold a global presence in the corporate world and have done successful campaigns for brands, companies and politicians as well. As a young mind with fresh and creative ideas and skills, me and my team has achieved a lot of great heights with clients who have trusted us.
2) Aggressive nature – Many of my team mates are scared off me as they fear me for a reason better known to them. Well in reality I'm not a kind of a person who would scare my team mates. Yes as a boss I have pull up my team for their mistakes and shout at them but as far as the work is going good I'm pretty cool with them.
What gets you excited about this company?
The daily challenges I get to achieve a target is something very exciting for me. As getting new clients on board is the biggest task and that's something I always love to do.
Secondly, the name you get to build in the market via your work, the top executives and managements you get to meet is something what excites me all the time.
Tell us how a day in your life looks like? Your schedule for a day right from the time you get up till you hit the bed at night.
My daily routine is very much boring types, as my work drains down all my energy. My day starts with morning prayers at 6 am followed by an hour of cardio. I reach office around 10.30-11 am and start with a meeting with my team and discuss their daily to-do's and targets to be achieved.
Then I start working towards new pitches and making new presentation for clients, if there are meetings schedule then I am completely out of office attending them.
Post lunch we have a 30 min gaming session in our office where we all play some board games in the conference room.
The day ends up by 6.30-7 pm post which I head to the gym. I reach home around 9.30 pm, have my dinner and off to sleep by 12.30-1 am.
Sundays are something special as I make some South Indian breakfast in the house.
Tell us about your team and how did you meet each other?
Well I feel blessed to have an excellent team. If your team is in place there is nothing to fear about and you can completely focus on your targets.
My team is pretty young and prefer working in a non-political environment. They are pretty good in terms of getting their work done in their own manner and do whatever they wish to do in their spare time.
Being a visiting faculty I pulled out some good students and gave them internship opportunities and ultimately they are now full timers with me. Another things is that I have tied up with many institutes and colleges where innovative and fresh talent is always on a hunt of opportunities and that's where my company comes into the picture.
Know a great startup story or want to share your own? Write to us at contact.bangaloreinsider@gmail.com and we will get back to you. For more updates follow Bangalore Insider on Facebook.
Author
Sponsored Ads