Sponsored Ads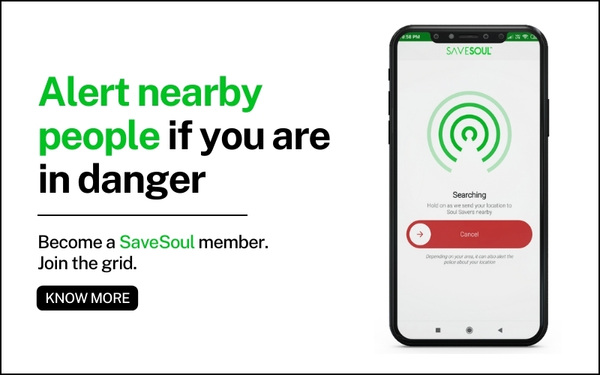 Marriage is such an extensive topic that one can never seem to find its end once it started. Though it's a sacred part of life wherein two individuals tie a knot together in being there for one another throughout their lives, it's important to consider the compatibility factor between them. Typically, in India, arranged marriages have been the top norm for any marriage to take place. But with a changing timeline, compatibility has become more prevalent in society. To boost these types of matches, MatchMe is a company aiming to do so.
MatchMe is an online matrimony site that helps in connecting two like-minded individuals for that perfect match-making experience. The platform understands each individual and then matches them to the other based on personalities and other factors. It's quite a transparent, effective and comfortable experience. The company establishes relations with each of its clients to find a desirable better half for an individual. Speaking with Tania Malhotra Sondhi, one of the company's co-founders, Bangalore Insider was delighted to interact extensively and learn more about it. The excerpts from the interview are provided as follows.

Give a brief info about your start-up?
MatchMe is a personalized matchmaking service, based in New Delhi that has been derived from the sheer passion for & interest in connecting like-minded people for marriage. At MatchMe, we filter and curate matches for all our clients and make sure they only meet suitable people. Mishi and I started MatchMe when we were in our 30s, and hence connected very well with everyone in the age group of 20s to 40s. By understanding the clients' personalities well, MatchMe aims to make selective introductions for them. Personalized matchmaking is all about making two people meet only if the matchmakers feel they could connect with each other. This approach works perfectly well for those who have less time but enough money to shell out the fee for this personalised search-based process.
Personalized matchmaking maybe a traditional mode which most parents resorted to when there were no online portals available back in the day, but MatchMe has redefined this traditional method to suit the requirements of modern young individuals. In addition to meeting the anxious parents, we interact with all girls and boys who are looking out, to understand their personalities. This way the whole approach becomes comfortable, transparent and more effective. At MatchMe, we establish friendly relations with our clients and help them overcome the biggest challenge of the awkwardness people normally feel when it comes to meeting someone they don't know. Generally, the well-educated and well-established people turn away from online matchmaking sites and turn to more meaningful personal introductions, that not only save their time but also maintain strict privacy.
What made you start your start-up and what problem does it solve?
Looking at our friends struggling to find like-minded people, we identified the need for a matchmaking service where one could be truly understood on what they are looking for. The idea was to move away from traditional concepts of arranged marriages and focus more on factors such as like-mindedness and compatibility, in addition to keeping family backgrounds in mind. We help young individuals in finding their right match according to their personalities and mindset. We generally target individuals who neither have the time nor want to go to an online portal for this purpose, as that is a huge compromise of one's privacy. Given that Mishi & I fall in a similar age-bracket as most of our clients, it gives us an edge over other players and helps us relate to & help them better. We bring a completely fresh approach to traditional matchmaking with a modern twist. Us two being well-educated & having the right kind of corporate exposure run MatchMe in a very professional manner, while also giving the right amount of personal touch.
Tell us about yourself, your previous jobs/ventures? What were you doing before this start-up?
Both Mishi and I belong to small towns in Punjab; Mishi moved to Delhi after her schooling to study at Lady Shri Ram College for Women, whereas I went to Gargi College. We both were friends since our college days, and then we pursued our MBAs together at Amity Business School. Post this, I started my career with Taj Hotels in Sales & Marketing, moving onto doing recruitment/executive search for many years. After completing MBA, Mishi started her career in finance following which she joined her family business of real estate development. During this time, I was working with a company doing executive search, hiring for businesses in the Middle East. I also started a recruiting company of my own post that which I successfully ran for 3-4 years, till I had my second daughter. So we both have always been enterprising and have supportive better halves who've always encouraged and supported us in our work-life. This is what mainly led us to start our own personalised premium matchmaking service.
Where is your start-up based out of? Why do you think that is the best place for you?
MatchMe is based out of New Delhi, which is also our families' base. We started out by mobilizing our own network of friends and family, which also gave us a lot more confidence to further expand our network and operations across the country. Additionally, New Delhi is the hub of modern young and professionally well-placed individuals, so it seemed to be the best city for us to start with.
As a start-up founder, what are you paranoid about? What keeps you awake at night?
When we started out, we primarily began with the people within our own network of friends and family. So we were a bit anxious about reaching out to a wider network/pool of people, to be able to make more high-profile connections. In the initial days, things felt extremely challenging and we used to think about our clients 24*7; how we can make more meaningful connections, increase our database and other similar aspects of the service we offer. However, it was great that we curated some wonderful matches in the first year itself, which really helped us spread out the business. The matches we did in the first year were not only in Delhi but also in Chandigarh, Johannesburg, and Singapore. So, you can say that our goal to thrive in our work and desire to set up more and more meaningful and perfect marriages keeps us awake at night, even today.
Who are your competitors and how are you better than them?
MatchMe is a completely offline and 100% personalised, private and transparent service. Mishi and I are personally involved with the clients, so we feel that we have no competitors as such, when it comes to the approach we have towards curating matches. It's an absolute one-to-one service wherein we work hand-in-hand with the individuals and their families to help them find what they're looking for. We make sure we operate in an extremely transparent way & share whatever information is given to us from both sides real time, such that both sets of families are completely aligned.
How hard is it to have a work-life balance as a start-up founder and how do you manage it?
Our work goes on 24*7, in fact, we are constantly thinking about our clients, networking, looking out for individuals who might need our services. When times were normal, even when we would socialize within our friends and family, we would spread the word and be on a lookout for clients. Though our work requires us to be on the phone a lot, we try to limit it so we can take care of our daughters and attend to things at home. Thankfully, we both have very supportive partners who've really helped us in the initial few years and whenever we need their support in managing home and related matters. I also believe that you if have a habit of doing things in a proper and well-planned way, and allocate your time carefully for every activity each day, you can manage your work-life balance in a better way. I always try to plan my schedule for the next day prior, and that helps me execute things in a smooth way, avoiding much overlaps in my work and personal life.
Have you raised funds yet? If yes, please share the details. If not then please tell us if you are looking to raise it, anytime soon.
No, we are still a bootstrapped company and not looking to raise funds right now.
What is the biggest misconception people have about you? Why do they have that? What's the reality? (It could be any personal or professional)
The misconception isn't about me as an individual but about MatchMe. Many people tend to think that because we are a premium service in terms of the quality and expertise we bring to the table, we cater to/work with only those that are extremely wealthy or high-net-worth individuals, but in reality this is not the case. We are here to cater to anyone who is well-educated and has a progressive thinking.
What is that thing that keeps you excited about this company?
When our clients fall in love, it is most satisfying for us. When they thank us for helping them find love, it is priceless. The feeling of being the reason for someone's happiness cannot be matched with or measured in commodity or monetary terms. Every client brings a different kind of excitement and challenge to the table as every individual is different and so is their search for their soulmate.
Tell us how a day in your life looks like? Your schedule for a day right from the time you get up till you hit the bed at night.
Our regular workday includes the following activities:
1. Follow up on matches shared, providing feedback, following up for feedback.
2. Making introductions between matches where two people want to connect
3. Sharing matches
4. Follow-up on new inquiries
5. Fixing up calls/meetings with new clients
To share some details outside of the work day, I'm a morning person and begin my day with chanting (as I have been actively practicing Buddhism for the past 20 years), followed by Yoga. When I'm not working, I like to read books across topics such as spirituality, politics, and business which interest me greatly. When I want to truly relax, I play board games with my daughters or Netflix.
Tell us about your team and how did you meet each other?
Mishi (Sood) and I run MatchMe together. We have been close friends since our college days and are extremely happy and grateful to have each other as business partners, as well.
Know a great startup story or want to share your own? Write to us at bhumikka@insidermediacorp.com and we will get back to you. For more updates follow Bangalore Insider on Facebook and Instagram.
Author