Sponsored Ads

Meet Sidharth, a blogger. He started writing in 2014 and he loves to be recognised as a technopreneur. He writes articles on technology, blockchain, Cryptocurrency and marketing.  
"The next step was simple: to bridge my interest in cryptocurrency with blogging. That's how Luv Crypto was born", says Sidharth. 
We got an opportunity to talk with Sidharth and let us see what he has to say about his passion towards writing.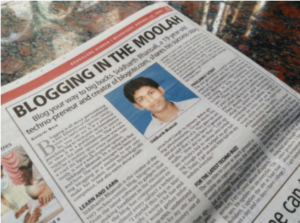 Tell us about yourself, your previous jobs/ventures? What were you doing before choosing this field?
My name is Sidharth, and I have been a full-time blogger all my life. As a blogger, I research, write, and publish articles on technology, marketing, and business.
How did you land up doing what you do now?

My interest in cryptocurrency and blockchain began when I started researching about Bitcoin. One day, my friend in Bangalore told me Bitcoin was close to hitting a $1000. It was then both of us began to invest.

This was in the year 2014.

As we were tracking cryptocurrencies, the next step was simple: to bridge my interest in cryptocurrency with blogging. That's how Luv Crypto was born.
What motivates you?

I derive motivation through hard work. I have often found that hard work beats talent. And so my only motivation is my dedication – and my commitment – to work harder than everyone else out there.
How do you plan to stay ahead of your competitors?
I don't see any competitors. All I see is people like me in them. All of us are here to achieve our goals. The one who works harder will reach his goals quickly.
In my early days of blogging, I worked for 14 hours a day. I liked working. And when that happens? You stop looking into your competitors.
If not the current profession, what would you have been?

Cryptocurrency and blockchain is booming in India. It is the right time for anyone to enter this business. And I will stick to it for the next two years.
 Were your parents supportive of what you are doing? What impact have they had on your life?

Growing up with a single mother, my mom always supported me. She supported my decision and saw something in me — that I was capable of spotting opportunities. Perhaps that is how I got early in the crypto space (though I lost most of it — a story for another time).
What are your plans for the next 2 years?

I am dedicating the next two years to grow Luv Crypto. And the reason is simple: I see a major adoption of blockchain technology in various industries. Banks, startups, and entrepreneurs are exploring blockchain.

The world will begin to embrace this technology.
What does a typical day off from work consist of for you?
In the media business, you are bombarded with news. So I like to stay away from the Internet and my laptop. And walk into the unknown. Sometimes traveling is that unknown. Other times, it is the books.
Any regrets till now? If yes, will you like to share it with our readers?

I live life with no regrets. Whatever that was supposed to happen has happened. Now is the moment. This is what I wish to tell anyone reading this article:

Live in the now… for the past is gone. And the future is unknown.
If you were given a choice of meeting any person you want, who will be that person?
I would like to meet all the WWE stars. From Steve Austin to The Rock and Vince McMahon, as I found them inspiring in my childhood.
Any message that you want to send to your readers?

If you want to start something, start right now. Do not wait for miracles. Do not wait for support. Or approval. It is your job to do what you want to do. And so you do it.

In style.
Know a great startup story or want to share your own? Write to us at contact.bangaloreinsider@gmail.com and we will get back to you. For more updates follow Bangalore Insider on Facebook.
Author
Sponsored Ads