Sponsored Ads

Meet Kashish Chhabria, she is a counseling psychologist and also an inspirational speaker at an international level. Read her inspiring story to know how she is following her passion to help people around.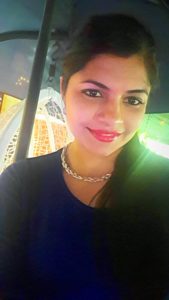 Tell us about yourself, what do you like most about your field of work?
I am a counseling psychologist and international inspirational speaker, NLP Certified Practitioner,  Kaizen growth and Transformation Coach and an Entrepreneur.
Your previous jobs/ventures? What were you doing before choosing this field? 
I was a teacher before.
How did you land up doing what you do now?
My love for helping others and counselling people, led me to where I am today.
If not the current profession, what would you have been?
My profession has chosen me. Moreover, this is not a profession; its a passion.
What motivates you to keep going? 
The innate need to help others; to help humanity; to spread kindness and smiles.
Tell us how a day in your life looks like? Your schedule for a day right from the time you get up till you hit the bed at night.
Besides doing yoga and eating fruits in the morning , my day is not what people call routine. I plan my day without a fixed routine. I deliberately change timings to challenge mechanical limits and neurological pathway settings. I love to read, learn and meditate; so there's always time for that. Yes; after waking up, and before going to sleep, I do my prayers and thank the Universe/ God  for everything.
Any regrets till now? If yes, will you like to share it with our readers?
No regrets. My life is a complete master piece; with all its faults, mistakes, laughter and joy. I have enjoyed the journey so far and I intend to do the same perhaps even better further on.
If you were given a choice of meeting any person you want, who will be that person?
There are quite many. But if I have to choose ; they would be :
Mr. Ratan Tata, Anthony Robbins,  Oprah Winfrey, Bill Gates, Warren Buffett.
What is the biggest misconception that you think people have about you?
I know of none. But if there were any; I would give them the benefit of doubt. Let misconceptions just be. People's opinions are not my reality. They are mere perceptions.
Any message to readers ?
Face challenges head on; don't let anyone define who and what will become of you. You are not their story. You are a living legend; a master piece so unique that the world may want to copy you… but you are just one of a kind.. Remain kind; and work daily on your improvement in all aspects. Remember to laugh, pray and love.
Know a great startup story or want to share your own? Write to us at contact.bangaloreinsider@gmail.com and we will get back to you. For more updates follow Bangalore Insider on Facebook.
Author
Sponsored Ads