Sponsored Ads

KacyWorld is a Delhi based startup founded by Komal Mittal. It is an online store for fashion jewellery and accessories for women.
Whenever I feel a little unmotivated, I start listening to podcasts from the people of my niche and within a minute, I am excited again to work even harder, says Komal.
We at Bangalore Insider had the opportunity to catch up with Komal and to know her amazing story. Here are the excerpts from the conversation.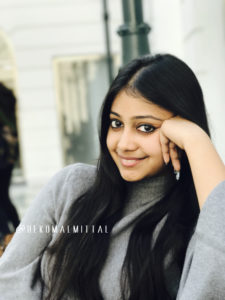 Give a brief info about your startup?
KacyWorld is an ecommerce website which deals in women's fashion jewellery and accessories along with that we offer a highly informative blog called KacyBlog where we aim to bring a group of women together to educate each other .
What made you start your startup and what problem does it solve?
Like every other girl , I have also been really fond of jewellery and always found it very difficult and hassling to go to market and buy and select jewellery for myself . Hence i decided to make it  easy and simple for everybody.
We at KacyWorld, want to make it as easy as possible for women to embrace their love of jewellery with the most reasonable prices in the entire market and free shipping all over India.
We launch new collection every month to offer a wide variety of options to our customers and offer a direct chat option for our customers so that they can consult our stylist too if they want any help while picking products.
Tell us about yourself, your previous jobs/ventures? What were you doing before this startup?
Raised up in a business oriented family, I always had a very clear vision in my mind that i want to become a successful business woman. As soon as I graduated, started working at my father's company to learn more and more about everything but more than learning it was a heart wrenching process for me.
I never thought, business world will be so difficult for a women in real life, but it was. The male dominant society never let a woman to be comfortable in even their own space.
Everyday I calmed myself down and worked harder and harder. Sooner After that, I decided to take a big step and planned to start my own brand in jewellery and named it KACY.
Where is your startup based out of? Why do you think that is the best place for you?
KacyWorld is based out of Delhi . According to me, we are at the best place.
As a startup founder, what are you paranoid about? What keeps you awake at night?
I am a highly curious human being who wants to do everything herself. Since I started working on Kacy, I have been working at least 12 hrs/day and almost every night I am awake in the excitement of my tasks for the next day.
Who are your competitions and how are you better than them?
I know it may sound cliche but i am my biggest competition, whenever I don't feel that I stepped one step up than yesterday, my day becomes terrible.
The other people in market, I will call the my peers, I always keep an eye on my peers and try to learn from their success and failures both.
How hard is it to have a work life balance as a startup founder and how do you manage it?
I think this is one of the most crucial parts of working as a startup Founder for most people but i have managed it quite well and happy about it.
I believe when you are really passionate about what you do, sunday's don't really matter to you. Whenever I feel a little unmotivated, I start listening to podcasts from the people of my niche and within a minute, I am excited again to work even harder.
Have you raised funding? If yes, then we would like to know the details. If no then please tell us if you are looking to raise.
No, We have not raised any sort of funding yet.
Yes we will definitely be interested in raising funds in future but not now, as I feel funding is not just about money, it also comes with big responsibility and pressure. Currently, We are smoothly bootstrapping with the help of our other businesses.
What's the biggest misconception people have about you? Why do they have that? What's the reality?
I am not sure if people have any misconception about us, because we are quite new in the market.
In general I would say, people always have a misconception about women, that they can not be big in business which I would like to change myself.
I don't feel speaking of it will be a good idea. I will show the reality to the world.
What gets you excited about this company?
First and the most important thing that gets excited about my company is that this is my company. Every element of it has been finely curated by me. I see this brand to be on the top of its niche one day.
Tell us how a day in your life looks like? Your schedule for a day right from the time you get up till you hit the bed at night.
As soon as I wake up, I take my phone and look at the tasks to be done today and keep planning in my head how to make my checklist, completely checked in a day. After getting ready, I reach my office and have a meeting with all the people and all of us plan out our whole day and start working on it.
After this work, meetings, management… goes on
In evening when everybody leaves, I am still here assessing everybody's tasks done in the day and what could be done better. I mention all the points and new tasks for all of us  to be done in the team management app that we use.
Completing all of this takes me home, then a completely different story starts, that time is completely dedicated to all the courses that I learn, connecting with new and interesting people in our niche, hunting for new talent and analysing our competitors and i sleep doing this only.
Tell us about your team and how did you meet each other?
We are small team of 5 people who have full faith and coordination with one another.
We met each other in different ways mainly through social media platforms like linkedin and Facebook otherwise internal references.
Know a great startup story or want to share your own? Write to us at contact.bangaloreinsider@gmail.com and we will get back to you. For more updates follow Bangalore Insider on Facebook.
Author
Sponsored Ads