Sponsored Ads

INTELLIGENCE7 is a Bangalore based startup founded by Pulak Priyesh and Kunal Srivastava. They started INTELLIGENCE7 with the vision to create awareness among people about the stock market. With the passion and the deep knowledge of the stock market, Pulak was ranked among India's topmost community stock market analyst and he also got an opportunity to get featured in Sensex ka sultan show by zee business.
The best part about Intelligence7 is every newcomer gets the proper mentorship from the experienced successful traders, so they basically get the practical knowledge, emotions balance, and real-time strategies to learn from them. And that's why today Intelligence7 is the renowned stock market training institute in India.
We got an opportunity to talk with Pulak, the co-founder of INTELLIGENCE7 and see what he has to say? I am sure his interview with us will inspire you.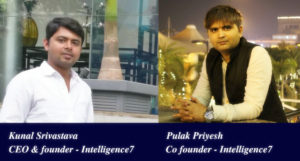 Give a brief info about your startup?
INTELLIGENCE7 is a group of professional traders from all over India, we work together in research, helps each other in their trading and investment, we used to give training to the people who are like really passionate about learning stock market We conduct seminars and webinars on a regular basis to spread awareness about stock market. The best part about Intelligence7 is every newcomer gets the proper mentorship from the experienced successful traders, so they basically get the practical knowledge, emotions balance, and real-time strategies to learn from them. And that's why today Intelligence7 is the renowned stock market training institute in India.
What made you start your startup and what problem does it solve?
When I started trading a decade before I found it very difficult to find any mentor who can teach me from basics but somehow Google was always there to help and I will not miss any opportunity to thank my relationship manager of Angel broking in the year 2011 Ms vijayalakshmi (Di), that time I was in the first year of my engineering in Dayananda Sagar college ks layout Bangalore, she used to care about my trades, she used to scolds me when I make some bad entry in trades, she taught me a lot in trading and because of her I became a disciplined trader. And yes then I was so involved in trading I dropped my engineering and I became a full time trader and my classmates or college mutual friends whoever got to know about me, they used to come to me for learning about stock market trading and when the number of people keeps coming on daily my brother suggested me charge them for your time. And there comes Intelligence7 in the picture as a stock market training institute in Bangalore. It solves the same problem which I was facing in my early days like finding someone to become my mentor and teach me about trading.
Tell us about yourself, your previous jobs/ventures? What were you doing before this startup?
I am Pulak Priyesh an engineering drop out and then Bbm but my focus was always on trading and I was so passionate about it that in the early few years I used to spend around 15-18 hours every day just to studying about the stock market, trading, methods, strategies. My entire world was nothing more than my laptop screens and the mathematical calculations and numbers. And finally, my dedications paid when I was ranked several times in India as a topmost community stock market analyst, and even get featured in Sensex ka sultan show by zee business. I was then globally recognized by the traders fraternity and got lots of appreciation which boosted my confidence and nowadays I take guest lectures couple of months back I was invited by symbiosis university Indore where I interacted with many young brains and I totally love such interactions, nowadays am completely involved in conducting lectures, seminars my personal full time trading and helping others achieving their financial goals.
Where is your startup based out of? Why do you think that is the best place for you?
It's in Bangalore and when I started it I was in the Bangalore only , I was a college student at that time and my trading income was also not enough for me to start it somewhere else, it was feasible for me to start in the city where am living and that's the reason it's in Bangalore. Now we do have branches in other cities as well.
As a startup founder, what are you paranoid about? What keeps you awake at night?
The college students get so fascinated about trading and money that they sometimes make a bad decision of taking it too seriously which is not good sometimes because the situation is not same for all, their family expectations and circumstances are not favorable and they get diverted, so I always try to go for a longer counseling before enrolling any college students, learning stock market and taking it positively is one thing but getting diverted about money and running behind it is not good. This thought gives me many sleepless nights. But then my entire team is working on it to solve this.
Who are your competitions and how are you better than them?
Healthy competitions is always welcome it drives more energy and dedication to perform the best, and the feeling of winning it after some challenges is so good, being a trader by heart my words are also so influenced by my profession, well on a serious note we don't find anyone as a real big challenge and competitor for us, our rock-solid discipline, the enthusiasm and passion for the work, flow of young and trendy ideas by the traders community of Intelligence7, our strength of building a traders network, highly researched trading strategies and many more things are there which makes us stand out from the crowd.
How hard is it to have a work-life balance as a startup founder and how do you manage it?
As an entrepreneur I have a great work-life balance, I plan my work, vacations, everything smoothly, well when you love your work and when your passion is your profession it's quite easy to manage all these.
Have you raised funding? If yes, then we would like to know the details. If no then please tell us if you are looking to raise.
Not yet, but definitely to scale this business to the next level am looking out for some investors who will understand the concept of Intelligence7 and maybe we can get some deal soon.
What's the biggest misconception people have about you? Why do they have that? What's the reality?
The biggest misconception people have about me that they think I am one of those fortunate people who survive in stock market and it's all luck, they have this misconception because lack of knowledge and the stereotype thoughts and fear about stock market. The reality is it's all about your dedications, knowledge and discipline which makes you successful in this field, They don't understand that I achieved this with the years of struggle.
What gets you excited about this company?
When I see the happy faces of my students making gains, the satisfaction on the face of many retired old servicemen their blessing to me because I have taught them trading, in fact right from the college students, housewives, It & other job employees and retired persons , age group from 20 to 60 are my students and we love giving them training, my entire team of Intelligence7, their efforts our unity and basically everything about this company gets me excited.
Tell us how a day in your life looks like? Your schedule for a day right from the time you get up till you hit the bed at night.
Weekdays are so busy in the work that I hardly get time for anything else rather than teaching and trading, I wake up at around 7:30 am gets ready for the work begins from 9:15 am then continuous research, helping my students in trading and my own trades till 3:30pm after that a half an hour break till 4 pm a small relaxation, lunch rest and then back to back training sessions till 8pm either online or in classroom and then I leave for home, dinner at 9pm,and youtube videos by 10pm I get into my bed doing some research for the next day trading for around 2-3 hours and don't know when I sleep reading charts. Weekends are always a fun spending time with family, friends, movies, etc.
Tell us about your team and how did you meet each other?
My team the first name which comes in my mind is my elder brother Kunal Srivastava who is taking care of Intelligence7 management from 2014, he is a core strength of the company. He is also a very renowned successful trader and trainer, he was ranked as the topmost traders in the nation and also get featured in zee business, second Rishi Gupta the finest trader of nation my brother's childhood friend and a core member of my team, Indronil Bagchi one of the brilliant trader his specialization is picking up the hidden gems of market for a medium to longer-term investment, Aakash Gupta one of the best scalper I know till date I met both Indronil Bagchi and Aakash during a seminar, Pushkar Anand a Serial Entrepreneur, an Investment Banker, Sumit Thakur for strategic planning, Swastika Goel & Bhumika Katiyar for their digital marketing and am thankful to every members of Intelligence7 without you it was not that easy. They are my team.
I would also like to take two more names Kushal Jain & Hanamant Kullur they were my students who supported in the early stage of Intelligence7 as a core member but somehow they are not a part of the company anymore but I can proudly say that both of them are running their successful business today in the same field of stock market. I am really thankful to you also and I am really happy for both of you. Keep rising high always.
Know a great startup story or want to share your own? Write to us at contact.bangaloreinsider@gmail.com and we will get back to you. For more updates follow Bangalore Insider on Facebook.
Sponsored Ads