Sponsored Ads

Instant Production is a Noida based startup founded by Rahul Sharma. He started his career as an RJ when he was 17 and how he is an entrepreneur.
The idea is to cultivate creativity, nurture it with professionalism and deliver the best outcome. We at Instant Production do not leave any type of media behind. Whether it's a video, audio, Digital/YouTube advertisement, t.v commercial, social media management or content writing. We have experts working with us from all media fields, says Rahul.
We at Bangalore Insider had the opportunity to catch up with Rahul, the founder of  Instant Production and to know more about the startup, read his inspiring story.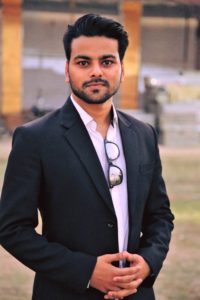 Give a brief info about your startup? 
Instant Production is the brain child of a group of media professionals with expertise in different fields of Media Production. Founded by Rahul Sharma back in October 2017, the idea is to cultivate creativity, nurture it with professionalism and deliver the best outcome. We at Instant Production do not leave any type of media behind. Whether it's a video, audio, Digital/YouTube advertisement, t.v commercial, social media management or content writing. We have experts working with us from all media fields. In last 1 year company has expanded 3 times from what it was a year ago. Currently we have our corporate office in Sector 2 Noida and a studio in sector 22 Noida.
What made you start your startup and what problem does it solve? 
I started this with an idea of bringing likewise minds together. When I was doing my Masters in Film Production from a College in Noida, I found that media production is not a one man's job. It takes a great team and bonding among the team members which acts as the x factor for any media product to work.
So I found some college students studying with me who have experience in different type of media production and brought them under one Name – INSTANT.
My startup solves the biggest need for any individual or corporate of this century – To get noticed and to reach the target audience.
Tell us about yourself, your previous jobs/ventures? What were you doing before this startup? 
I started my career as a Radio Jockey for a local Community Radio station in Noida back in 2011. I was only 17 years old and was a Radio Jockey. I can be searched on Google with the name – RjRahulSharma.
After gaining enough experience in radio, it was time for me to move to the words of visual media, I joined Sahara Samay News Channel as an Anchor and spent only 6 months of life there to realize NEWS was not my cup of tea. With a little talent of speaking well and some writing skills I moved to the world of cinema and started writing, acting, producing and directing Short Films and youtube videos and found my passion. Have won 3 international short film awards for my short Film – Meri Aai and Road Rap.
Since then I have been working for over a dozen of production houses and media giants for different profiles. Have established myself as a Media Entrepreneur. I still land my voice for documentaries, edit professional videos for digital advertisements and write blogs for websites.
Where is your startup based out of? Why do you think that is the best place for you? 
My startup is located at Noida Sector 2. Noida is the land of opportunities, i am born here and will die here only. Noida has film city and over a dozen News Channel are operated from here. My office is located in the Most valuable corporate area and at a walk able distance from Sector- 15 Metro Station.
As a startup founder, what are you paranoid about? What keeps you awake at night? 
Haha well just to leak out a secret, I am paranoid about how I can't share the reality behind the camera and struggle a media production team go through to give a final product. I get a bit irritated when people do not stick to their timelines and promises. Client's budget is a creativity killer.
My love for Cinema keeps me awake at night. I would like to see Instant Production producing a Full Feature Movie some day soon.
Who are your competitions and how are you better than them?
In the world of creativity we don't make such comparisons. I personally think every creative person, team, group or company is unique in itself. What they do should be respected and not compared with anybody else. So i will tell you what uniqueness we have. At Instant we start from the bottom, yes we have d one many projects for other startups. Since we started from nothing, we helped many to start from nothing and we helped them the way they wanted us to. We provide free advice on media promotions. YES FREE ! Anybody who has no idea where to start promotion from, we love to help them for free. We believe in connecting more than adding business.
How hard is it to have a work life balance as a startup founder and how do you manage it?  
Life? what is that? Honestly speaking, I have not taken 1 single off in last 8 months from my work. It is never enough how much we work, my entire team works day and night to make our 1 room company a bit hit in the market. I have cut down a lot of time wasting activities and now I follow a weekly basis time table. I mostly jot down the daily pointers apart from daily routine work.
Have you raised funding? If yes, then we would like to know the details. If no then please tell us if you are looking to raise.  
No we have not raised any funding. We are yet not looking for it but yes if it can be helpful, then why not. We would love to try.
What's the biggest misconception people have about you? Why do they have that? What's the reality? 
About the Company, well generally people hesitate from contacting Media houses assuming a high charge. Reality is that because of a lot of recent exposure in Digital media, now the content production has gone very cheap. With so may advance feature available in compact devices, it has becomes easy to produce the same content that was expensive and hard a decade back. So i would advice people to open up and talk about their requirements and budget. There is no shame in discussing.
And if this question was personally about me, I will say people tend to take a professional behavior as "rude" which is wrong. People need to understand that personal and profession behaviors need to be kept and exposed separately and that is all i am trying to do 🙂
What gets you excited about this company?
World of creativity, dimensionless galaxy with a trillions of possibilities. In my company, every thought and idea counts.
Tell us how a day in your life looks like? Your schedule for a day right from the time you get up till you hit the bed at night.  
Aag ka dariya hai, aur doob ke jana hai.
From being a night owl, I have now managed to grab a 6 hours sleep. I leave my bed at 8 a.m , reach office at 9 and begin the chaos.
That is all I remember about the time because till 2-3 a.m at night there is no schedule to follow for me.
I can be out for a meeting, can be found sitting at desk for whole day and night doing odd jobs online or just spending entire day discussing with my team.
But the environment at my office is full of jokes and leg pulling, I think that comes inbuilt with a team of college friends. And it's mostly me who later gets the scolding for laughing too hard in the office hours. One day in my life is nothing less than a roller coaster ride. I am lucky that i get to speak to so many people on daily basis thanks to the kind of business i am into. Yes I skip meals, no doubt there! but when I go to sleep, I am already excited about the next day because there are always plans for tomorrow…ALWAYS!
Tell us about your team and how did you meet each other? 
As told before, I met all the core team member in my College. We shot our first Short Film together called – The Last Impression.
Handling the Creative Content Production, we have Bhawna Gupta. An expert in Hindi content, experienced in Digital and TV industry.
For all Production work we have our own Amitabh bachhan, Naveen Bharti. He is the Assistant Director cum Co-Founder of Instant Production. Then we have the Eye of Instant, our Cinematographer Arjun Panday. A quite and serious guy with a lot of creativity flowing up his head. And also the common Key person – Swapnil Pandey. This guy is our Moody Superman. He can do wonders if decides to. Luckily he is mostly in mood.
Know a great startup story or want to share your own? Write to us at contact.bangaloreinsider@gmail.com and we will get back to you. For more updates follow Bangalore Insider on Facebook.
Sponsored Ads