Sponsored Ads

"To succeed you have to Believe in something with such a passion that it becomes a Reality"
This quote goes perfect on Insomnicart, a Bangalore based startup. They make customised handcrafted notebooks and posters for their clients.  Abhirami and Ankita are the founder of this venture and are taking their passion into the right direction.
We got an opportunity to talk with Abhirami, the co-founders of the Insomnicart. And I am sure; you will be inspired the way she and her partner is taking this venture with their full-time job.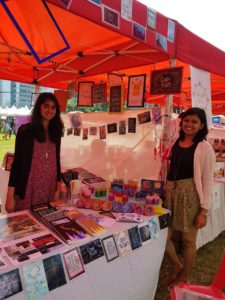 Give a brief info about your startup?
Insomniacart is run by my friend Ankita and me Abhirami. Ankita is an architect and I am an engineer. We have our regular 9-5 day jobs and are currently doing this on the side. Hence the name "Insomniac" art, since we stay up at night to work on our products.
We started Insomniacart on July 2017. We make customised handcrafted notebooks and posters. Everything we make is handmade by us. Currently, we are selling online via Facebook and Instagram. Other than this we sell via stalls such as 
Sunday
 Soul Sante and Steppinout Night Market.
What made you start your startup and what problem does it solve?
Converting passion or hobby into a profession is always a dream come true for all. This was the case for us as well. Ankita and I had been speaking about starting up for about 6 months till we finally went ahead and did it. The response that we initially got was truly amazing. Initially, all our customers were friends and friends of friends. Their belief in us and the satisfaction they got after receiving our products gave us the confidence to keep going.
The problem we want to solve is based on the fact that nowadays everything is digitalised. Everything happens virtually on our smartphone. We want to go old school. We want people to go back to writing in notebooks, instead of making notes on their phones. Hence we make our products visually attractive so that people buy them. We also make customised posters. Have a friends birthday or an anniversary coming up? We will make it special for you by making a special customised poster just for you. We want to bring back the old school ways of life and gifting through our products.
Tell us about yourself, your previous job/ventures? What were you doing before the startup?
As mentioned earlier, Ankita is an architect and I am an engineer.
Ankita passed out of college in 2017 and is currently working for an architectural firm.
I passed out of college in 2016. I started working as a software engineer in Bosch. In my free time I started drawing and doodling.
We are both still working our regular day jobs. Currently, we are managing this part-time. I am planning to quit and give my whole time to this venture in a few months.
Where is your startup based out of? Why do you think that is the best place for you?
Our startup is based out of Bangalore. We were both born and brought up in Bangalore so Bangalore was somewhat like our default location.
We feel its the best place for starting up for mainly 2 reasons-
1) Being the startup hub of India, it the best place to start up.
2) Our target audience is between 20-35 years old and Bangalore is the ideal location for that.
As a startup founder, what are you paranoid about? What keeps you awake at night?
Our biggest fear is being relatable to the audience. Since our target audience is the people in our age group, when we think about a new product design, we think if we would ready to buy it if we saw it for sale somewhere.
Who are your competitions and how are you better than them?
There are other companies which make notebooks and posters. But the fact that everything we do is handmade by us, gives us an edge over the others. When you receive something which is personally handmade for you, it gives you a feeling that you are special. This is what we try to instil in our customers
How hard is it to have a work-life balance as a startup founder and how do you manage it?
Since we are currently doing this part-time, it is especially hard for us to manage our regular jobs and this work. But the passion and interest that we have for this work overcomes the difficulty and we are ready to stay awake until whatever time it takes to get the job done.
Have you raised funding? If yes, then we would like to know the details. If no then please tell us if you are looking to raise.
No, currently we are using only our income and savings for running the company. Maybe sometime in the future we would be interested in looking for funding.
What's the biggest misconception people have about you? Why do they have that? What's the reality?
Nothing that we are aware of.
What gets you excited about this company?
The fact that we are doing something that we really enjoy and really love to do is what makes us the most excited. When people compliment on our work, that gives us the most happiness.
Tell us how a day in your life looks like? Your schedule for a day right from the time you get up till you hit the bed at night?
Since we have regular day jobs, most of our day goes in the job. It is after 
6 pm
 that the creative side of our brain is given chance to work.
Tell us about your team and how did you meet each other?
Our team currently consists of Ankita and me. We had been studying in the same school(National Public School Indiranagar) since preschool. We weren't that close then. We started speaking to each other only in the 11th grade since we used to attend the same tuition classes. It was after school that we actually got close to one another. Even though we weren't in the same college, we were close. Our passion in drawing and painting and interest in making a business out of our passion is what really brought us together.
Know a great startup story or want to share your own? Write to us at contact.bangaloreinsider@gmail.com and we will get back to you. For more updates follow Bangalore Insider on Facebook
Sponsored Ads