Sponsored Ads

InfoCognitio is a Bangalore based startup, founded by Karrthik Shettyy and  Shiladitya in 2015. InfoCognitio is a one-stop solution for all your technical, marketing, and content needs. They delivering world-class content solutions and services, they also ensure that the content which they are providing is relevant and consistent.
We got an opportunity to talk with Karrthik, one of the co-founders of InfoCognitio. And I am sure; his story will inspire you. Let's look at the journey and see how he and his team are working hard to help people to convert their dreams into reality.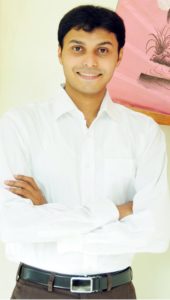 Give a brief info about your startup?
I am privileged to be part of InfoCognitio, a start-up that thrives on not just good but great content. We are a bunch of content enthusiasts who push the envelope when it comes to delivering content to our clients. We kickstarted our journey in 2015, after which we have steadily risen in size, revenues and clientele. Delivering great content to our customers is embodied in the company's DNA and that is our USP.
What made you start your startup and what problem does it solve?
The core team of InfoCognitio has always been in the content world. We have seen the ground-level challenges that plague some of the top names in the business today. While content development takes a back seat in most organizations, we thrive in this area that is often neglected but still holds critical value for any business. We are focused on delivering value-added content solutions that has a direct revenue impact to our customers today. It not only drives more traffic into our customers' digital properties but also makes their products and services more appealing to their customers. 
Tell us about yourself, your previous jobs/ventures? What were you doing before this startup?
I had a blessed career thus far. Like most others, I started off in the software industry about 12 years ago, as a programmer, and then moved on to do my Masters at Middlesex University, London. During my earlier stints, I have spent most of my time building sales teams and driving revenue for my employers. In my last job, I was heading the India business unit of US-based content services and solutions company, where I was deeply involved in all aspects of running an enterprise. With that knowledge, experience and confidence, I was able to take the plunge and pursue my entrepreneurial journey.
Where is your startup based out of? Why do you think that is the best place for you?
InfoCognitio is Bangalore-bred. We are a proud product of Namma Bengaluru and we are happy to be based here, simply because of the global outreach our city has today. In my opinion, Bangalore has the right ecosystem for any business to thrive. The talent pool, resources and the client-base available here is an ideal platform for start-ups.
As a startup founder, what are you paranoid about? What keeps you awake at night?
Well, finding the next big challenge to work on, and to continue to be innovative is a motivator for all of us here at InfoCognitio. We are not a company driven by paranoia. In fact, quite the contrary, our work culture forces us to think objectively and strategically. But, if I were to highlight one problem that we are trying to overcome – it is to find the right talent at the right price, at the right time. Like most large services organizations we do not enjoy a large bench strength. We'd ideally want to overcome that.
Who are your competitions and how are you better than them?
There are different levels of competition, starting from similar companies to freelancers who operate in the same space. There are large organizations and their internal content teams who sometimes become an indirect competition or resistance to outsourcing. However, we tend to operate under a collaborative framework rather than a competing one. Where see the value we collaborate with the necessary resources (people or companies) to continue to add value to our end customers. Our investments in innovation, training, knowledge, and quality assurance is a result of the years of experience which seem to work magnificently for us.
How hard is it to have a work life balance as a startup founder and how do you manage it?
Contrary to the popular notion, work-life balance is easy to achieve. It is a matter of getting your priorities right. During the first few months, we had to sacrifice a lot of our personal time to get everything up and running. However, with more people joining the team and effective delegation/empowerment of other team members, it has been a smooth sailing. I do a few things as a daily routine. I wake up early in the morning, and ensure that I stick to a to-do list. I also wrap up early and get enough sleep to stay fresh the next day. Sticking to a routine and following a disciplined approach to everyday work has been highly beneficial. Ofcourse, my ever-supporting and understanding family is always the driving force.
Have you raised funding? If yes, then we would like to know the details. If no then please tell us if you are looking to raise.
We are completely bootstrapped, with the entire funding coming in from the management team of the company. We got operationally unit-level profitable within 12 months of our business and have remained lean and in the green since then. We may raise funding in the future to propel further growth within the company.
What's the biggest misconception people have about you? Why do they have that? What's the reality?
People feel that content is an after-thought and usually consider content as a tertiary sector which is why you don't see too many mainstream stories about companies like us. The truth is, there are companies who do really well in the content business and in-turn add a lot of value to the end customer. Large businesses invest heavily in products, solutions and services. However, the driving force behind all of that is great content. In the global landscape today, delivering great content to your audience is imperative to your business success and that's where companies like us come in.
What gets you excited about this company?
The fact that we are brand/content custodians to large names in Travel and Leisure, Technology, Enterprise Software and Publishing is a great motivator for us each day. We do so many different  types of innovative content. Working with people who are driven by the company's vision, who work round the clock to ensure that the SLAs are met, and by far have exceeded customer expectations is what keeps us going each day.
Tell us how a day in your life looks like? Your schedule for a day right from the time you get up till you hit the bed at night.
Early to bed and early to rise. That's been my mantra. My day ends with a to-do list for the next and the subsequent day starts with a clear strategy to get the to-do list done. Since we now support global clients, my day starts with a round of emails. Then, some exercise/walk, a king's breakfast before setting off to work. Work's typically packed but the light-hearted banter and jokes fueled by an enthusiastic and young team is all it takes to get through the drudgeries. I wrap up around 7ish, after which it is family time.
Tell us about your team and how did you meet each other?
Everyone at InfoCognitio today is a quality hire, who has delivered his/her value a hundred times over. I couldn't be more proud of my team. Right from my co-founder, Shiladitya, who I have known for close to a decade, and is the best partner I could have hoped for, to our current team members, we work like one big happy family. A large part of our success is also attributed to our ex-team members, who continue to stay in touch and are well-wishers to our business. It is this camaraderie that helps each one go beyond their normal responsibilities to continue to add value to the team.
Know a great startup story or want to share your own? Write to us at contact.bangaloreinsider@gmail.com and we will get back to you. For more updates follow Bangalore Insider on Facebook. 
Sponsored Ads