Sponsored Ads

Hubilo Softech Private Limited is a startup founded by Vaibhav Jain and Mayank Agarwal .
We are an event-tech company lead by passionate young people that want to create something memorable. Talking about what we do exactly, we create a range of software solutions that include event software that automates the process of creating event website, event apps, event registration & ticketing, event marketing and event networking solutions, says Vaibhav.
We got an opportunity to know about the startup, it is an inspiring story of the founder Vaibhav. Read their full story to know more about them.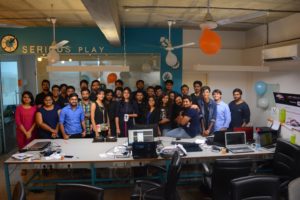 Give a brief info about your start-up?
The name of our venture is 'Hubilo Softech Private Limited.' The name 'Hubilo' is a made-up word build around the word 'Hub.' 'ILO' is a suffix meant to complete the noun that precedes it. So, we are in the business of creating hubs. Hence 'Hub' plus the suffix 'Ilo' lead to 'Hubilo.' We are an event-tech company lead by passionate young people that want to create something memorable. Talking about what we do exactly, we create a range of software solutions that include event software that automates the process of creating event website, event apps, event registration & ticketing, event marketing and event networking solutions.
What made you start your start-up and what problem does it solve?
Belonging to a family with a strong business background, I always had the entrepreneurial streak within. Even after qualifying for some of the best B-Schools in India and London, I always wanted to start-up even after completing MBA. And that was the plan until one day I happened to be at an event where I accidentally met one of my seniors from college who had started his own venture a few months back. Being at that event and talking to him incepted both the things- 1. That I was ready to start-up and 2. The idea – Events
Since this event marked such a huge difference in my life, I wanted to dig deeper and explore this space. That's when Hubilo started to take its shape in my mind.
Hubilo resolves the problem that lies with the way events are orchestrated. We leverage technology to address this issue and automate the entire process taking over the mundane task that the organizers will be doing manually and allowing the software to do it in an easier and much more efficient way. From creating your event, gathering the data to making sure your data is secured, it really helps you save a lot of time and money that is spent on coordinating with multiple vendors.
Tell us about yourself, your previous jobs/ventures? What were you doing before this start-up?
Before this start-up, I was preparing for my MBA colleges and making financial documents for my father's company. Helped in the process of getting it listed on the stock market.
Where is your start-up based out of? Why do you think that is the best place for you?
We are based out of Ahmedabad. This is where we started from, as iCreate incubation with an office in IIM Ahmedabad. We have set up our head office in the city to stick to our roots. However, we do have branched out to mega cities including Mumbai and Delhi because those are the cities with extreme potential when it comes to events.
As a start-up founder, what are you paranoid about? What keeps you awake at night?
As a start-up founder, I am paranoid whether
I am going in the right direction or not?
Can I move faster than I am going right now?
What all processes can be built in the company to automate communication?
Is there something else where I could have better utilised my time?
Who are your competitions and how are you better than them?
Our biggest competitors are Bizzabo and Cvent. What differentiates us from our competitors, first of all, would be affordable pricing. Apart from this, Hubilo offers a more customized, user-friendly solution to its clients. Our additional feature set including our all-new event networking platform, in-app AI features, etc. are another major plus.
How hard is it to have a work-life balance as a start-up founder and how do you manage it?
Being a start-up founder has affected my family and social life a lot as I don't get much time for social life but on travel, I get to meet interesting people. This forms a part of my social life every time I travel there again. I try and divide my time, mainly weekends.
Have you raised funding? If yes, then we would like to know the details. If no then please tell us if you are looking to raise.
Yes, we have completed the first round of funding and have multiple investors on board, raising the desired amount of funding. We shall soon begin our second round of funding in the upcoming months.
What's the biggest misconception people have about you? Why do they have that? What's the reality?
Biggest misconception is that it is very difficult to build a product start-up from Ahmedabad because there is a dearth of talent in Ahmedabad and there isn't much creativity or innovation. Whereas the reality is that some of the best colleges in India are from Ahmedabad, be it management, tech, literature or design. Ahmedabad offers a pool of creative and analytical people who can be moulded into product thinking and not just servicing. An added advantage is that the employee average salary is much lesser than Bangalore, Mumbai or Delhi.
What gets you excited about this company?
The pace that this company is growing at and the future of what started as a simple idea is what I am excited about. There is just so much that you can do with events and event technology in terms of innovation. Apart from our aim to go truly global, I am very excited about us experimenting with new ideas and technologies including VR and AI.
Tell us how a day in your life looks like? Your schedule for a day right from the time you get up till you hit the bed at night.
I usually go for a quick walk for 10 mins and listen to my music and just think what do I need to achieve today, this week, this month or this year. I check all my emails, Whatsapp messages, LinkedIn notifications. Archive the ones that are not useful and are already done. Go through reports from Sales, marketing and tech. Prepare my task list for the day and then reach office. Complete the tasks one by one and finish off any meetings that I have. Post office hours, once I reach home – I usually end my day with watching a movie or an episode of my ongoing series.
Tell us about your team and how did you meet each other?
We started off with a core team of five members. We were incubated at iCreate which is an incubation centre for innovative start-ups. We had a lot of interns coming in to explore the start-up scenario and that is how we landed our first few employees. We soon converted these interns to our permanent employees. One quality that we look for in our team members is their passion towards acquiring the relevant skill set required for the role. Others would include the problem-solving abilities, spontaneity and perseverance to grow.
Talking about our co-founder, after joining the college my co-founder Mayank Agarwal and I, we came in contact with each other – same class but different interests. While one had a mind for business, the other one was a computer geek; still we gelled on common grounds with a lot of things in common like football, poker, and above all that entrepreneurial itch! Mayank is a DAIICT graduate, just like me. Before Hubilo, he worked in ecoliribium energy for 2 years. He joined Hubilo in July, 2015 and has been in a serious relationship with his laptop and the product ever since. His current role in the company is to look after the product, manage the entire tech team and develop critical modules.
Our current team consists of 35 amazing young people including coders, developers, marketing and sales executives dedicated to make Hubilo stand out and expand on a global scale.
Know a great startup story or want to share your own? Write to us at contact.bangaloreinsider@gmail.com and we will get back to you. For more updates follow Bangalore Insider on Facebook.
Sponsored Ads