Sponsored Ads

The most exciting experience is starting your own venture. Most of us dream of having our own company and to follow this dream we begin our entrepreneurial journey. Same was the dream of Mr  Anirban Guha. He is the founder of startupsimba.com – India's Popular Digital Destination for Startups & Entrepreneurs. Startupimba.com evolved around the digital need of the startups. This is one-step destination for all your digital marketing needs.
I must say apart from working hard Anirban worked smartly and in a disciplined way to accomplish his dreams.  For him, work-life balance is very important to achieve success. And as it is well said that  "Behind every successful man there is a woman" same is with him, his wife is the pillar of support which he admires and did not miss to talk about the support which he gets from his family.
The name "Startup Simba" is not just a random name, it has a beautiful story behind, which Anirban has shared with us. Check out his views. How he started this company and what are his vision regarding this startup?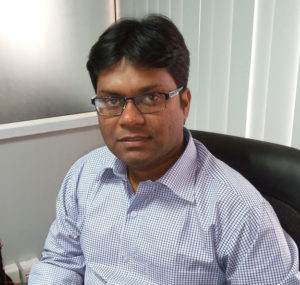 Give a brief info about your startup?
Startup Simba is a digital publishing platform which covers tech and unique entrepreneurial stories from India. We work with startups and founders who are working on unique ideas but don't get much recognition at the beginning. We cover their stories and not only give them a platform so that they become known in their community but help them get funding and investment if required.
Let me add here, that this is not only one such platform in India, a lot of other media companies are doing the same job. But we are different in the sense that we hear stories of startups and founders who have just started, rather who are struggling.
The name Startup Simba has inspired from the popular Disney movie – The Lion King. In this movie, we have seen how the lion cub – Simba has to struggle and learn from his mistakes and ultimately becomes the smart, confident Lion King himself. I see today's startup founders and young entrepreneurs like Simba.
What made you start your startup and what problem does it solve?
As I mentioned earlier, there are a lot of startups and young entrepreneurs with whom I used to interact while offering the inbound marketing services. While doing that I realized I can do lot more for them and make their stories heard where it matters to them.
I have spent little over 10 years in studying how content strategy is evolving and how B2B segment can leverage more of it. So I thought of creating a digital publishing platform that will not only publish startup and founder stories but also promote them as part of inbound marketing.
That's how it all started. It first started as a blog and then over a period of time, it evolved into a vibrant community.
Tell us about yourself, your previous jobs/ventures? What were you doing before this startup?
I think I have spent a lot of amount of time to understand how content marketing and digital marketing has evolved over a period of 10 years now. I was a BIG fan of blogging from my university days, and have seen how blogging being an alternative knowledge platform can inspire and influence people. Blogging still has potential and it's interesting to see how corporates are now using it to maximize their reach.
I always encourage people I meet to write something that they like or consider as a passion. Blogging not only liberates your mind but gives you an edge over others when it comes to influencing. But it takes time and lot of perseverance to do this on a regular basis.
For what I was doing before, where I haved worked and my experience, please visit my LinkedIn profile.
Where is your startup based out of? Why do you think that is the best place for you?
 Startupsimba.com is based out of Hyderabad, India. Hyderabad is 'THE' place for startups and entrepreneurs at this moment after Bengaluru. Lot of exciting startups are emerging from Hyderabad and making India proud on the global tech arena.
The Government of Telangana is also promoting startups very well. T-Hub in Hyderabad is an ideal example how startups should be given prominence so that they can give their best and come up with a quality product or service.
As a startup founder, what are you paranoid about? What keeps you awake at night?
It may sound bit weird and funny, I am not a serious entrepreneur. But that doesn't mean I don't take my work and commitment seriously. It's simply I love to take things at its own pace. That gives me lot of space to think and work better.
Honestly I don't stay awake at night.
Who are your competitions and how are you better than them?
By God's grace there's no dearth of competition! There are plenty of digital media and publication companies now in India and they are all doing good. I don't see any competition from them. All have their own target audience and unique strategies to reach out to them, but the fundamental aspect in all doesn't change – which is to create quality and interesting content.
How hard is it to have a work-life balance as a startup founder and how do you manage it?
Work-life balance is very very important to be a good entrepreneur. If your life is not sorted out, you are not going to deliver well in work – that's what I believe.
So I always give supreme importance to my family when they need me and balance my time for my work accordingly. It's not that difficult to practice. If you know what's your priority, then it becomes easy for you to manage other priorities.
Have you raised funding? If yes, then we would like to know the details. If no then please tell us if you are looking to raise.
No. I am not a big fan of raising money or going to an investor for my business or startup. Why should others give me money to run my business.
My venture is completely bootstrapped from the beginning and like the way it has grown from there without any external financial help. I spend my money very judiciously. Only when and where there is a need, I spend money. I won't say that I am like this from before, it's only I have learnt from my past mistakes.
What is the most important priority for this company?
Right at this moment, my highest priority is to build a good team and onboard few real "THINKERS". So I am open to resumes where I can find my ideal team members.
How do you think this might evolve over the coming months?
I will let it go at its own pace. No hurries! 🙂
What's the biggest misconception people have about you? Why do they have that? What's the reality?
I don't know if somebody has a misconception about me. Because people around have been naturally good and kind to me, so do I.
What gets you excited about this company?
It is still a baby. It's good that I have started doing what I really wanted to do and learning tremendously from it every day.
Tell us how a day in your life looks like? Your schedule for a day right from the time you get up till you hit the bed at night.
It's a normal "aam admi" type life. Nothing too exciting and boring at the same time. I plan my work in a way so that I can give ample time to my family and other social rituals.
I have a wonderful and supporting wife, who is more than a friend to me and understands very well what I do. So I love to discuss everything with her and this gives me lot of motivation and solace.
And yes, I have to give a lot of quality time to my cute daughter who is just competing 1 year.
Tell us about your team and how did you meet each other?
I don't have any team right now. Having discussions with a couple of people to onboard.
I would like to thank my parents for always encouraging me, my brother to teach me that without taking risks new roads doesn't open. And my friend Anupam who has helped me considerably in my initial days with the technical knowledge he posses.
Know a great startup story or want to share your own? Write to us at contact.bangaloreinsider@gmail.com and we will get back to you. For more updates follow Bangalore Insider on Facebook
Sponsored Ads