Sponsored Ads

Weddings are supposed to be one of the most important days of the bride and groom. Having it carried out in the best manner is quite crucial, but then finding the appropriate vendors and people that can pull off everything and anything that you would want in your wedding is a tough find.
It is where Bollywoodshadis comes into the picture. It's an online portal that helps in connecting soon to be married couples to various vendors from across the country. It's an end to end wedding planning online portal that gives you all the necessary wedding vendors that you would want to connect to ensure that you have the latest and greatest of what a marriage should comprise.
Thus, if you are wondering what Bollywoodshadis is? And wish to learn more about it, then we have curated a few things about the company that are enlisted below. Let's take a look.
What makes Bollywoodshadis different?
Bollywoodshadis is an online platform that helps in connecting vendors to clients. It provides comprehensive tips and expert advice on the latest and greatest wedding trends that are going around the country at the moment. It's an explicit platform that helps others to create that perfect wedding that they were always aspiring to create. It's a company that is solely focused on weddings and nothing else — offering an array of information and useful tips that could help you with your very own wedding.
How did the name Bollywoodshadis come into the picture?
Bollywoodshadis founder Apoorv Kalra believed that the name of the company attracts customer to check them out. It's a dream of every bride and groom to have a Bollywood styled wedding, and the names of the company adhere to the same. Finding vendors for grand-scale weddings can be a tough task, indeed. But then the chairman of Bollywoodshadis Paul Kalra, who is based in the USA, saw the rise of another website name "TheKnot.com" and decided to bring the same implementation to our Indian counterparts.
The very name of Bollywoodshadis have a significant touch in the entertainment industry and having any other name wouldn't do any justice. And for Indian brides, weddings are to be no less than Bollywood styled and flair should never go away. Such that they reviewed several other domain names, but Bollywoodshadis is catchy and attractive at the same time.
The target audience of Bollywoodshadis
The primary target audience for Bollywoodshadis is the soon to be married couples. Ever since their launch, they have been able to attract several vendors and wedding planners onto their website. In a short period, they have been able to draw well over 25,000 followers on their social media page and have more than 5000+ registered wedding vendors and professionals. Every month they are growing by 50%, thus ensuring steady growth and diversity indeed.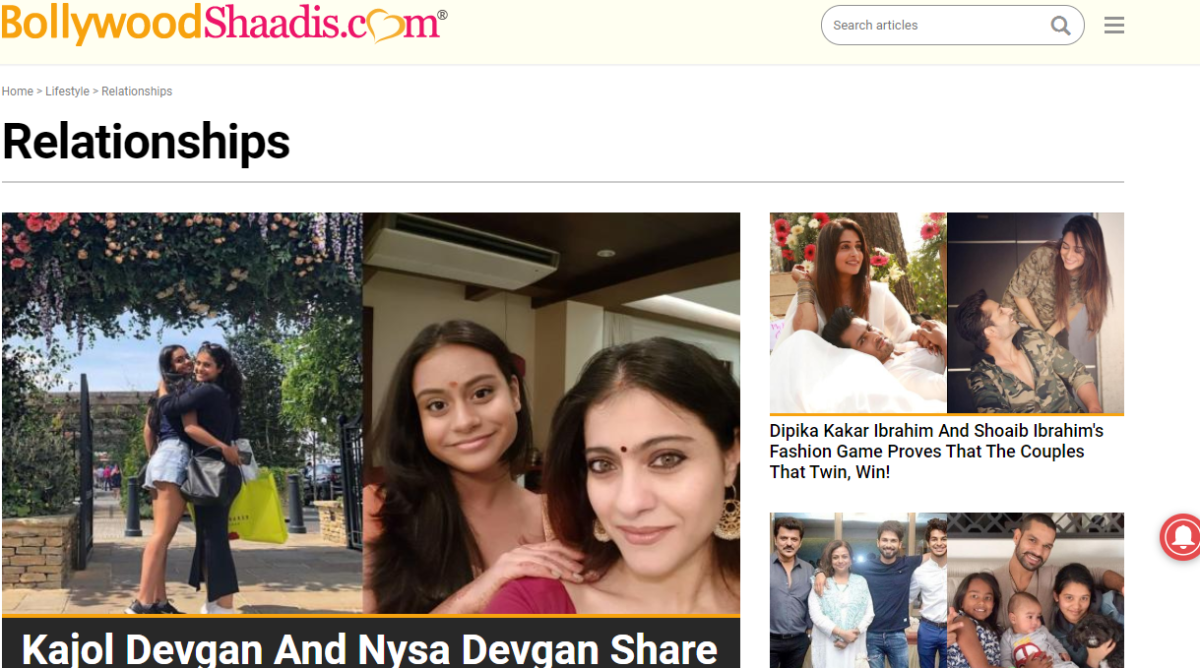 Its is also noted that the Indian wedding industry is colossal. Almost everyone from across the world wants to get married in an India styled wedding because of the various ceremonies and rituals involved in making it a grander affair. No wonder the wedding industry of the country is such a lucrative and enticing business.
Bollywoodshadis revenue model
The primary revenue model that the company follows is the connection of wedding vendors to potential clients. It helps wedding vendors to build their brand value and reach out to potential audiences that might be true of their services. People are ready to spend massive money on weddings, and our primary source of revenue is advertising and listing through sponsorship.
Thus, a profitable company that aims to build a bigger platform for people to get their designated wedding styled all through an online forum.
---
Want to receive the greatest and the latest happening around Bangalore? Subscribe to our newsletter to be updated regularly. If you wish to contact us, then write to us at contact.bangaloreinsider@gmail.com, and we will get back to you, for more updates follow Bangalore Insider on Facebook.
Sponsored Ads