Sponsored Ads

Meet Tanvi, the founder of House of Ekam, it is a Delhi based startup. House of Ekam provides home furnishing and decoration products. They currently provide quilts, rugs, table runners, cushion covers and wall art especially inspired by traditional culture of India.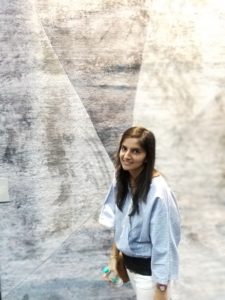 Give a brief info about your startup?
Our startup is a curated home furnishing and décor store by the name of House Of Ekam. Ekam is a Sanskrit word which means unity and oneness. House of Ekam aims to provide one of kind home products which unify your home. Each product of ours is thoughtfully sourced from artisans in different regions of India.
Our brand takes inspiration from traditional techniques mixed with millennial designs. Every product is designed by us keeping in mind the aesthetics, utility, style and affordability. We are currently retailing quilts, rugs, table runners, cushion covers and wall art.
What made you start your startup and what problem does it solve?
Having worked in the home retail industry, I observed dearth of quality affordable handcrafted home products in India. Whereas there is tremendous manufacturing prowess in our country, the Indian market, both online and offline, is either completely devoid of Indian handicrafts or the merchandise is being sold at exorbitantly high prices. With mission to change that, House of Ekam was born!
We aim to change the handicraft market in India by providing export quality products sourced directly from the artisans at affordable pricing to each one of our customers.
Tell us about yourself, your previous jobs/ventures? What were you doing before this startup?
I hail from New Delhi and was educated in Delhi and London. I am post graduate in mathematics and started my career with a Big4 accounting firm in corporate finance. I realized my true passion is sourcing in my second job at a leading home online retailer and ever since I've remained in this industry.
Where is your startup based out of? Why do you think that is the best place for you?
Our startup was earlier based in New Delhi but we have recently shifted to Ahmedabad, Gujarat. Being an online venture, we don't believe in sticking to one location and want to keep shuffling and exploring different cities in India and abroad.
As a startup founder, what are you paranoid about? What keeps you awake at night?
As a founder, there are millions of things that keep going in your mind. I keep thinking ways in which our products and content can be better for our customers and social media followers on an everyday basis, how I can source the most novel, never-seen-before, products to our audience, etc. Seamless customer experience is paramount for us and small things like delayed shipments, issues in quality or errors can get one very paranoid.
Who are your competitions and how are you better than them?
This is a tough question and honestly we don't consider anyone as our competition. I have personally interacted with many boutique home brands like us and everyone has a different story and objective. Some might be bigger than us hence having a wider selection of products and spending more on marketing or some might have a completely different design philosophy. We pride ourselves in our quality, pricing and delivery.
Plus the market is so big and unexplored, we are just tapping the tip of the iceberg. There is plenty of scope for everyone to grow.
How hard is it to have a work life balance as a startup founder and how do you manage it?
As a business owner there is no 'switch off' button. Having been in jobs all my life and seeing my family been in service themselves, there was always a shutter down at the end of the day. But being a founder, I've worked almost every weekend and the shop never closes. It's definitely demanding to manage both work and personal commitments but over the past year I have realized how important is prioritizing and saying no to events or cutting a conversation midway which I wouldn't have done earlier. If an order needs to go before 3 PM on a particular day or the homepage changes need to happen in an hour then it has to and we can't afford any delay.
Have you raised funding? If yes, then we would like to know the details. If no then please tell us if you are looking to raise.
We haven't raised any funding till now. We are a 100% bootstrapped company and endeavor to be so in the coming years as well. We don't want the pressure to chase GMV compromising our quality and delivery and I feel our customers appreciate that about us.
What's the biggest misconception people have about you? Why do they have that? What's the reality?
People generally think that we are huge team of photographers, stylists and designers given our activity and quality on social media. But the reality is we are a small close-knit team and each product is designed, shot and styled by us completely. Since we are involved at every step, it helps us bring out the essence of each product through our content.
What gets you excited about this company?
The fact that we are able to change the misconception that Indian market doesn't sell quality handmade affordable products and give our customers the products they would find abroad with the tag – Made in India.
Tell us how a day in your life looks like? Your schedule for a day right from the time you get up till you hit the bed at night.
Our day starts with checking our emails and planning the day. Since we get a lot of international traffic, we use the morning time to analyze the visits and trends. Next we get to fulfilling the previous day's order. We typically plan our social media engagement and marketing initiatives a week in advance and have to shoot atleast 5-6 times a week. Once majority of the desk work is over, we indulge in a bit of social media, interact with other brands and our followers. Once a month we chalk out the upcoming products and promotions strategy for the next month.
Tell us about your team and how did you meet each other?
We are a very small team. I handle sourcing, marketing, creative bits, social media engagement while my husband handles the website, finances and operations.
I am a born and raised Delhi girl and have done my graduation and post-graduation in Maths from Delhi and London. After completing my education, I started working with Ernst & Young as an M&A associate and that's where I met my husband J After EY, I worked with FabFurnish.com as their sourcing head for their home categories and started House Of Ekam after it.
My husband, Brij is born and raised in Nagpur and has done his engineering and MBA from USA and IIM Calcutta. After completing his education he has worked with Ernst & Young, Morgan & Stanley and a multinational corporate.
I couldn't have imagined of sharing my dream of starting House Of Ekam with anyone else apart from my husband even though social convention dictates that husband and wife shouldn't work together but we have realized we work very well as a team and give enough creative space to each other to excel.
In addition we have a small team to take care of order fulfillment, quality check, logistics, etc.
Know a great startup story or want to share your own? Write to us at contact.bangaloreinsider@gmail.com and we will get back to you. For more updates follow Bangalore Insider on Facebook.
Author
Sponsored Ads