Sponsored Ads

Henfruit is a Delhi based startup founded by Tarun and Supreet. Henfruit has the biggest farm unit for natural and enriched egg assortment as per the international standards.
In my opinion the only way you fuel a start-up is when work=life. Quite frankly I enjoy working and never thought of it as anything different. I take two holidays a year, otherwise you will always find me and my entire core team working even on Sundays as Diwali, says Tarun.
We got an opportunity to talk with Tarun, it is an inspiring story of the co-founder. Read his full story to know more about the startup.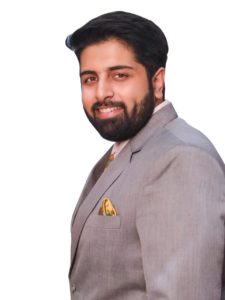 Give a brief info about your start-up?
Henfruit is an all natural food company established with one mission, "To be and be known as the world's best all natural food company that originates from India."
When we look at the world map of food companies there is no Indian food company that is amongst the top. This to us is quite ironical as India and especially Punjab is the land of food! 70% of Indians prefer fresh organic food and yet we can't find responsibly grown unadulterated foods in the market.
Henfruit has the biggest farm unit and the most natural and enriched egg assortment meeting international standards. It is India's first company to have certified chicken eggs. It is also India's first and only company to have a fully automated egg sorting and packaging unit with zero human touch technology.
What made you start your start-up and what problem does it solve?
Growing up in the native land of Punjab, me and my best friend Supreet (also the cofounder of Henfruit), were always close to food that came fresh from the local farms every day and if you know a Punjabi mother, there is one thing that they love and that is passionately feeding their family with pure wholesome food every day. Back in those days everything was free from pesticides and artificial infusions and tasted pure but as time passed by, things became more western with everyone moving to big cities and processed food. Slowly, we were introduced to a new term called lifestyle diseases, which came from an unhealthy lifestyle we all lead in the so called modern cities. It was not until one day when we went back to our hometowns to taste the heavenly food once again and realised what the city had taken away from us. A few weeks of eating that pure wholesome food again bought enormous changes to our bodies and we started feeling healthier and stronger. It was then we realized how much was missing in the big urban jungle of concrete. We dug deep into finding out how and why the food we all were eating was affecting our health and our bodies. It instantly became clear that the supposedly all natural food that was spreading like an epidemic in the city had to be replaced and this became our mission. We realized how difficult it had become for people to find pure food in the cities of India. People were desperately wishing to move towards a healthier way of eating, but there was no one to cater to the need. That's when our passion for pure unadulterated food gave birth to a dream, a dream to provide our nation with natural, nutritious, pure and wholesome food, a dream that 500+ dreamer's today work day for, a dream that we call Henfruit.
Tell us about yourself, your previous jobs/ventures? What were you doing before this start-up?
I have always loved doing business. Selling is my passion. I started selling hamburgers made with buns and samosa and cheese (I used to tie up with the staff that brought refreshments to our hostel for a few extra samosas and condiments) in my hostel in class 8th. By 11th class I had started selling accessories sourced from local markets on EBay. Then in college I went on to organise many events like rock concerts and theme based parties. I also compiled B2C yellow pages on the side which helped you lower the cost of pamphlet distribution by combining it with other people's advertisement. Finally, I moved on to combining my two biggest interest i.e. business & food and founded Henfruit.
Where is your start-up based out of? Why do you think that is the best place for you?
Our Start-up has its head office in New Delhi and our farm house is in a village close the Punjab Haryana border near Chandigarh. My co-founder spent a lot of his early years in Delhi and he understood the fast life and the need for quick but healthy food in Delhi. Also, Delhi has one of the highest per capita egg consumption in north of about 170 eggs per person per year on an average compared to other cities being about 70-90 eggs.
As a start-up founder, what are you paranoid about? What keeps you awake at night?
An unsatisfied customer. We have a 100% satisfaction guarantee for our products. If you raise a complaint, we will not stop working on it till we are sure enough that you will buy from us again. One can judge from the fact that all the products have my direct number on it for complaints or feedback and we sell about 2-3 lac pcs a month. This helps me to ensure that I get the right feedback and that a customer complaint is dealt as quickly as possible. Once you buy a Henfruit product, you shouldn't have to worry ever again. I am always awake and available for this, to take customer calls even at 2:00am at night. It's a tough job but down the years we have been able to reduce the number of complaints to a very small number. No matter how big we grow I would always like to be available to my customers directly.
Who are your competitions and how are you better than them?
Quite humbly, there is no single brand in the Indian market that has the quality and assortment we have. We do however consider many international brands a direct competition like ISE foods (jointly with Suzuki) which is Japanese brand planning to sell in India.
We are better than them because unlike other brands that source their eggs from different farms, we have complete control of our production. Having the largest farm in north of India helps us micromanage the quality. This helps us ensure that only the very best is at your table and those we can always track from where the egg came from and make any changes based on your feedback.
How hard is it to have a work life balance as a start-up founder and how do you manage it?
In my opinion the only way you fuel a start-up is when work=life. Quite frankly I enjoy working and never thought of it as anything different. I take two holidays a year, otherwise you will always find me and my entire core team working even on Sundays as Diwali.
However I do feel the need to take some time out for exercise and family and I have recently started waking up 1 hour earlier than normal and limiting my sleep hours to a maximum of 6.
Have you raised funding? If yes, then we would like to know the details. If no then please tell us if you are looking to raise.
I borrowed money from my Dad on interest basis and I put in whatever I had saved form my previous ventures into this but apart from that we did not raise any money. We would definitely look into an opportunity with a partner who brings in more than just money to the table.
What is the biggest misconception people have about you? Why do they have that? What's the reality?
I don't know about that, like I told you I am a very transparent person for those willing to see it.
For our team I think a lot of people think that this start-up has been quite easy for us and we have been lucky. They may feel so because we have grown at a very good rate but I won't be joking when I say it has taken our entire team's blood, sweat and sleepless years to reach at a level where we have just begun to call ourselves a start-up. When I say blood I mean it. No amount of injury or troubles ever got in the way of us making timely deliveries.
What gets you excited about this company?
The future quite frankly, like I said we are just a start-up right now and there is a long way to go. Also, finding your product at the shelfs of about 500+ locations having to see people buy and enjoy it and when I get calls from happy customers giving us amazing feedback, that feeling is just priceless.
Tell us how a day in your life looks like? Your schedule for a day right from the time you get up till you hit the bed at night.
I usually wake up around 6-6:30 am and then go for a walk and have my coffee. Followed by reading the news on my phone and then spending about 30-40 minutes planning my day ahead, aligning the tasks to my team etc. Thereafter I have my breakfast and leave for our farmhouse at 9 as I handle the production and packaging end myself. From there onwards it's a marathon, tackling day to day issues and following up on each department, reading reports and implementing feedbacks and new ideas etc. Finally, I am back to my residence by 6:30pm and then I spend the next hour discussing the day with my team and what to expect from tomorrow's day. 7:30pm or so me and my wife usually go out for a coffee or dinner as we like to try new restaurants or spend some time outside in fresh air or we just have a nice home cooked dinner with our parents. Then spend some family time thereafter, watch some TV or just chat till 11pm and then go to sleep.
Tell us about your team and how did you meet each other?
I and my co-founder Supreet are friends since ages now. We started working together on some events but then like me or even more, Supreet is in love with food and we saw an opportunity to do this together. Rest of the team was a long hunt, after screening about 500 resumes and letting go many people we learnt that it wasn't about the skills of the person but his vision and hunger to grow in life. Thereafter, we focused on finding people with right mentality and then training them with the right skills which complimented their passion and talent. Now, finally have the right people at right places working like a family. Infact, if you ever attend a Henfruit party, you will never be able to judge that it's an office celebration.
Know a great startup story or want to share your own? Write to us at contact.bangaloreinsider@gmail.com and we will get back to you. For more updates follow Bangalore Insider on Facebook.
Author
Sponsored Ads