Sponsored Ads

Haze Pictures is a Bangalore based filmmaking company established in 2017.  Sandeep M is the founder of Haze Pictures and he is passionate about his work.
"Our main vision is to attract the audience by making films on the real incidents what we see, face and experience in our real life", says Sandeep. 
We got an opportunity to talk with Sandeep, the founders of Haze Pictures. And I am sure; his story will inspire you. Let's look at the journey and see how he and his team are working hard to help people to convert their dreams into reality.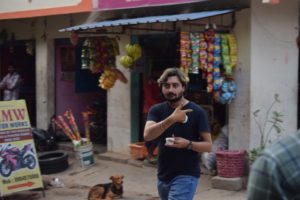 Give a brief info about your startup?
My startup is a Film Production House, named Haze Pictures. It was started 15th April 2017. It's a small team of people passionate about filmmaking, which includes all aspects of filmmaking.
We do films, musical videos, ads, and video blogs and so on. We have started doing short films. One of our short film done as Children's Day special received a good response and was published in Newspaper as well. Our main vision is to attract the audience by making films on the real incidents what we see, face and experience in our real life.
What made you start your startup and what problem does it solve?
Passion in filmmaking made me come into the film industry. From my childhood, I was interested in acting. In my college days, the passion slowly moved into direction. In 2013, I collaborated with one of a college senior. We built a team and did 1 short film there. Later I wanted to have my own team and started Haze Pictures in 2017.
The purpose was simple. As a citizen, I wanted to do something for the country/society. As there is a saying, "Providing food can fill one person's hunger, but providing a job can fill hunger of a family". I took it as inspiration and thought of doing something to the society through Short Films, as Media is the strongest mode of communication in our Country, which also helps me get people who are passionate about films and looking for chances to work.
Till now we have done 3 short films under Haze banner with different social messages. We have still more in line. We are not sure whether we were able to solve the problems we focused on, but we are sure that we have brought awareness at least among a small group of people, which will or might get spread upon.
Tell us about yourself, your previous jobs/ventures? What were you doing before this startup?
I, Sandeep M, am the Founder and Director of "Haze Pictures". Before starting this production house, I was the co-founder of another production house called "Parichay Films". I have also worked as Director for short film in a team called "Shailusham Arts & Creations".
From the professional front, I am a Software Engineer, currently working in Sun Technologies. Previously I worked in Indium Software, Hexaware Technologies and Capgemini.
Where is your startup based out of? Why do you think that is the best place for you?
Haze Pictures is based out in Bangalore. I am a Bangalorean and I wanted to start it here as this is the place I was brought up. Have seen the city from my childhood, seen people, been with them, and learnt many things. It makes me feel happier to work here rather than working in other places. And being a local guy, it helps me to connect to people soon.
As a startup founder, what are you paranoid about? What keeps you awake at night?
I am paranoid about the stories mainly. Filmmaking is mainly about getting audiences' attraction towards you and making them sit on the edge of the seats every time. Whether it's a short film or a feature film, getting it to the audience and making them connect to the story is very hard and to do this, I need to write a perfect story and screenplay. Writing the story and screenplays keeps me awake all night.
Who are your competitions and how are you better than them?
Everyone who is interested in filmmaking and all the filmmakers are competitors for me. As there are many people interested to take up tasks into direction, it gives really hard and tough challenge and a very good healthy competition to prove myself.
I cannot say I am better than others because this field is more about creativity and the main thing here is to get the attention of the audience.
How hard is it to have a work-life balance as a startup founder and how do you manage it?
As I am passionate about both the jobs I am into now, I do not feel any kind of pressure. And moreover, I do not indulge in one job while I am into other. Weekdays will be for my profession (IT) and weekends for my passion and interest (films).
Though, it's not that I will not work on films on weekdays. When I have to write stories/ scripts, I do it once I am back home from the office. Sometimes there will be shoots on weekdays, which again will be after my job. I do not want to get one profession in the middle of other and I manage it in the same way based on the calendar, as I would schedule it before only.
Have you raised funding? If yes, then we would like to know the details. If no then please tell us if you are looking to raise.
Till not, all the short films we did, the team contributed to the expenses, including me. For one particular short film, we tried raising for funds, but it went unsuccessful.
As everyone knows, making a film is not an easy process and it includes money to get many things done perfectly. We are looking for funds as we have many stories lined up which gives good messages to the society. Not only short films, we do have stories lines up for feature films. We need funds or investors who can believe on us and support us.
What's the biggest misconception people have about you? Why do they have that? What's the reality?
I do not think people have any misconception about me. If there is any, it will be that I will not listen to anybody. Yes, I agree that I will not listen to anybody. Some people have that because when they say something, I neither agree nor disagree or talk about it.
The reality is, I listen to everyone what they say. Later I will think about it. If I feel that it is true, I will implement it. If I feel that it's not true, I will just chuck it. Because at the end of the day, it's our decision what matters. Taking decision based on others talks might also end up in bad results.
What gets you excited about this company?
This is my dream, my passion. From my childhood, I had my heart towards films. And now I got the opportunity to do it. And moreover, into direction, where everything is under control. But there will still be a boss above, who is the owner of the production house.
Now, having my own production house gives me the added advantage of me working under myself. I am the boss everywhere and can take my own decisions. No need to blame others if anything goes wrong. Good or bad, it will be only on me.
More than this, we could get to work with some serial and film actors. We were able to rope them in for some of our projects which gives a focus to our production house. One of our short film done for Children's Day special received a good response and some articles were published about it in Newspaper. These all make me more excited to be here and bring the production house move forward.
Tell us how a day in your life looks like? Your schedule for a day right from the time you get up till you hit the bed at night.
My life will be totally different on Weekdays and Weekends. Here I will give a brief note:
Weekdays: Normally I wake up at 6.30AM and hit the gym for 1-1.5hrs. Then get fresh, have a light snack with milk and watch TV. Later getting ready, having breakfast and leave for office by 10.30AM. Office timings are 11AM-8PM. After office hours, will go to home, have dinner, watch TV and sleep. If there is any script work to do, will be doing that.
Weekends: will start the day dead opposite to the weekdays. Sleep a lot if there is no outdoor works. If there are any outdoor works like meeting anybody related to film things, will wake up soon, get ready and meet them. If not, will spend the whole day watching movies or reading novels. Most of the Sundays will be spent in playing cricket.
Love to party, play cricket, badminton and all. So I would prefer doing all these in the available time. This will happen any day of the week.
Tell us about your team and how did you meet each other?
As I planned for the new team, 1st person who came to my mind was my best friend. She is a full-time artist. She is a singer, content writer, and choreographer and does anchoring as well.  We both are the founders for this. We spoke and finally decided to start a new production house and named it as Haze Pictures.
For a production house to be successful, we need to have a full-fledged team and since it was new, I wanted people who can dedicate time and also people who were passionate about filmmaking.
First I spoke to 4 of my friends with whom I had worked in my previous projects in previous teams. As they were trustworthy and I had belief on them, I roped them 1st into Haze. Then I started contacting people through FB by posting the requirements. Through that, I got a good response. I selected people who were more passionate rather than seeing just experience.
Like this, I could get a good quality and passionate people who make the core of the team (technical front). For the actors, have some in the core team, like I said before, some from my previous teams, some through reference and some through posting requirements.
Know a great startup story or want to share your own? Write to us at contact.bangaloreinsider@gmail.com and we will get back to you. For more updates follow Bangalore Insider on Facebook. 
Sponsored Ads